What is 1MD Prostate MD?
1MD Prostate MD is a natural supplement for men suffering from the issues associated with having a swollen prostate, like frequent or nighttime urination. The product can greatly reduce the inflammation and ease symptoms.
It can also help men empty their bladders completely. According to the RDNs on our team, 1MD Prostate MD promotes a healthy prostate and urinary tract system and is definitely worth purchasing. As a user myself with prostate issue, I certainly agree that this product gives a lot of relief.
Highlights
It's free of peanuts, dairy, wheat, and shellfish.
The company follows GMP guidelines.
The manufacturing facility is in the USA.
The ingredients are all naturally-sourced.
Active Ingredients
Lutein
Lycopene
Pumpkin Seed Oil
Pygeum Bark
Stinging Nettle Leaf
Safflower Seed Oil
Boron
Copper
Saw Palmetto
Monterey Pine Bark Extract
Sunflower Seeds Lecithin
Pros
1MD Prostate MD can promote a healthy prostate.
It can decrease the frequency of urination.
The product can support healthy urinary function.
1MD Prostate MD can enhance the health of the prostate cells.
The product can promote healthy bladder emptying.
Cons
1MD Prostate MD may interact with a few common medications.
You can only purchase 1MD Prostate MD online.
Vegetarians can't take this supplement.
Overall Rating:4.8/ 5
About the Brand
The company that produces this product is called 1MD Nutrition, and they have their headquarters in Beverly Hills, California. Founded in 2015, their parent company is the corporation Scale Media.
1MD is run by a team of physicians who develop all of the products based on science and research. They are a highly reputable health and wellness brand that makes a number of supplements.
1MD ProstateMD – Key Facts
| | |
| --- | --- |
| Benefits | Get Comprehensive Prostate & Urinary Tract Support,Promotes Normal Urination Schedule |
| Ingredients | Pumpkin Seed Oil,Lycopene,Saw Palmetto and more |
| Price | $49.99/bottle |
| Company | 1MD |
What are the Ingredients in 1MD Prostate MD?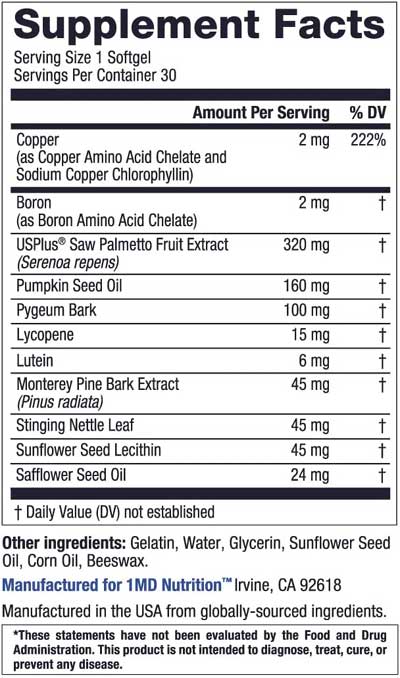 Here are some of the primary active Prostate MD ingredients:
Pumpkin Seed Oil
This oil is incredibly healthy and includes vitamins and linoleic acid. It's high in plant sterols, which have anti-inflammatory properties that reduce swelling in the prostate and decrease urinary tract symptoms. It has positive benefits for the urinary tract as a whole.
In addition, it supports heart health. It may also boost mood and decrease depression. There's also some evidence that it may lessen menopause symptoms. A study in Nutrition Research and Practice found that pumpkin seed oil was very effective at reducing prostate enlargement symptoms.
Lycopene
This is a plant nutrient with a reddish pigment. It's very high in antioxidants, which can repair damage to the prostate, protect the cells from damage, and make the immune system stronger. It also has anti-inflammatory effects which can decrease prostate swelling and eliminate symptoms.
In addition, it can boost heart health and may decrease the risk of developing certain cancers. In addition, there's evidence that it can reduce cholesterol levels. It could also promote the health of the bones and decrease blood pressure. A study in the Journal of Nutrition found that lycopene can inhibit the growth of prostate cancer cells.
Saw Palmetto
This extract is from the fruit of a tree that grows mostly in Florida. It contains potent antioxidants as well as anti-inflammatory agents. There's evidence it can decrease swelling in the prostate and lessen urinary tract symptoms as mentioned in our VigRx Prostate support reviews article, which also contains the same ingredient, and it can also strengthen the immune system.
In addition, it may naturally raise testosterone levels, which can boost sexual libido and strengthen the muscles. An article in Food Science and Biotechnology examined the evidence for the use of saw palmetto for benign prostatic hyperplasia.
How Does 1MD Prostate MD Work?
Prostate MD by 1MD contains several ingredients which have plant sterols, and they are very high in anti-inflammatory properties. These reduce swelling in the prostate gland, decreasing symptoms like frequent urination, leakage, and improper bladder emptying. A study in Cancer Research showed that plant sterols may delay prostate cancer formation.
This supplement is also very high in antioxidants, which work to destroy free radicals in the system and lower oxidative stress. This promotes healing in the prostate and the rest of the body, and it also makes the immune system stronger. An article in Cancer examined the role of dietary antioxidants in prostate cancer.
Check out Prostate Plus Reviews as well if you're trying to find an alternative to 1MD Prostate MD that works for you.
Frequently Asked Questions (FAQs)
Q: How Do I Take 1MD Prostate MD?
A: They suggest that you consume 1 tablet each day with water. Do not take in excess of this amount.
Q: Where Can I Buy 1MD Prostate MD and What is the Cost?
A: If you're wondering where to buy Prostate MD, you can get it on the manufacturer's website, and on Amazon. The prices on the official site are as follows:
Subscription
1 Bottle – $42.50
3 Bottles – $39.99
6 Bottles – $37.49
One Time Purchase
1 Bottle – $49.99
3 Bottles – $47.50
6 Bottles – $44.99
Q: Can I Buy 1MD Prostate MD in Stores?
A: No, there are no offline stores which sell this product, just the official site and Amazon. The best place to buy is the official site, to ensure you're getting the genuine product.
Q: What's the Return Policy or Guarantee?
A: The manufacturer has a 90-day return policy. If you don't like the supplement, contact the company. Then send it back within 90 days of the day you bought it. You have to return all the products, empty or full. You'll get a full refund, but you are responsible for shipping and handling fees.
Q: Does Prostate MD Work?
A: Yes, Prostate MD by 1MD is a highly effective product. Designed by top physicians, this supplement contains optimal levels of the best known organic prostate ingredients on the market.
Botanicals like pumpkin seed oil and saw palmetto, for example, have research backing their efficacy in this area. In addition, the ProstateMD by 1MD reviews indicate that users also found this to be an effective supplement.
Q: Is 1MD Prostate MD the Best Prostate Supplement?
A: In order to know if it was the best supplements for prostate health we'd have to do a thorough review of all of the brands. However, in our evaluation of some of the key prostate products we can tell you that this is certainly one of the top brands on the market.
It has a rich collection in ingredients which are known to treat the symptoms of prostate enlargement, including many anti-inflammatory-rich substances. In addition, the price is reasonable for the market.
Q: Is 1MD Prostate MD a Safe Product?
A: This is a very safe organic product, which includes only all-natural ingredients. There are no chemical or artificial substances included, nor any other possibly harmful ingredients. The product is by a very reputable company and board certified physicians design it. The manufacturing takes place under the most rigid safety conditions.
Q: Does 1MD Prostate MD Have Any Side Effects?
A: 1MD Prostate MD is a safe product which has no harmful side effects. The ingredients are high quality and organic. According to many RDNs, if for some reason you do have symptoms stop taking the product right away and see a dermatologist if necessary.
What Do the ProstateMD by 1MD Reviews Say?
The 1MD Prostate MD reviews had wonderful things to say about this supplement. Many men said the product decreased their urinary tract symptoms and helped improve their sleep. It also enhanced overall health and wellness. I personally went through dozens of reviews and picked out some of my favorites for you:
Great Results

Frankly, I'm amazed and very surprised…I was getting up 3 times a night and having a hard time getting a good night's sleep…But the first night, I got up only once! I was blown away, but one night doesn't make a success story. After taking it for over a month now, I find that I'm getting up 1 or 2 times a night…I've even had an occasional night where I slept through with NO bathroom trips! What a great feeling!…I have to say, I'm thrilled with my results! – Dan K

Love It!

I've tried other products that have similar nutrients, but your product is stronger and more potent. That's what I'm looking for and that's why I appreciate the efficacy of Prostate MD. I'll continue to use it and I'll continue to tell others why it's a stronger and better than other products. Ken K

Amazing Product

I have been using many different supplements…and Prostate MD is one of the finest I have used…Do yourself a favor and give it a 3 month trial run, you will be pleased and so will your spouse! John L

Less Bathroom Trips

My first three month order seems to have improved my ability to urinate and reduce trips to the bathroom at night. Leo
Conclusion
1MD Prostate MD is an all-natural product specifically for men who have an enlarged prostate and are experiencing urinary tract symptoms. With enriching Prostate MD by 1MD ingredients that have evidence to support their efficacy, this product decreases the inflammation and eases symptoms. It promotes prostate and urinary tract health.
Most of the reviews of Prostate MD online were very positive, and most men said it worked extremely well to decrease their urinary tract symptoms, improve their sleep, and as a consequence their mood. There weren't a lot of poor reviews about 1MD Prostate MD.
1MD Prostate MD is a high-quality, safe product with gentle ingredients, and it shouldn't lead to any harmful 1MD ProstateMD side effects. In my experience with this supplement, I never had any unpleasant symptoms and it only provided me with positive results.
You can also check out Prostate 911. It helps in decreasing swelling and alleviating symptoms such as frequent and overnight urination, dribbling, obstructed urine flow, and burning during urination.
At Wellness Digest, our sourcing guidelines are strict and we only use primary references for our articles including peer-reviewed studies, academic research institutions, and medical associations. You can learn more about how we ensure our content is accurate and current by reading our editorial policy.
Dietary Antioxidants in Prostate Cancer | Brigham Young University, Department of Microbiology and Molecular Biology, Provo, UT, USA https://www.sciencedirect.com/science/article/abs/pii/B9780124052055000179
Effects of dietary sterols on prostate cancer formation, progression and prevention | Yi Lu and Jun Zhang Cancer Res May 1 2007 (67) (9 Supplement) 1650;
Abe M, Ito Y, Oyunzul L, Oki-Fujino T, Yamada S. Pharmacologically relevant receptor binding characteristics and 5alpha-reductase inhibitory activity of free fatty acids contained in saw palmetto extract. Biol. Pharm. Bull. 2009;32:646–650.
Baron A, Mancini M, Caldwell E, Cabrelle A, Bernardi P, Pagano F. Serenoa repens extract targets mitochondria and activates the intrinsic apoptotic pathway in human prostate cancer cells. BJU Int. 2009;103:1275–1283.
Kwon Y. Use of saw palmetto (Serenoa repens) extract for benign prostatic hyperplasia. Food Sci Biotechnol. 2019 Apr 17;28(6):1599-1606. doi: 10.1007/s10068-019-00605-9. PMID: 31807332; PMCID: PMC6859144.