What exactly are joint supplements?
A joint supplement is a product that is formulated with ingredients intended to support bone integrity and joint cartilage. Joint supplements are designed to relieve joint pain by reducing acute inflammation, swelling, and stiffness to ease movement.
About Joint Pain
Joint pain is one of the most excruciating experiences a person can go through. It can be felt in various body parts including the hands, hips, spine, and feet.
Joint pain can manifest as a constant pain or on and off pain caused by a medical condition or mechanical issues. Symptoms of joint pain can be achy, burning, grating, throbbing, stiff, or sore sensation in the joints. The stiffness usually loosens up with movement, but too much activity usually worsens the situation.
The major disadvantage of joint pain is that it impedes the ability to conduct basic tasks such as showering. As it progresses, joint pain affects the quality of life because it restricts one from conducting most activities of daily living.
The Common Causes of Joint Pain According to Experts
According to experts, joint pain is caused by many factors such as age, weight, overuse, prior injuries, vitamin & mineral imbalances and other medical conditions.
Age – with age, the joints are subjected to overuse that causes wear and tear of the joints. This causes stiff and painful joints in middle-aged and older adults.
Weight – excess weight places extra pressure on already weight-bearing joints; such as the knees thus causing increased joint pain.
Injuries – previous injuries such as sprains, tears, or broken bones can cause joint pain to remanifest.
Vitamin and Minerals – deficiencies or excess amounts of Vitamins K, D, Calcium and Phosphorus are essential in bone health. An imbalance can cause bone loss and unwanted joint and/or bone pain.
Medical conditions that cause chronic joint pain include:
Osteoarthritis – this is a type of arthritis that occurs when the protective cartilage is worn out. It causes joint pain and stiffness. Osteoarthritis can affect any joint, but it mostly affects the knees, hands, spine, and hips.
Rheumatoid arthritis – this is another type of autoimmune arthritis disease that causes joint pain and damage throughout the body. Joints affected by this chronic disease usually become deformed. Rheumatoid arthritis can affect the whole body.
Tendinitis – this is an irritation and inflammation of the tendons, which are the fibrous bands that connect the muscles to the bones. Typically, caused by overuse. Tendinitis typically affects the wrist, elbow, shoulder, or heels.
Bursitis – this is an irritation and inflammation of the bursa sac, which are sacs that are filled with fluid to help reduce rubbing and friction of the bones and other tissues. It majorly affects joints like elbow, shoulder, hip, and knee. Like tendinitis, this too can be caused by overuse.
Gout – this is a form of arthritis where the body's extra uric acid collects in joints in the form of sharp crystals, causing severe joint pain and swelling. Uric acids are waste products coming from purines, substances found naturally in shellfish and organ meats.
Viral infections – viruses such as parvovirus, HIV, and those that cause hepatitis B and C, mumps, and rubella can cause viral arthritis for individuals of any age. Rash or fevers caused by these infections can impede joint movement by irritating and inflaming joints.
What Ingredients Do Experts Recommend for Joint Pain?
Turmeric – Turmeric and Curcumin-enriched extracts have been used to treat arthritis for a long time. This spice is known to significantly reduce inflammation caused by osteoarthritis.
Turmeric is used as an anti-inflammatory treatment in traditional Chinese and Ayurvedic medicines. According to a study by Daily et al. in the Journal of Medicinal Food, the effective components in turmeric include gingerols, zingerone, shogaols, zingerine, and paradol. The studies agree on the efficacy of turmeric extracts for the treatment of musculoskeletal disorders.
Louis Malinow, MD also recommends Turmeric Products with black pepper extract. He adds that black pepper increases the bioavailability of the components in Turmeric, particularly Curcumin which is a key ingredient when it comes to pain relief.
Chondroitin sulfate – This ingredient is a symptomatic slow-acting drug that is claimed to be effective in the treatment of knee or hip osteoarthritis.
According to a randomized controlled trial by Zhu et al. in the Journal of Orthopaedic Surgery and Research, chondroitin was found to be more effective in alleviating pain symptoms and improving function than placebo.
Glucosamine sulfate – Glucosamine is a biological component of joint cartilage that is usually used as a supplement to treat knee osteoarthritis. Glucosamine products are popular in Asian countries.
In a meta-analysis by Ogata et al. in the Clinical Rheumatology journal, glucosamine was found to be favorable compared to placebo pain scores. While most of the reviewed studies claimed that glucosamine had varied results, its collective effect was concluded to be small.
Vitamin D3 – This ingredient is vital for bone health among few known benefits. Low levels of vitamin D have been associated with increased joint and muscle pain.
Vitamin D is recommended to older adults to prevent fractures. According to a study by Park C.,Y. published in the Nutrients journal, vitamin D supplementation can alleviate joint pain in osteoarthritis (OA) patients with low vitamin D status. According to Joel Totoro, RD, Director of Sports Science at Thorne Vitamin D might be of great importance when it comes to performance for active individuals.
Vitamin D supplement is often recommended to people who don't get enough sunlight, elderly individuals or those who are unfit to meet the dietary prerequisites through food. The best way to test your individualized Vitamin D levels is through blood work. More specifically, testing for 25-Hydroxy-Vitamin D aka "Active Vitamin D."
Do joint pain supplements work?
Depending on the ingredients and accurate dose of your joint supplement, it may work to reduce pain, swelling and inflammation while improving joint mobility and strength.
What are some experts' recommended vitamins for joint pain?
Vitamin D is often the recommended vitamin for joint pain because deficiencies are common and may lead to side effects such as joint pain. Vitamin D deficiency can also cause rheumatoid arthritis which mostly affects the knees, hips, and legs.
Are joint supplements really effective?
There are many joint support supplements on the market. They are touted as joint pain relievers as well as cures for joint pain. While not all products may work as advertised, there are some supplements that can relieve the symptoms of joint discomfort combined with an active lifestyle and supportive nutrition regimen.
How to find the best joint supplement that works for you
With countless joint supplements present in the market, it is quite daunting to find one that actually works. To find a good product for your joints, check out for:
Brand – purchasing a joint supplement from a reputable brand will help you get value for your money. Some of the products from these brands have great reviews from customers which make them even more appealing.
Seal of approval – to ensure you purchase a quality joint supplement check out for a seal of approval from agencies such as NSF International, USP, and ConsumerLab.com.
Ingredients – check out for popular joint supporting ingredients including turmeric, glucosamine, chondroitin, boswellia, methylsulfonylmethane, and devil's claw among others.
Price tag – joint pain takes time to recover thus you will need to use a supplement for an extended period at least 2-3 months. For this reason, it is better to get a supplement that it is cost-effective.
Lot and batch number – these numbers are important to consumers as they prove the company's accountability. Through these numbers, the brand can trace the product and alert customers in case of any issue.
Our Best Supplements for Joint Pain:
Turmeric Curcumin Plus is a popular supplement that claims to provide many health benefits. It is a vegan friendly product that claims to support joint and muscle health. Apart from joint health, this supplement also supports immune and brain health. The ingredients in this supplement include:
Pros
May reduce joint pain, inflammation, and swelling
May support joint and muscle health for longer
Claims to be formulated using high quality ingredients
Cons
May not treat the underlying issues causing joint pain
Price – 1 bottle – $23.95, 2 bottles – $42.94, 3 bottles – $64.41
---
ProJoint Plus is an herbal joint supplement that claims to support joint health, cartilage health, as well as joint mobility. This product works through the ingredients in its formula to replenish the joints with beneficial nutrients that improve the functions of the joint. By supplementing the joints, this product may help relieve pain and reduce swelling. Some of the ingredients in this formula include;
Pros
May reduce joint inflammation and pain
May enhance physical function and performance
May improve quality of life
Cons
Contains shellfish thus not suitable for those with shellfish allergy
Price – 1 bottle – $29.95, 2 bottles – $52.96, 3 bottles – $78.96
---
Joint N-11 is a doctor-formulated joint supplement that claims to contain all-natural ingredients. These ingredients supposedly support joint mobility and flexibility. According to the manufacturer, Joint N-11 helps to revive joint tissue thus improving the mobility of the knees, back and hips. Additionally, this supplement prevents aging symptoms including memory loss, heart problems, and irregular blood sugar levels. Ingredients in this product include:
Pros
May reduce joint pain and inflammation
May improve joint flexibility
May improve general health
Cons
May cause mild side effects such as nausea, acid reflux, and diarrhea
Price – 1 bottle – $49.00, 3 bottles – $117.00, 6 bottles – $198.00
---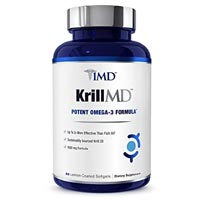 KrillMD is a joint supplement that is claimed to be formulated with pure Antarctic krill oil and powerful antioxidants. This advanced omega-3 formula that provides support to heart, joint, and brain health. KrillMD works by reducing oxidative stress, improving joint flexibility, supplementing the joints with omega-3 fatty acids, and maintaining healthy cholesterol levels.
Some of the ingredients in this product include:
Pros
May provide long-term joint, brain, and heart health
May contain pure krill oil from Antarctica
May help maintain cholesterol levels
Cons
May cause contraindications with medications such as blood thinners
Price – 1 bottle – $40.99, 3 bottles – $107.97, 6 bottles – $179.94
---
MoveMD is a comprehensive joint health solution that claims to contain clinically approves ingredients. This supplement may stop daily joint aches by increasing antioxidant and collagen levels in the body. According to the manufacturer, MoveMD can relieve joint discomfort in 5 days only. It can also improve joint mobility and flexibility by reducing oxidative stress in the tissues. Some of the ingredients in this supplement include:
Pros
May ease joint pain and improve flexibility
May help you get back to your active life
Claimed to be a fast-acting formula
Cons
Contains food allergens such as eggs and milk
Price – 1 bottle – $40.99, 3 bottles – $107.97, 6 bottles – $179.94
---
CurcuminMD Plus is a dietary supplement that claims to relieve occasional soreness and stiffness of the joints. This high-potency formula may promote heart and cognitive health through its ingredients. CurcuminMD benefits include memory support, focus support, mood support, muscle recovery support, and joint stiffness support. Ingredients in this formula include:
---
Tips for choosing a supplement
Choosing a high quality supplement can be very tricky. To pick out the best product amidst misleading claims and pointless additives, you need to:
Check the ingredients
Look into the bold claims for accurateness
Go for supplements with the right dose
Check for the product's third party testing label.
Consider the cost and where it is manufactured
FAQs
Q: What is a good supplement for knee joint pain?
A: A good supplement is one that contains beneficial ingredients that help relieve pain, reduce inflammation, and support cartilage health.
Q: What are some major joint pain causes?
A: Joint pain is mostly caused by age, weight, overuse, previous injuries, and medical conditions.
Q: What is the best supplement for knee cartilage?
A: The best supplement for knee cartilage contains ingredients that repair and rebuild the cartilage. Check out for ingredients such as glucosamine, chondroitin, turmeric with black pepper extract, and omega-3 as they are effective in supporting cartilage health.
Q: What is a good supplement for osteoarthritis?
A: Osteoarthritis supplements should contain effective ingredients such as fish oil, glucosamine, chondroitin, vitamin D3, MSM, and Boswellia serrata.
Q: What is the best fish oil to take for joint pain?
A: The best fish oil for joint pain is a good source of marine omega-3s high in EPA to DHA ratio with third-party testing. Keep supplement refrigerated to preserve ingredients. Examples of fish that produce this oil include salmon, sardines, tuna, and mackerel.
Q: What causes muscle and joint pain with fatigue?
A: Chronic Fatigue Syndrome is a condition which causes one to feel exhausted regardless of how much rest you get. This condition causes aches in muscles and joints throughout the body.
Q: How do you identify the best supplements for joint pain bodybuilding?
A: Check out for supplements with ingredients that provide joint lubrication, anti-inflammatory properties, and joint pain relief described above. Most individuals with aches and pains in repetitive sports such as bodybuilding suffer with overuse injuries. Provide your body a break and don't forget the importance of recovery.
Q: How to recover from joint pain after covid?
A: Joint pain is experienced after covid due to autoimmune attacks. The pain is short-lived and does not cause permanent damage. To ease this pain, manage inflammation (rest, ice, compression, and elevation), use anti-inflammatory medications, prevent joint pain flare-ups, and engage in some exercises. If symptoms persist, go to the doctor.
Q: Is joint pain a symptom of covid
A: Yes, COVID may cause joint pains in some individuals.
Q: How to know the best supplements for menopause joint pain
A: Hormonal changes caused by menopause increases the risk of dehydration, causing joint swelling and other hormone imbalances. Joint supplements that feature ingredients such as turmeric, curcumin, omega-3 fatty acids, capsaicin, Gamma Linoleic Acid (GLA) and ginger, are claimed to be effective.
Q: What is a good supplement for back pain?
A: For back pain, consider supplements with ingredients such as glucosamine and chondroitin, devil's claw, vitamin D, and omega-3 fatty acids.
Q: Are there supplements for cracking joints?
A: Cracking joints is common and not necessarily an indicator of poor joint health. You can support your joint health with supplemnts such as glucosamine, chondroitin, turmeric, MSM, tamarind seed, and boswellia are good choices.
Final Thought
Joint pain can affect adults in their middle to older ages. Whether due to old age or a medical condition, joint pain can limit one's day to day activities. Joint pain manifests itself in terms of stiffness, soreness, and immobility. Since most sufferers want a quick solution, supplements have become popular.
There are different types of joint supplements in the market. These supplements have been formulated with botanical extracts, minerals, and vitamins that support the joint structure by reducing pain, inflammation, and stiffness.
Depending on the content in these supplements, the effects could be instant or gradual. Good supplements may not only help relieve pain in a few days. They can also provide long term joint support to people with osteoarthritis as well as help with recurrent joint issues.
Some supplements contain extra beneficial ingredients that promote both heart and brain health. This can be an added advantage after experiencing joint pain relief.
Unfortunately, some supplements have food allergens such as shellfish, soy, eggs, milk, gluten, and wheat. Users with these allergies will therefore have to find alternatives that are free from these ingredients.
Additionally, joint supplements can be restrictive to users on medication, pregnant, or breastfeeding. If you fall under any of these categories, you will have to consult your doctor to get a safer supplement for your joints.
Once you have ruled out allergens or restrictions by the manufacturer, you can now pick a product that suit your joint needs. Select a product that is not only from a legitimate brand but also has good customer reviews. Conduct your due diligence and only settle when you are sure to get value for your money.
Apart from using supplements, strive to make lifestyles changes that will help reduce joint pain. A healthy diet and regular exercise could be a good start on your journey to healthy joints.