What Are Eye Secrets Collagen and Q10 Gel Patches?
Eye Secrets Collagen and Q10 Gel Patches help you get the most out of your daily skincare routine. The patches help to treat dark circles, fine lines and wrinkles, crow's feet, and sagging skin under the eyes.
The combination of collagen and Q10 helps to firm skin while reducing the appearance of fine lines and wrinkles. The Q10 will also brighten up your skin tone and improve elasticity.
The patches are easy to apply – simply remove them from their packaging and place them on clean skin underneath your eyes. You can wear them during the day for up to 20 minutes at a time.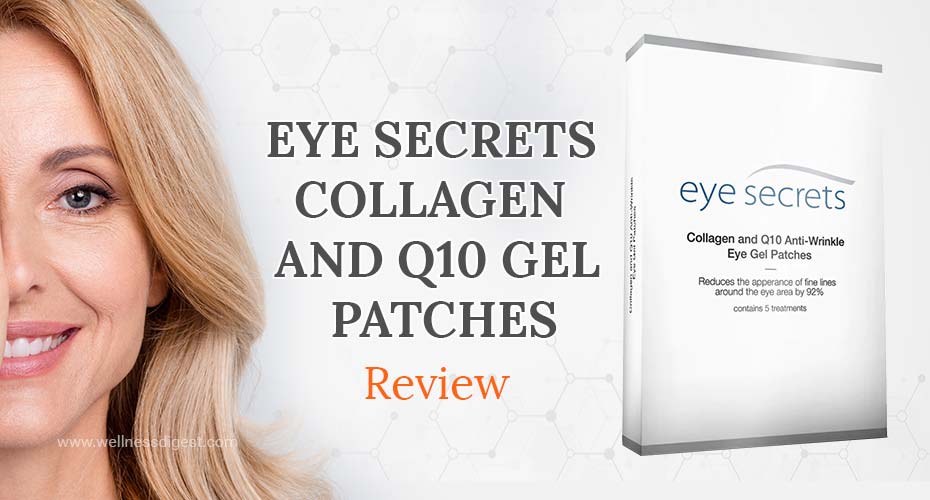 About The Brand
Bauer Nutrition is a company that offers a variety of health and wellness products. They have an in-house holistic lifestyle coach and nutritionist who ensure that everything has high-quality ingredients that are ethically sourced and that target the root cause of the problem. Their parent company, Wolfson Berg Ltd. Bauer, is in Scotland and is a well-known producer of high-quality supplements.
Highlights
Brightens Skin
5 easy-to-apply gel patches
reduces eye puffiness
brightens complexion
Key Ingredients
Glycerine
Collagen
Hyaluronic Acid
Pectin
Imidazolinul Urea
Alpha-Bisabolol
Ubiquinone
Nicotinamide
Pros
reduces wrinkles
boosts your confidence
brightens complexion
moisturizes the skin
reduces eye bags
Cons
results may vary
it takes up to 10 minutes to apply it
high demand may lead to low stock
Overall Rating:4.8/ 5
Key Facts
| | |
| --- | --- |
| 😊 Benefits | These patches hydrate the skin around the eyes and eliminate dryness. It helps to smooth wrinkles and fine lines and helps to repair any damage to the skin barrier. |
| ✅ Discounts | Multiple purchase discounts |
| 🏢 Company | Bauer Nutrition |
| ⚥ Age Group | Adults |
| Form | Gel Patches |
| 👫 Gender | Unisex |
What Are The Ingredients In Eye Secrets Collagen and Q10 Gel Patches?
Below you'll find the primary ingredients in Eye Secrets Collagen and Q10 Gel Patches.
Glycerine
Glycerine [1] is a colorless, odorless, viscous liquid that's used in a variety of cosmetics and personal care products. It's also used as a lubricant and coolant and is found in moisturizers, lip balms, and bath products because it can help to keep the skin hydrated.
Because glycerine has the ability to draw moisture from the air onto your face and body, it can help to soothe dry skin. This is especially beneficial for those who live in dry climates or environments where humidity levels are low. The hydrating properties of glycerine also make it ideal for use on eczema-prone skin or as a moisturizer after shaving.
Collagen
Collagen [2] is a protein found in the body's connective tissue. It's found in ligaments, tendons, muscles, and skin. Collagen helps maintain the strength of bones and joints.
Collagen is also responsible for keeping your skin looking young and healthy. Collagen prevents wrinkles and fine lines from forming on your face by keeping the skin smooth and elastic.
When collagen breaks down, it causes the skin to wrinkle and sag. When you don't get enough collagen in your diet, you may begin to notice that your skin looks duller and maybe even more wrinkled than it used to be.
Hyaluronic Acid
Hyaluronic Acid [3] skin elasticity is the process of preserving and improving the elasticity of your skin. It is also a way to make your skin look younger and healthier.
Hyaluronic Acid products such as creams, gels, lotions, serums, and ointments can improve the elasticity of your skin. These products contain hyaluronic acid, which is an active ingredient that is found naturally in our bodies, especially when we are young.
Hyaluronic Acid helps to keep our skin soft and smooth. It also helps to keep it plump and healthy looking by keeping water molecules in the skin where they belong. This means that when you use a product containing this substance, you will notice that your skin will appear more hydrated and younger looking after using it regularly over time
Ubiquinone
Ubiquinone, also called coenzyme Q10 [4], is a type of fat-soluble organic compound found in all living cells. It's important for a variety of biochemical processes, including energy production, apoptosis (programmed cell death), and DNA repair.
The name "ubiquinone" comes from the Latin "ubiquis," meaning "everywhere." Ubiquinone is not only present in all living organisms; it's also present in almost every single cell of those organisms.
Urea
Urea [5] is a chemical compound used in many beauty products. It is found in moisturizers, eye creams, and other skin treatments. Urea has a number of different properties that make it appealing to manufacturers of skin care products.
Urea helps the skin retain moisture by attracting water molecules to the outermost layer of the epidermis. It does this by forming hydrogen bonds with water molecules. This process allows for more moisture retention and consequently smoother, softer skin. Urea also has antibacterial properties, which help to prevent infections caused by bacteria on your skin.
How Does Eye Secrets Collagen and Q10 Gel Patches Work?
Eye Secrets Collagen and Q10 Gel Patches work by increasing the amount of collagen in your skin, which helps it look younger and more vibrant.
Collagen is a protein that gives our skin its strength and elasticity. As we age, collagen levels decrease, causing our skin to lose its firmness and youthful appearance. By using Eye Secrets Collagen and Q10 Gel Patches, you can increase the amount of collagen in your skin, which will give it a more youthful appearance.
The Eye Secrets Collagen and Q10 Gel Patches also work by increasing the amount of Coenzyme Q10 (CoQ10) in your body. CoQ10 is essential for cellular energy production, and low levels can cause fatigue or muscle weakness—something we see often as we age. The Eye Secrets Collagen and Q10 Gel Patches help increase CoQ10 levels so that you can have more energy throughout the day!
FAQs
Q: Where can I buy Eye Secrets Collagen and Q10 Gel Patches?
A: This cream is available on the manufacturer's website and online retailers. The company offers free shipping, and you can get discounts when purchasing multiple boxes.
Q: Who should use Eye Secrets Collagen and Q10 Gel Patches?
A: Eye Secrets Collagen and Q10 Gel Patches are a great option for anyone who wants to reduce the appearance of wrinkles and puffiness, or who wants to improve their skin's elasticity. They're especially great for people who have experienced recent trauma to their eyes, like from a surgery or an accident.
Q: What is Eye Secrets Collagen and Q10 Gel Patches return policy?
A: The manufacturer has a 60 day return policy. The item must be returned in new condition in its original container.
Q: How do you use Eye Secrets Collagen and Q10 Gel Patches?
A: You use them once a day, preferably in the morning. You place patches under your eyes and leave them on for 10 minutes to allow for the nutrients to absorb into the body.
---
Conclusion
In short, Eye Secrets Collagen and Q10 Gel Patches are a great skincare product. The hydrating and anti-aging properties of the ingredients in these patches help to treat and smooth the skin around the eyes, and with consistent use, they should help to reduce the appearance of fine lines and wrinkles. There are customer reviews that show these gel patches are more effective than applying a skin cream with similar ingredients.
At Wellness Digest, our sourcing guidelines are strict and we only use primary references for our articles including peer-reviewed studies, academic research institutions, and medical associations. You can learn more about how we ensure our content is accurate and current by reading our editorial policy.