What is Har Vokse Hair Spray?
Hair loss is a common problem that affects both men and women. Although it's not life-threatening, it can be embarrassing and uncomfortable.
There are several different types of hair loss, including alopecia areata [1] and alopecia totalis [2]. Alopecia areata can occur at any age but is most common in children, while alopecia totalis typically occurs after age 20. Alopecia Universalis [3] occurs when all body hair is lost, including eyebrows and eyelashes.
Hair loss may also result from a variety of medications, including chemotherapy drugs and some antidepressants, as well as from certain diseases such as lupus or syphilis.
The most common cause of hair loss is male pattern baldness (androgenetic alopecia [4]). This type of balding usually develops during the late teens or early twenties; however, it can begin earlier if your father or brother has premature baldness. Men with male pattern baldness have inherited genes that make their hair follicles susceptible to the effects of hormones called androgens (male hormones). As you age, these hormones cause your scalp to produce fewer active follicles than it did when you were younger, resulting in less dense hair growth.
This is where Har Vokse Hair Spray can help. Natural hair is beautiful, but it can also be a pain to maintain. Whether your hair is thinning or you're just looking for a way to give your mane extra strength and volume, Har Vokse Hair Spray is here to help.
Har Vokse uses a blend of natural ingredients to nourish and strengthen your hair, as well as thicken it. It also improves hair growth and color, so you can feel confident about the way you look when you step out of the house.
About The Brand
Bauer Nutrition, the manufacturer of Har Vokse Hair Spray, has been making dietary supplements since 2013. Since its launch, the company has created a name for itself by making high-quality supplements with the mission to provide safe solutions to people looking to improve their health and beauty regiment. Angela Macritchie, the in house holistic lifestyle therapist and nutritionist ensures that all ingredients will target the root cause of the problem and will do what they say they will.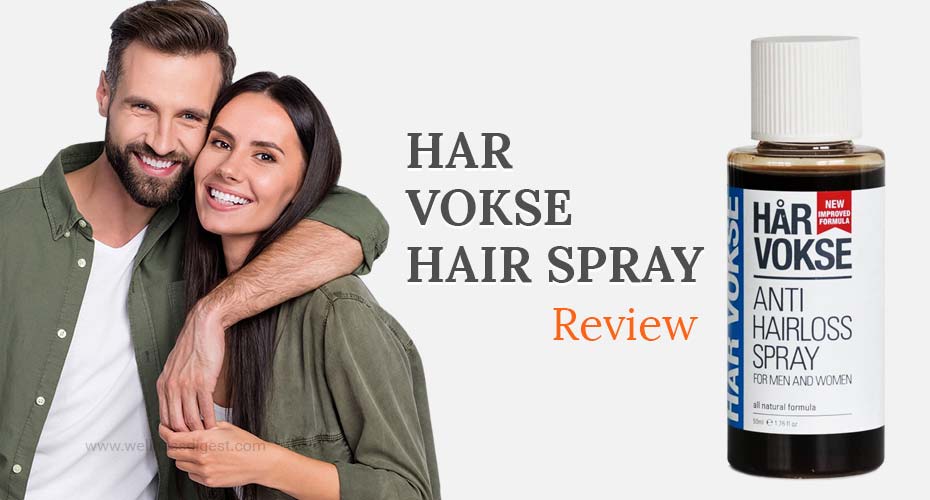 How Does It Rate?
Brand Highlights
hair regrowth
prevents hair loss
promotes hair strength
boosts confidence
Key Features
Camellia Sinensis Leaf Extract
Coffea Arabica Seed Extract.
Fucus Vesiculosus Thallus Extract
Rosmarinus Officinalis Herb Extract
Urtica Dioica Leaf Extract
Pros
supports hair growth
thickens and strengthens hair proteins
helps keep hair anchored
helps nourish hair
regrows hair
Cons
results may vary from one person to another
Overall Rating:4.8/ 5
Har Vokse Hair Spray Supplement – Key Facts
| | |
| --- | --- |
| 😊 Benefits | Nourishes and moisturizes scalp, targets hair loss issues with nutrients, stops signs of hair thinning works for both men and women. |
| ✅ Discounts | Multiple bottle discounts |
| 🏢 Company | Bauer |
| ⚥ Age Group | Adults |
| Form | spray |
| 👫 Gender | Unisex |
What Ingredients Are In Har Vokse Hair Spray?
Camellia Sinensis Leaf Extract
Camellia Sinensis Leaf Extract [5] is a natural ingredient that helps to prevent hair loss by nourishing the scalp and encouraging growth. Made from the leaves of the tea plant, it has long been used in Chinese medicine for its antioxidant and anti-inflammatory properties.
Coffea Arabica Seed Extract
Caffeine, the main ingredient in coffee, has been shown to reduce hair loss by increasing blood flow to the scalp. The caffeine in the extract of Coffea Arabica seeds has been shown to increase blood flow to the scalp and improve circulation, which helps prevent hair loss.
Coffea Arabica Seed Extract [6] is an effective natural remedy for preventing hair loss due to its caffeine content as well as other active ingredients that promote healthy hair growth.
Fucus Vesiculosus Thallus Extract
Fucus Vesiculosus Thallus Extract [7] is a hair loss prevention supplement that's been used for centuries to strengthen and regrow hair. It contains vitamins A, B, and C, which help your body to absorb minerals from food, as well as iodine and iron.
Because it helps your body absorb nutrients from food, Fucus Vesiculosus Thallus Extract can help prevent hair loss by strengthening the follicles in your scalp. It also improves blood circulation to your scalp, which helps your hair grow faster.
Rosmarinus Officinalis Herb Extract
Rosmarinus Officinalis Herb Extract [8] is a natural product that helps prevent hair loss. It's made from the leaves of the rosemary plant, which has been used as a medicinal herb for centuries. It has been shown to be helpful in treating several ailments, including digestive problems, muscle pain, and even some forms of cancer.
This product works by increasing blood flow to the scalp, which helps prevent hair loss by increasing nutrients to the roots of your hair and promoting growth.
Urtica Dioica Leaf Extract
Urtica dioica [9] is a plant native to the Northern Hemisphere. It has been used in traditional medicine for centuries and is currently being explored as a potential treatment for irritable bowel syndrome (IBS).
The extract of Urtica dioica leaves contains several compounds that may have anti-inflammatory and analgesic effects on the gut. The most significant of these compounds is urotensin Ia (Ursolic acid), which has been shown to reduce pain and inflammation in the gut by inhibiting pro-inflammatory cytokines such as IL-1β and TNF-α.
How Does Har Vokse Hair Spray Work?
Har Vokse Hair loss hair Spray is an all-natural product that is designed to address issues of hair loss and thinning. The product is made up of purely natural ingredients, these ingredients help the body produce more keratin, a protein that is necessary for hair growth.
Har Vokse also works by increasing blood circulation in the scalp area. This helps promote healthy follicles and improved hair growth.
Frequently Asked Questions
Q: How long does it take Har Vokse Hair Spray to work?
A: While every individual has their own results and hair conditions, the amount of time may vary by individual. However, most people notice a difference within one to two months. Many users report that they see a difference within a month.
Q: Is Har Vokse Hair Spray safe to use?
A: Yes, unlike other treatments that use chemical and synthetic formulas, Har Vokse Hair Spray has no known long-term side effects. Har Vokse Hair Spray is a natural hair growth product that promotes hair growth using the rarest botanical oils, vitamins, minerals, and other essential nutrients. It is safe to use as it does not contain any harmful chemicals. It is entirely organic and does not contain any artificial ingredients.
Q: Har Vokse side effects?
A: There are no known side effects that have been reported as of this writing.
Q: Where Can I Buy Har Vokse Hair Spray?
A: You can place an order for Har Vokse from their official website and many third party websites.
Q: How much does Har Vokse cost?
A: You can purchase two months and get one month free for $119.99 or buy 3 months and get 2 months free for $179.99.
---
Har Vokse Hair Spray Final Thoughts
The Har Vokse Hair Loss Spray is an easy way to help you combat hair loss and regrow your hair. Har Vokse Hair Loss Spray works with all hair types, so no matter what type of hair you have, you can use this product.
Using the Har Vokse Hair Loss Spray is easy. Simply spray it on your scalp and massage into your hair. The spray penetrates deep into your roots and follicles, helping to regrow any lost or damaged hair.
Har Vokse Hair Loss Spray contains all natural ingredients that are safe for daily use. This product has been tested by dermatologists and found to be completely safe for use on both men and women alike!
At Wellness Digest, our sourcing guidelines are strict and we only use primary references for our articles including peer-reviewed studies, academic research institutions, and medical associations. You can learn more about how we ensure our content is accurate and current by reading our editorial policy.