What is Noom?
Noom is a Smartphone app which guides you in changing your eating habits, cutting calories, and losing weight. The system provides you with food lists, meal plans, and Noom recipes on a regular basis as well as information about nutrition and good eating habits.
In addition, there is both individualized coaching as well as a group support setting to help you succeed in the program. Noom provides you with tools like tracking your blood pressure and sugar and monitoring your weight, exercise, and meals. They offer a guide which uses a color coding system to categorize different groups of foods.
Who is the Manufacturer of Noom?
A company called Noom, Inc manufactures this app, and they have their headquarters in New York, New York. They produce this digital weight loss and nutrition program exclusively to help people support weight loss and health goals.
The CDC's National Center for Chronic Disease Prevention and Health Promotion supports the Noom platform as one method of fighting the battle against diabetes (1).
---
What Are the Benefits and Disadvantages of Noom?
Pros
The Noom diet program gives you daily food and meal recommendations.
Noom allows you to monitor your blood sugar and blood pressure.
There's a support group which includes discussion, information, and challenges.
Noom Weight loss has tracking tools to help you see how you have progressed.
They provide you with individualized coaching for motivation and goal-setting.
Cons
The Noom app is only available on iOS and Android smartphones, and not on desktop.
Some users may prefer in-person coaching and support.
---
What Are the Components of Noom?
This product has several different key features, which are the following:
Nutritional Support
Noom provides you with nutritional information and articles, food lists, meal plans, and recipes designed to help you transform your eating habits and lose weight.
Personalized Support/Coaching
You get a one-on-one coach to help you through the program and advise you. In addition, there is a group support setting which most users find very valuable. A study in PLOS ONE found that one-on-one digital coaching in a weight loss program may be comparable to in-person coaching in its effectiveness (2).
Biometric Tracking
Noom provides a tool which lets you check your blood sugar and blood pressure and track it over time.
Tracking Tools
The app includes tools which help you track your weight, eating, and exercise so you can look back and see your progress. According to Harvard Health Publishing, keeping a food journal is a useful weight-loss tool (3).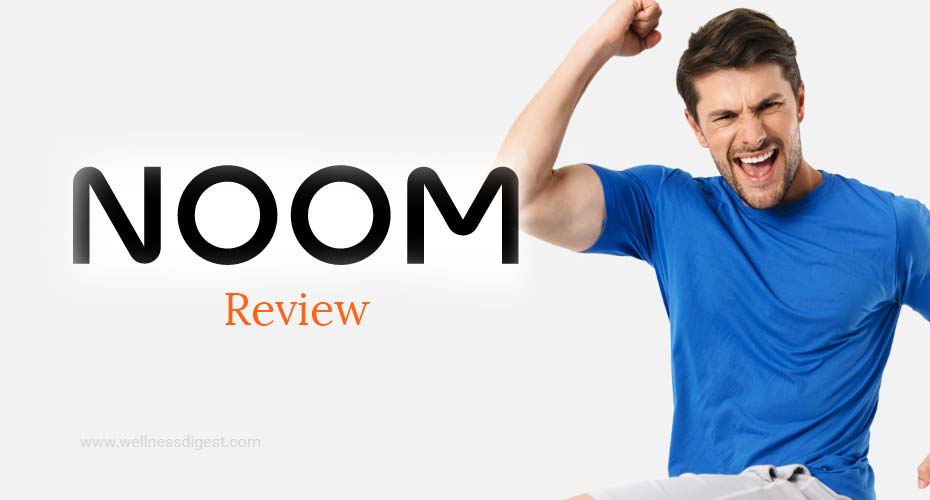 How Does Noom Work?
The goal of Noom is to help users lose weight, and to develop healthier eating habits that will allow them to keep the weight off long-term. The program uses coaching and providing valuable information.
In essence, it uses a behavioral method to get you to transform your lifestyle habits over time. A review in the Annals of Internal Medicine found that a behavioral approach was very successful for losing weight and maintaining control (4).
They also give you all the tools you need to succeed, like food lists and meal plans tailored to your needs. The weight loss approach involves creating a calorie deficit, which is a common and helpful method for taking off extra pounds. In order to help you see which foods you can eat more easily, they divide them into group based on the colors of red, yellow, or green.
The was a review of digital weight loss apps published in Frontiers in Endocrinology which indicates that these programs can be effective for weight loss (5).
Frequently Asked Questions (FAQs)
Q: How Much Does Noom Cost?
A: You purchase Noom from the official website, and the price is for an auto-recurring subscription plan for a certain number of months. The Noom cost is as follows:
1 Month – $59
2 Months – $150
3 Months – $180
4 Months – $240
5 Months – $300
6 Months – $360
7 Months – $420
8 Months – $480
Annual Plan – $199
Q: What is the Refund Policy or Guarantee?
A: There's no refund for months that have already passed, but you can cancel your subscription to Noom anytime by simply sending a text to your coach or telling Noom customer service. You have to pay for the current month, but when it ends your subscription is over and they will not continue to charge you.
Q: What Does Noom Mean?
A: According to President and co-founder Artem Petakov, the name is the word "moon" backwards. He explained that "the moon is calm, wise, and always there for the whole world. Plus the name works in many languages (1)."
Q: Is Noom Worth It?
A: Noom does appear to be worth it overall, and when it comes to the Noom price it's quite reasonable. It uses a behavioral philosophy to get people to gradually change their food and lifestyle habits over time, and that is very valuable because it will allow you to keep the weight off over the long term.
In addition, it promotes healthy eating which will elevate your overall wellness. Noom also offers a lot of additional support to help you succeed, not to mention extra tools to chart your progress. Many of the reviews of Noom said the app was worth every penny.
Q: Does Noom Really Work?
A: The Noom program has a lot to offer any adult who is trying to lose weight. It uses a calorie-deficit approach, and evidence does indicate that this is one effective weight loss method (6). However, it also retrains you to follow a healthy, nutritious diet so the weight loss and health benefits continue into the future.
READ NEXT – Weight Watchers
Noom provides you with information, food lists, recipes, and meal plans to teach you to reach this goal. Most of the Noom reviews were from happy users who said the program was effective in helping them lose weight and change their eating habits.
Q: How Do I Cancel Noom?
A: You don't have to jump though any big hoops to cancel your Noom subscription. Just let your coach know by text that you would like to opt out at the end of the current month. They will close your service immediately, no questions asked.
Q: What Do the Noom Reviews Say?
A: For the most part, the Noom reviews spoke very highly of the program. Many people said it not only allowed them to lose weight, but it also retrained them to follow a more nutritious diet over the long run. Customers found the coaching to be excellent and they saw the support group as the highlight of Noom.
Q: Is Noom Safe?
A: Yes, Noom offers a safe diet plan high in nutrients and low in calories. The food and meal suggestions include nutritious items which support a healthy diet and should only enhance your wellness. There are no particular symptoms or side effects which could occur from following the Noom diet.
Q: Is Noom a Scam?
A: No, there's no question that Noom is a legitimate company and product. The app is very well-known in the market and respected for its health benefits. There are hundreds of Noom review posts online which support the program and confirm that it's genuine.
The Final Word
Noom is a program which is available on Smartphone app for Android and iOS. The goal of the plan is to help you lose weight, while also teaching you to follow a healthier diet which will support your immune system and help you keep the weight off. Noom offers personal coaching plus a support group to help you succeed. There are also tracking tools, meal plans, recipes, food lists, and articles.
The vast majority of the Noom reviews said they got a lot out of the program, and many said they were able to both meet their weight-loss goals and change their eating habits for good.
Users mentioned in particular the personal coaching and the support group as being highlights of the program as a whole.
Our review revealed few downfalls to Noom, and numerous benefits which could really change your life. The program is safe, healthy, and ensures that you get all of the key nutrients you need within a 1100-calorie a day diet. It's easy to follow and should have you on your way to a new you in no time!
Visit Cycling Diet if you're seeking Noom's alternative. It's a fitness and weight loss app created by RDNs and fitness professionals that sends you customized emails and activity routines based on the answers you give on a quiz on their website. The app's objectives are to encourage fat burning, weight loss, higher fitness levels, and muscle tone and strength.
Up NEXT – Beyond Body Reviews and Perfect Body Review