What is Primal Flex?
Primal Flex is an organic supplement supportive of joint damage repair and overall joint wellness. This natural formula contains ingredients like magnesium, vitamin C, and natural astaxanthin, packed with anti-inflammatory agents, antioxidants, vitamins, and minerals.
Joint pain is an irritating new-age issue that many suffer from worldwide. Both traditional and modern medicine inspires the Primal Flex formula. The potent blend promises to reduce swelling and inflammation, and is designed for fast healing of joints, protecting the knees, and boosting immunity.
Primal Flex offers:
Relieving the joint pain
Reducing swelling & inflammation
Protecting the knees
Improving the immune system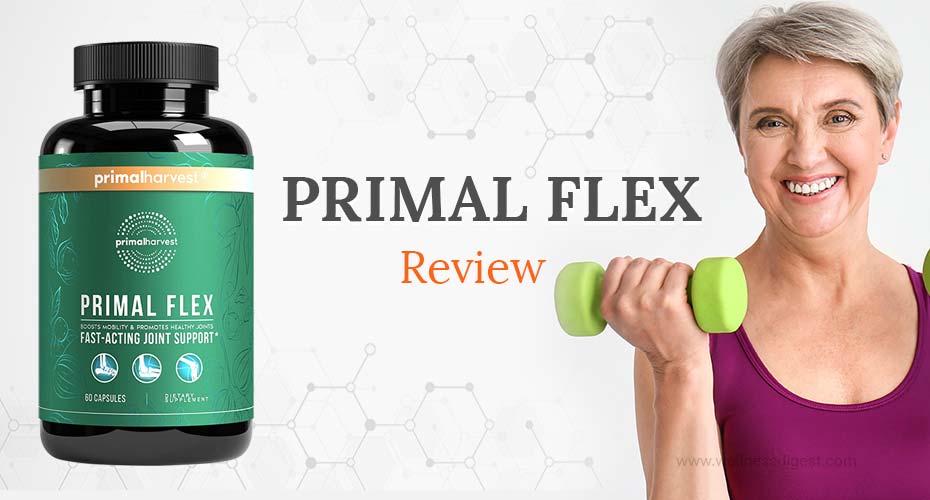 About the Brand
Primal Harvest is the brand behind Primal Flex, with headquarters in Farmingdale, New York, US. This company, founded in 2018, manufactures natural supplements for overall health and immunity.
Their product line includes immune health, joint health, gut health, heart health, energy & wellbeing, and even gummies. Some of the other products of this brand are called: Primal Collagen, Primal Bone Health, Primal Probiotics, Primal Omega 3, and Primal Multivitamin.
Highlights
A Joint Support Supplement Made of Natural Ingredients
Multi-Collagen Blend Loaded with Vitamin C
Ayurveda-inspired formula against Joint Pain & Inflammation
It Is a 3rd Party Certified Product.
Made in a GMP-Facility in the United States
It Has a (90-Day) Money-Back Guarantee
Key Ingredients
Vitamin C (as Magnesium Ascorbate & Calcium Ascorbate)
Magnesium (as Magnesium Oxide & Magnesium Ascorbate)
Biocell Collagen, Turmeric, Eggshell Membrane (Collagen Type I)
Boswellia Serrata Gum Resin Extract
BioPerine Black Pepper
Natural Astaxanthin
Ashwagandha
Pros
A joint supplement rich in inflammatory agents, antioxidants, vitamins, and minerals.
A multi-collagen blend promises to reduce joint pain & inflammation
It can improve joint mobility, flexibility, and immunity.
It is made of all-natural ingredients with no side effects.
Primal Flex is a 3rd party certified product made in a GMP facility in the US.
They offer a (90-day) money-back guarantee
Cons
Primal Flex's website doesn't provide clinical testing data trials.
It is somewhat pricier than some similar products.
Overall Rating:4.8/ 5
Product Specs
| | |
| --- | --- |
| Benefits | It promises joint pain relief, swelling & inflammation reduction, knee protection, and improving the body's immune system overall. |
| Ingredients | Gelatin (capsule), Microcrystalline, cellulose, Magnesium stearate & Silicon Dioxide |
| Discounts | The official website offers discounts if you order multiple bottles (3 or 6-bottle packages), and you get to save 12% to 19% by purchasing in bulk. There is also a 90-day money-back guarantee, plus free express shipping for orders over $75. |
| Company | Primal Harvest |
| Age Group | Adults |
| Form | Capsules |
| Gender | Unisex |
Primal Flex Ingredients
Magnesium
Magnesium is a mineral with many health benefits, and its effect on joint wellness and osteoarthritis has been researched in many studies. Findings indicate magnesium is an anti-inflammatory agent that reduces the C-reactive protein (CRP) marker that can cause inflammation.
An NIH study by A. Shmagel and his colleagues in 2018 also confirmed lower magnesium intake is associated with worse pain and function in the knee.
Vitamin C
Vitamin C is an essential substance with significant roles in the human body, including joints, bone, skin health, and collagen production.
Some studies show the effect of vitamin C supplementation on osteoarthritis (degenerative joint disease) treatment or prevention. Vitamin C can also aid in reducing the knee's arthritic symptoms, joint pain, and swelling.
Biocell Collagen
Biocell Collagen (aka Biocell® Hydrolyzed Type II Collagen) is a mixture of collagen Type II, hyaluronic acid, and chondroitin sulfate. These are vital ingredients for your joints that can help lubricate the regions of your knees and bones, avoid osteoarthritis, and eliminate exhausting joint pain.
Hector L. Lopez in his 2015 research evaluated the effects of Biocell Collagen cartilage extract on connective tissue support and functional recovery and indicated more robust muscular recovery. However, the official survey of BioCell Collagen®, hydrolyzed chicken sternal cartilage extract, worked on the improved blood microcirculation and anti-aging aspects.
Ashwagandha
Withania somnifera, aka Ashwagandha, is an Indian Ayurvedic herbal medicine used for various diseases. Modern science has considered this ingredient as an adaptogenic/anti-stress remedy and has researched its effectiveness.
Ashwagandha is an anti-arthritic and anti-inflammatory herb, useful in clinical cases of Rheumatoid and Osteoarthritis. A randomized, controlled study by G.S.H. Ramakanth in 2016 showed the efficacy of Ashwagandha extracts in reducing knee joint pain.
Astaxanthin
Astaxanthin (Ast), a bioactive compound with natural resources, is an antioxidant & carotenoid pigment found in sea creatures such as shrimp and microalgae. Ast has been researched as a degenerative joint disease potential therapeutic supplement.
How Does Primal Flex Supplement Work?
Primal Flex by Primal Harvest is packed with antioxidants, and anti-inflammatory agents, such as vitamin C and magnesium, that help with joint pain relief.
Plus, it has necessary components and precursors like collagen for reconstruction and rectifying your damaged knees. This blend can reduce swelling associated with joint issues and help flexibility and better mobility.
Antioxidants act against toxic free radicals and decrease oxidative stress, creating a healthy joint and cartilage recovery environment.
FAQ
Q: How should I take the Primal Flex joint supplement?
A: You should consider taking two capsules daily, one in the morning or after lunch, another preferably before bed. There is no exact timing offered; however, it is recommended to consume these capsules along with a healthy routine, like proper meals, sleep & exercise.
Q: Does Primal Flex comes with a free trial or a refund policy?
A: Refund policy, yes, free trial, no. There is no information about a free trial on the Primal Flex official website; however, the brand offers a 90-day money-back guarantee for all its products. This means as a customer; you can return the product and ask for your money back if you are unsatisfied, although you have to act within 90 days of your purchase.
Q: How Is Primal Flex compared to other joint supplements?
A: Primal Flex by Primal Harvest is a premium joint supplement in the current market, although considered more expensive than other products. Yet, high-end ingredients and safe, hygienic production at a GMP facility in the US with 3-party certification tilt the scale significantly towards this product.
Q: What are the Primal Flex side effects?
A: The formula is entirely natural and safe, and so far, no complaints for Primal Flex side effects have been reported. Although people with special conditions, allergies, or medications, should consult before taking this product or any other supplement.
Q: Dese Primal Flex worth it?
A: Primal Flex is one of the prime options for people suffering joint pains with excellent results. This blend, formulated with natural and potent ingredients, has provided knee comfort for many satisfied customers.
---
What Do Reviewers Think of Primal Flex?
I have osteoarthritis with pain and needed a cheaper alternative to my regular medicine, Relief Factor. So, I researched Primal Flex. This is not the first time I tried a supplement, but it was the first relief I got from the constant aching in my joints!

– Emma

It took me months to see results but man! It worked; my pain disappeared after that, and I keep buying it. It was expensive, but it was worth it! If you can't find alternative cheaper ones, I suggest purchasing the Primal Flex joint supplement.

– Sophia

I had to deal with unbearable fingers and hands aching, and after taking two capsules a day for three weeks, my pain reduced by 75%, and I feel better and better as I continue taking Primal Flex.

– Henry

My husband needs a hip replacement and deals with the usual pain, so I bought him supplements I found while searching and reading reviews online. Its price is reasonable, considering his pain stopped after two weeks, and I'm already waiting for my next order to arrive. It is a very high-demand product, and I suggest buying it before they run out.

– Cynthia
Where To Buy Primal Flex Joint Supplement?
You can try different online retailers like Amazon and Walmart for Primal Flex to buy this supplement. However, the official website has more benefits like special discounts when you purchase multiple bottles, a 90-day money-back guarantee refund policy, and. free express shipping for orders over $75. Plus, you can benefit from 19% off when you first order the Primal Flex.
Web Price (1 Bottle) $49.95 each
Most Popular (3 Bottle) $43.95 each | Total $131.85 $149.85 (12% savings)
Best Value (6 Bottle) $39.95 each | Total $239.70 $299.10 (19% savings
Primal Harvest Company Contact Information:
Customer Support E-mail: [email protected]
Media Inquiries E-mail: [email protected]
Phone: +1 631-769-2227
Service Hours: M-F: 9 am – 5 pm EST
Primal Harvest Address: 2980 McFarlane Rd, Miami, FL 33133.
You can also contact the company by leaving messages on their official website.
How Does It Compare to Other Similar Products?
Turmeric Curcumin Plus

Pros

May reduce joint pain, inflammation, and swelling
May support joint and muscle health for longer
Claims to be formulated using high quality ingredients

Cons

May not treat the underlying issues causing joint pain

ProJoint Plus

Pros

May reduce joint inflammation and pain
May enhance physical function and performance
May improve quality of life

Cons

Contains shellfish thus not suitable for those with shellfish allergy

Joint N-11

Pros

May reduce joint pain and inflammation
May improve joint flexibility
May improve general health

Cons

May cause mild side effects such as nausea, acid reflux, and diarrhea
Conclusion
Primal Flex supplement is a high-end join support product with premium ingredients, approved scientifically, as well as proven effective based on ancient medicine. Primal Flex offers a prime solution for your lack of flexibility and joint mobility. On top of that, many customers are interested because of its joint pain relief, a rarity in the market.
Their manufacturing offers all the imperative criteria, and the ingredients are high-quality. The Primal Flex reviews are mainly positive; some consider this an expensive formula; however, it is hard to find a more potent and effective alternative to be more affordable.
Primal Flex is a justified purchase, with natural healthy ingredients, no side effects, and especially a 90-day refund policy, worth trying.
At Wellness Digest, our sourcing guidelines are strict and we only use primary references for our articles including peer-reviewed studies, academic research institutions, and medical associations. You can learn more about how we ensure our content is accurate and current by reading our editorial policy.