What is VitalSleep?
VitalSleep is a doctor-approved product line that effectively helps improve the quality of sleep and reduce snoring. It consists of snoring devices and sleeping aids that help improve your breathing. In addition, the anti-snoring device helps open up the airways to enable you to sleep quietly. You can use Vital Sleep for sleep apnea.
With VitalSleep products, you will be able to adjust your snoring so that you can enjoy a more restful and refreshing sleep. With this, your mornings will feel fresh and rejuvenated going forward. I highly recommend this as an effective and safe device for limiting snoring and improving sleep.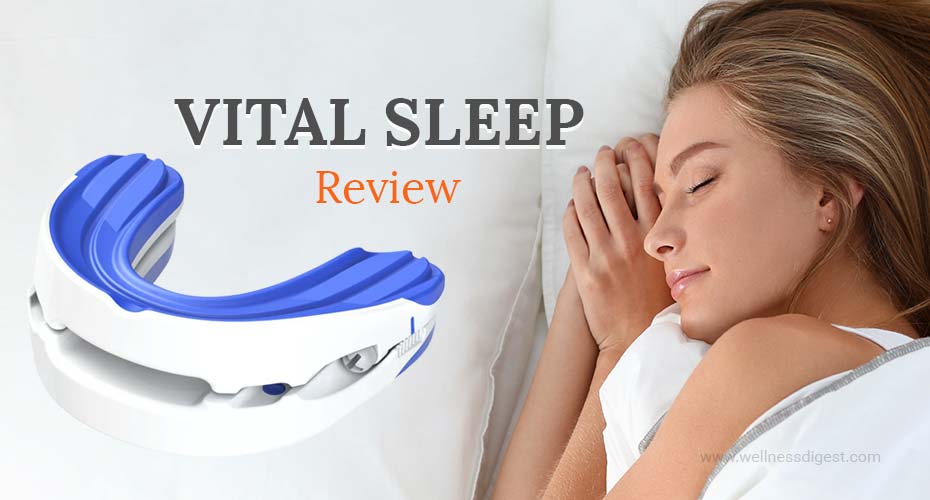 Overview of VitalSleep
Highlights
VitalSleep is an FDA-cleared product.
The manufacturing takes place in the USA and follows strict safety guidelines.
This product is doctor-recommended for people with snoring issues.
They offer a one-year warranty.
Active Ingredients
Mouthpiece customer-molded from teeth impressions.
Free bamboo cleaning brush
Canvas carrying pouch
Adjustable to open the airway
Personalized adjustments
Pros
The device can open the airways to eliminate snoring.
It targets the root cause of snoring.
The device enables you to adjust your lower jaw for improved breathing.
It uses custom-made teeth impressions for a great fit.
VitalSleep can improve your sleep quality.
Cons
You may have to get accustomed to wearing it at night.
It will work better for some users than others.
You can only buy this product online.
Overall Rating:4.8/ 5
About the Brand
Snore Reliever Company is the brand that makes VitalSleep devices and sleeping aids. This company has their headquarters in New York, New York. For the last 10 years, the firm has been providing people with an affordable and customized approach to sleep.
Their focus is on improving quality of life for people who snore as well as that of their loved ones. The manufacturer also appreciates that every sleeper is unique and that is the reason why they offer people effective, customized, and cost-effective snoring devices and sleeping aids.
How Does it Work?
What causes snoring is the obstruction of the upper airway found behind the tongue. When this airway is obstructed, it leads to airflow turbulence, causing the nose and throat's tissue to vibrate. It is the vibration that causes the snoring.
VitalSleep snoring devices and mouthpieces works by opening up this obstruction in the airway which happens mostly during sleep. When you fit these devices correctly as per the instruction, you can enjoy a quiet and peaceful sleep regardless of the sleeping position.
VitalSleep's Line of Products
VitalSleep Snoring Devices (Men Size)
This device is made with a universal design in that it can accommodate your jaw's size and shape. The company can also design a customized mouthpiece based on your personalized teeth impressions for a perfect and comfortable fit.
It includes an adjustment mechanism which allows you to move your jaw forward for improved respiration, while at the same time preventing snoring. A research study in the Journal of the Royal Society of Medicine has listed anti-snoring devices as one of the possible solutions to helping people with snoring problems or sleep apnea.
VitalSleep Snoring Devices (Women Size)
This device is similar to that of men and only differs in terms of the size of the mouthpiece, which is somewhat smaller compared to the one for men. Like the men's device, it can be custom-fitted. It's very comfortable to wear at night, in any sleeping position.
A study in the Journal of the Royal Society of Medicine showed that this mouthpiece can help women with snoring complications and treat the problem.
OAP Foaming Cleaner
This is an anti-bacterial cleansing solution from VitalSleep designed to clean the VitalSleep snoring mouthpiece. You can use it every morning for sterilization, as it kills bacteria, fungi, and viruses on the device. The cleanse only takes 60 seconds, and the manufacturer promises that it will remove 99% of all harmful materials from the mouthpiece. It also eliminates odor, and leaves the device with a mint scent.
In that, a review in the Journal of Applied Science suggests that some of the ingredients in substances like this can help prevent or treat infections in edentulous patients.
SEE ALSO – Air Snore Mouthpiece and Drops
People Also Ask
Q: Where Can You Buy VitalSleep? How Much Does it Cost?
A: You can buy VitalSleep snoring and sleeping aid devices from the product's official website. They offer free worldwide shipping, and at the moment there is a deal for 30% off the regular retail cost. Sometimes they also offer a Vital Sleep promo code. Here are the prices:

1 Anti-snoring Mouthpiece – $69.95
2 VitalSleep Anti-snoring Mouthpiece plus free cleaner and 2 sleep masks – $99.95
VitalSleep 5-peace snoring bundle – $79.95
Q: How Do You Use VitalSleep?
A: First, you will need to mold VitalSleep onto your teeth. Then, heat the water and hold the device in that hot water for about 60 seconds. The procedure helps you retain the shape and impression of your teeth on this mouthpiece.

After that, you will be required to adjust the lower tray depending on your intensity. When you follow these steps properly, you will be able to sleep quietly throughout the night regardless of the sleeping position.
Q: What is the Refund Policy for VitalSleep?
A: Vital Sleep snoring devices come with a 60-night money-back guarantee. Should you want to return the device for any reason, you will get back 100% purchase price, including the shipping fee. VitalSleep also has a two-year warranty that guarantees you devise replacement should it get damaged.
Q: Does VitalSleep Have Any Side Effects?
A:The only reported side effect was drooling and soreness of the jaw. However, the two have been said to reduce gradually as you get used to using the device. Honestly, I did not see very many customer reviews that mentioned having these symptoms.
Q: How Does VitalSleep Compare to Other Similar Products?
A: VitalSleep works by targeting the root cause of snoring. It allows precise jaw adjustment, a process that helps to open up the airway. To ensure effectiveness and comfort, this device has an accu-adjust system that enables you to adjust the mouthpiece accordingly.
Q: How Long Will It Take to See Results With VitalSleep?
A: The results are immediate. Provided that you fit the device well as instructed, you should be able to have a quiet and peaceful sleep.
Q: Is VitalSleep Worth It?
A: Yes, VitalSleep is worth buying. It comes with the best money-back guarantee, meaning that every single of your penny is well secured. Also, according to reviews from previous users, they have praised the device saying that it has helped them experience nights of quiet and peaceful sleep.
Q: Is VitalSleep Safe?
A: Yes, VitalSleep is safe. It is not just a customized teeth impression mouthpiece, but it is also made using latex which according to the manufacturer, it is BPA free. This makes the device not just safe but durable too.
Q: Does VitalSleep Work?
A: Yes, this device works. Since it has been customized for your teeth impression, it opens up your airways perfectly so that you can breathe quietly without snoring.
What Do the Reviewers Think of VitalSleep?
I read numerous Vital Sleep review posts for this product, and most of them seemed to be very positive. The majority of customers praised the device and said that it really improved the quality of their sleep. I chose some of the best reviews to give you some idea of the customer experience.
Impressed!
I wanted to let you know how well this is working. Wife is totally pleased; she can sleep again without having to move, and I'm getting better sleep. So, well done. I'm impressed.

– Rick R.

No Snoring

Last night was my first time using it and my wife says I didn't snore at all.

– Allen C.

Worth It!

I bought this about a month ago to see if it would help with the blood pressure issues I was having. I have been using it for three days and for three days my blood pressure has been in the normal range. Very worth the money! My wife says the quiet nights are also nice.

– Matt H.

Zero Snoring

I have been using it for about a month, along with a "Snore" app, I have gone from 75% snoring throughout the night to practically zero.

– B. Mealer
Final Thought
People snore because of conditions like sleep apnea, use of alcohol, drugs, or obesity. Gender is also a factor. If you are affected by any of these factors, the soft tissue structure in the throat and nose usually relaxes.
This narrows down the air passage which in turn restricts airflow in those airways leading to snoring, which is what this product line seeks to address. This is a product which may physicians and medical practitioners recommend to reduce snoring and improve breathing at night.
VitalSleep is a leading anti-snoring device in the market today that promises to address the root cause of snoring to improve the quality of sleep. If fitted well, it works to open up the airways so that you can breathe quietly without snoring.
Besides, with this product in play, your loved ones will also benefit from the sleeping support it offers, in that it helps stop you from making that irritating noise that prevents them from having a sound sleep. If you're looking for a safe, comfortable solution to your snoring problem which is also affordable, I would highly recommend VitalSleep but you can also check out AirSnore products. These are also alternatives to VitalSleep..