What is VitalSleep?
VitalSleep is a product line that effectively helps improve the quality of sleep and reduce snoring. It consists of snoring devices and sleeping aids that help improve your breathing.
In precise, the anti-snoring device helps open up the airways to enable you to sleep quietly.
With VitalSleep products, you will be able to adjust your snoring so that you can enjoy a more restful and refreshing sleep. With this, your mornings will feel fresh and rejuvenated going forward.
About the Company VitalSleep
Snore Reliever Company is the brand that makes VitalSleep devices and sleeping aids. For the last 10 years, the firm has been providing people with an affordable and customized approach to sleep. Its focus has been on improving the quality of life of the snorers as well as that of their loved ones.
The manufacturer also appreciates that every sleeper is unique and that is the reason why it offers people effective, customized, and cost-effective snoring devices and sleeping aids to allow those with snoring problems to lead a quality life.
What are the Benefits of VitalSleep?
VitalSleep's anti-snore device helps open the airway so that you don't snore but breathe quietly
It targets the root cause of snoring
The devices enable you to adjust your lower jaw from improved breathing
The mouthpiece device allows personalized teeth impression whereby it securely and comfortably holds your snoring device or mouthpiece in place
How Does it Work?
What causes snoring is the obstruction of the upper airway found behind the tongue. When this airway is obstructed, it leads to airflow turbulence, causing the nose and throat's tissue to vibrate. It is the vibration that causes the snoring.
VitalSleep snoring devices and mouthpieces works by opening up this obstruction in the airway which happens mostly during sleep. When you fit these devices correctly as per the instruction, you can enjoy a quiet and peaceful sleep regardless of the sleeping position.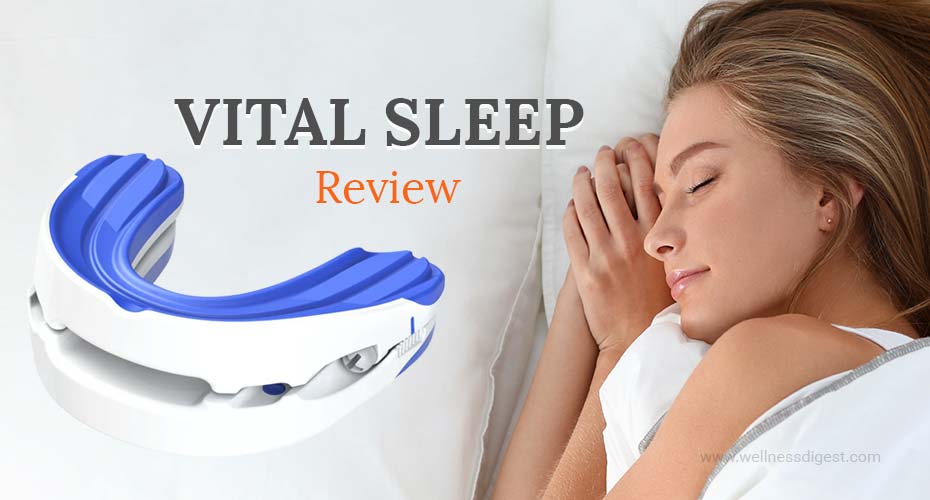 VitalSleep's Line of Products
VitalSleep Snoring Devices (Men Size) – This device is made with a universal design in that it can accommodate your jaw's size and shape. The company can also design for you a customized mouthpiece in case the available device for men is not fitting well.
A research study in the Journal of the Royal Society of Medicine has listed anti-snoring devices as one of the possible solutions to helping people with snoring problems or sleep apnea.
VitalSleep Snoring Devices (Women Size) – This device is similar to that of men and only differs in size whereby the mouthpiece for women happens to be a bit smaller compared to that of men.
A study in the Journal of the Royal Society of Medicine has revealed that this snoring mouthpiece can help women with snoring complications treat the problem.
OAP Foaming Cleaner – It is a cleaning solution from VitalSleep developed to help you clean VitalSleep snoring mouthpieces. This product claims to effectively clean the devices, whereby it kills bacteria fungi, and viruses present on the mouthpieces.Notably, the product fits well in the chemical denture cleaners' family.
In that, a review in the Journal of Applied Science suggests that some of the ingredients in substances like this can help prevent or treat infections in edentulous patients.
People Also Ask
Q: Where Can You Buy VitalSleep? How Much Does it Cost?
A: You can buy VitalSleep snoring and sleeping aid devices from the product's official website.
1 Anti-snoring Mouthpiece – $69.95
2 VitalSleep Anti-snoring Mouthpiece plus free cleaner and 2 sleep masks – $99.95
VitalSleep 5-peace snoring bundle – $79.95
Q: How Do You Use VitalSleep?
A: First, you will need to mold VitalSleep onto your teeth. Then, heat the water and hold the device in that hot water for about 60 seconds. The procedure helps you retain the shape and impression of your teeth on this mouthpiece.
After that, you will be required to adjust the lower tray depending on your intensity. When you follow these steps properly, you will be able to sleep quietly throughout the night regardless of the sleeping position.
Q: What is the Refund Policy for VitalSleep?
A: Vital Sleep snoring devices come with a 60-night money-back guarantee. Should you want to return the device for any reason, you will get back 100% purchase price, including the shipping fee. VitalSleep also has a two-year warranty that guarantees you devise replacement should it get damaged.
Q: What Do the Reviewers Think of VitalSleep?
A: This device has received positive reviews from previous users. The majority of customers have praised this device claiming that it has improved the quality of their sleep. They have been able to experience a quiet and peaceful night.
Q: Does VitalSleep Have Any Side Effects?
A:The only reported side effect is drooling and soreness of the jaw. However, the two have been said to reduce gradually as you get used to using the device.
Q: How Does VitalSleep Compare to Other Similar Products?
A: VitalSleep works by targeting the root cause of snoring. It allows precise jaw adjustment, a process that helps to open up the airway. To ensure effectiveness and comfort, this device has an accu-adjust system that enables you to adjust the mouthpiece accordingly.
SEE ALSO – Air Snore Mouthpiece and Drops
Q: How Long Will It Take to See Results With VitalSleep?
A: The results are immediate. Provided that you fit the device well as instructed, you should be able to have a quiet and peaceful sleep.
Q: Is VitalSleep Worth It?
A: Yes, VitalSleep is worth buying. It comes with the best money-back guarantee, meaning that every single of your penny is well secured. Also, according to reviews from previous users, they have praised the device saying that it has helped them experience nights of quiet and peaceful sleep.
Q: Is VitalSleep Safe?
A: Yes, VitalSleep is safe. It is not just a customized teeth impression mouthpiece, but it is also made using latex which according to the manufacturer, it is BPA free. This makes the device not just safe but durable too.
Q: Does VitalSleep Work?
A: Yes, this device works. Since it has been customized for your teeth impression, it opens up your airways perfectly so that you can breathe quietly without snoring.
Final Thought
People snore because of conditions like sleep apnea, use of alcohol, drugs, or obesity. Gender is also a factor. If you are affected by any of these factors, the soft tissue structure in the throat and nose usually relaxes. This narrows down the air passage which in turn restricts airflow in those airways leading to snoring, which is what this product line seeks to address.
VitalSleep is a leading anti-snoring device in the market today that promises to address the root cause of snoring to improve the quality of sleep. If fitted well, it works to open up the airways so that you can breathe quietly without snoring.
Besides, with this product in play, your loved ones will also benefit from the sleeping support it offers, in that it helps stop you from making that irritating noise that prevents them from having a sound sleep.