What is Yourbiology?
Yourbiology Gut + is a supplement that harnesses the power of natural probiotics and prebiotics in one supplement. It targets to enhance the gut microbiomes population by supplying it with nutrients that encourage their growth.
It also supplements the bacteria levels by pumping 40 billion CFUs into the gut ecosystem.
According to the manufacturer, consistent use of this supplement will ultimately improve digestion and general wellbeing.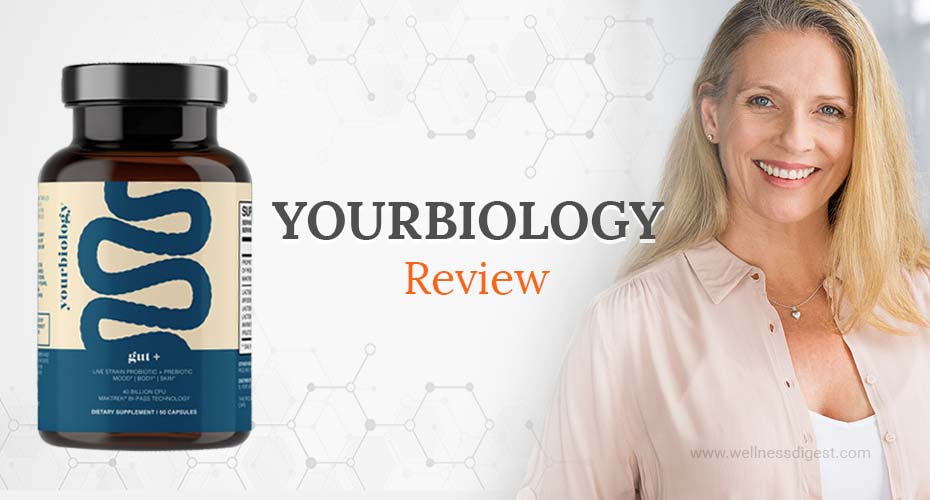 What Does Yourbiology Do?
Yourbiology Gut+ is a probiotic/prebiotic blend that targets the good bacteria in the gut. It contains 4 different bacteria strains that are delivered to the small intestine to increase bacteria population and supplementing the microbes with prebiotics. Yourbiology employs the MAKtrek technology to prevent the probiotics from dissolving in the stomach, allowing them to reach their destination safely and ready to work.
Highlights
Uses natural and clinically tested ingredients
No refrigeration required
100% satisfaction guarantee
Gluten free
Vegan-friendly and Non-GMO
Backed by a money-back guarantee
Made in the United States
Key Ingredients
Lactobacillus acidophilus
Lactobacillus plantarum,
Lactobacillus paracasei,
Bifidobacterium lactis,
Fructooligosaccharide,
Marine polysaccharide complex
Benefits
Digestive system support
Support immune health
Reduce stress
Promote skin health,
Boosts mental clarity and focus
Cons
No free trial offer
Products only sold online
Overall Rating:4.8/ 5
Key Facts
| | |
| --- | --- |
| Type | Dietary supplement |
| Discounts | Fair, upto 15% Off |
| Company | Yourbiology |
What are the Yourbiology Ingredients?
Lactobacillus acidophilus
Lactobacillus acidophilus is a bacterium strain that is commonly used for its probiotic benefits.
According to a study in the PLOS ONE journal, broiler chicken with Clostridium perfringens infection were supplemented with Lactobacillus acidophilus and were found to get better over time. The study discovered that supplementing chicken with this bacterium increased the abundance of gut microbes.
Lactobacillus paracasei
Lactobacillus paracasei is a bacterium with key benefits to skin and immune health.
Studies in the Clinical and Developmental Immunology journal claim that Lactobacillus paracasei has immunomodulatory effects. The study elaborated that this probiotic bacteria has the capacity to alleviate inflammatory symptoms. It therefore prevents intestinal inflammation using nutritional approaches.
Bifidobacterium lactis
Bifidobacteria lactis are probiotic bacteria living in the intestines and is associated with preventing gastrointestinal tract disorders.
A study in the journal of Frontiers in Microbiology claimed that bifidobacteria has health-promoting properties, making it a popular inclusion in many functional foods. Bifidobacteria supposedly live in harsh ecological niches, forcing them to adapt through evading the host's immune system and colonizing the host through specific appendages.
Fructooligosaccharide
Fructooligosaccharides (FOSs) are prebiotic carbohydrates that travel to the large intestine to support the growth of good bacteria in the digestive tract.
According to the American Society for Microbiology, FOSs are increasingly used as food supplements to help modify both the composition and functioning of gut microbiota. Apparently, FOS is selectively fermented by the gut bacteria bifidobacteria and lactobacilli. Its benefits include; improved defecation, enhanced insulin resistance, and reducing colon cancer risks.
Marine polysaccharide complex
Marine polyscaccharide complex are extracted from seaweeds and are known to have a high content of dietary fiber.
Studies in the Frontiers in Nutrition journal discovered that polysaccharide prebiotics are fermented by gut microbes which in turn stimulate bacteria growth of strains such as Bifidobacterium and Lactobacillus. These polysaccharides also reduce the production of harmful compounds.
How Do I Use Yourbiology?
According to the Yourbiology directions provided on the official website, users are instructed to take 2 capsules before breakfast.
Does Yourbiology Cause Weight Gain?
Not really. On the contrary, this supplement may help reduce weight as it may suppress appetite, improve digestion, and increase bowel movements; all which can enhance weight loss.
How Much is Yourbiology and Where Can I Buy It?
You can purchase Yourbiology probiotics from the company's official website at:
1 bottle – $59.99
2 bottles – $119.99
3 bottles – $179.99
What is the Return Policy for Yourbiology?
Yourbiology has a 60-day money-back guarantee for users who are not satisfied with the results.
---
FAQ
Q: How are the Reviews for Yourbiology?
A: Generally, Yourbiology gut+ reviews are positive as users claimed the supplement worked as advertised. These positive reviewers mentioned that the supplement not only improved digestion, but also focus, weight loss, and bowel movements.
Q: Were there any Yourbiology Complaints?
A: At the moment of writing, we did not find any negative reviews or complaints of this product partly because all the reviews are found on the official website.
Q: Is Yourbiology Safe to Use?
A: Yes. According to its makers, Yourbiology works better than alternative probiotic supplements in the market as it does not cause adverse side effects.
Q: What are the Benefits of Yourbiology?
A: The benefits are as follows:
Improved digestion, nutrient absorption, and excretion
Enhanced energy levels and mental focus
Reduced stress levels
Improved skin health (Yourbiology skin health)
Strengthened immunity
Q: Is Yourbiology Effective?
A: Yes, going by the ingredients used in the supplement, it may be effective. Also, most of the ingredients used in the formula have scientific backing.
Q: Who Should Use Yourbiology?
A: Yourbiology is for any user who wants to improve his/her gut health. There are no restrictions on using this product for users with chronic conditions. However, these users should still consult with their doctors before using this supplement.
Q: Who Makes Yourbiology?
A: Yourbiology products are manufactured by a company with the same name, Yourbiology which is an American pharmaceutical firm. The firm formulates natural products for intestinal health. These products are supposedly manufactured in GMP-certified facilities that ensure quality and safety of the supplements.
Q: Is Yourbiology Cruelty Free?
A: As per the available info, this product may be cruelty free.
Conclusion
Yourbiology is probiotic-prebiotic dietary supplement that may improve digestion, excretion, nutrient absorption, and immunity. It may also play a key role in skin health because skincare starts from within, making Yourbiology probiotic skin therapy worth trying.
Unlike alternative products like the belle bella probiotic, Yourbiology Gut + features a patented technology (MAKTrek®) that ensures the safe delivery of probiotics into the intestines. This ensures that probiotics are not damaged thereby increasing the number of good bacteria ready to modulate digestion.
Additionally, this product is free from dairy, soy, and gluten which may restrict users with food allergies. Yourbiology is also formulated without preservatives and additive which may undermine its effectiveness.
Yourbiology Gut+ is may work in as little as 2 weeks in which you will notice better digestion, less bloating, good mood, and radiant skin. However, the timeframe may not be the same for all users due to difference in lifestyles and bodily functions.
Similarly, users with chronic health conditions may want to check with their physicians before purchasing this product.
If you are impressed with how this supplements work, you may also check out hair solutions such as hair loss Yourbiology shampoo for improved hair health. You can also listen to experts on hair loss talk Yourbiology topics for more insight.
At Wellness Digest, our sourcing guidelines are strict and we only use primary references for our articles including peer-reviewed studies, academic research institutions, and medical associations. You can learn more about how we ensure our content is accurate and current by reading our editorial policy.