Before Covid-19 knocked on our doors, only a few people understood the discomforts of respiratory health issues and allergies. However, that has changed significantly, and now almost everyone understands how vital respiratory health and comfort are to the human body.
Our respiratory system is vital in sustaining proper breathing, supplying oxygen, and getting rid of carbon dioxide from your body. The respiratory system comprises your nose, airway, bronchi, and lungs.
The condition of our respiratory health directly affects the quality of life we lead. Therefore, we mustn't neglect that part of our human body systems. Some things we can do to ensure our respiratory health is on point are by eating a balanced diet, staying active, and avoiding allergens that trigger respiratory conditions.
You can also use dietary supplements that are specially formulated to improve and support a healthy respiratory system. Breathe MD is one of the bestsellers and award-winning respiratory formulas.
What is Breathe MD Supplement?
Breathe MD is a dietary supplement that supports your respiratory health and boosts your immunity. It's scientifically formulated with a blend of high-quality, bioavailable ingredients beneficial to your respiratory system.
The presence of African geranium, elderberry, l-cysteine, vitamin D, and vitamin C in the formula benefits the function of all cells involved in the body's immune response system related to respiratory health.
Breathe MD's benefits are:
It promotes proper respiratory functions, such as adequate sinus drainage and normal mucus formation. Mucus keeps you safe from harmful environmental substances that may irritate your respiratory tract. It also helps you cough and eliminates those that get into your respiratory tract.
It helps eliminate seasonal and occasional chest irritation and respiratory system threats.
It has a potent supply of antioxidants that fight off oxidative stress and damage cellular lining in the respiratory tract.
It generally boosts your overall immunity.
How Does It Rate?
Brand Highlights
Manufactured in the USA.
It is manufactured in an FDA-regulated facility using cGMP standards.
Key Features
Vitamin C
Vitamin D3
Vitamin E
Zinc
Chromium
African Geranium
Elderberry fruit
Marshmallow root
L-Cysteine
Benefits
It supports the respiratory system and its functions.
It enhances the body's immune response.
It helps in managing respiratory conditions
It has antioxidant potency.
Cons
Results from individual to individual.
Overall Rating:4.7/ 5
Product Specs
Benefits
It supports the respiratory and immune systems in the body.
Ingredients

Vitamin C
Vitamin D3
Vitamin E
Zinc
Chromium
African Geranium
Elderberry fruit
Marshmallow root
L-Cysteine

Price

6 Bottles go for $22.99 each every 6 months
3 Bottles go for $27.99 each every 3 months
1 Bottle goes for $32.99 every month

Company
1 MD Nutrition
About The Brand
1MD Nutrition produces Breathe MD supplement. The company's mission is to help people live longer and healthier lives through their innovative, naturally sourced formulas. The brand works with a board of certified medical doctors to ensure that the products you buy are safe and delivers the brand's promise.
Two of their supplements have won renowned awards. Breathe MD supplement won the 2021 Taste for Life Immunity Essentials Award Winner for Best Lung Support!
All their products have been highly rated by their customers. Some of the bestsellers include:
What Are The Key Ingredients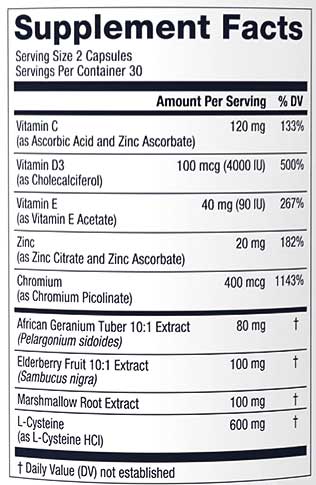 African Geranium
Also known as wild geranium. It is a plant extract used in herbal medicine to promote respiratory health. It protects against seasonal respiratory illnesses. African geranium contains healing properties that help treat common colds, headaches, and dripping mucus nose. It also boosts the body's immunity. It's also beneficial to both digestive and cardiovascular health.
L-Cysteine promotes healthy glutathione production, an antioxidant that prevents lung tissue damage. It also helps ensure that the mucus's consistency is normal and healthy and doesnt block airways in the respiratory tract.
Vitamin C
It is known to have properties that are effective in boosting the immune system. Hence, Vitamin C plays an essential role in protecting the body from diseases and speeding up healing in the body, and alleviating symptoms. It also promotes epithelial health and protects cells from oxidative damage.
Vitamin E
It helps enhance respiratory defenses and helps manage allergies due to its antioxidant and anti-inflammatory properties. Those two properties have also made it useful in asthmatic therapy.
Vitamin D3
It helps present acute respiratory tract infections, which could be fatal. It promotes healthy lungs and boosts the immune system.
Elderberry
It has a potent supply of antioxidants and properties that are efficient in accelerating healing and boosting the body's immunity.
Zinc
This is an essential trace mineral that helps reduce the symptoms of respiratory tract infections such as sore throat and coughs. Its also considered helpful in lowering the risk of disease due to its anti-inflammatory properties. It's, therefore, essential for supporting and building a healthy immune system.
Marshmallow Root
Marshmallow Root is a plant extract used for years in herbal medicine. It has a sap-like substance full of antioxidants and forms a coat of protection on the respiratory tract. It, therefore, soothes the throat and helps relieve coughs. It's also effective in maintaining healthy moisture and mucus levels in the respiratory tract.
Chromium
This is a trace element that helps boost the immune system and reproduces essential cells in the body that aid in the immune response. It also plays a vital role in maintaining healthy insulin levels in the body, thus reducing the risk of diabetes.
How Does Breathe MD Work?
Breathe MD is a dietary supplement uniquely formulated to support and boat the respiratory and immune systems. It contains a powerful blend of vitamins, minerals, and plant extracts that enhance the functions of the respiratory system, protect it from harmful pathogens and help speedy recovery in case of infection.
Due to the contents in the supplement, consumption has other benefits, which include boosting your body's immune responses, improving your body cell's functions by eliminating free radicals, and preventing oxidative stress.
Frequently Asked Questions
Q: Where Can You Buy Breathe MD?
A: You can buy from the Breathe MD official online store.
Q: Who Should Take Breathe MD?
A: Anyone interested in taking charge of their respiratory health. However, it will benefit individuals with respiratory-related conditions such as asthma, sinuses, and bronchitis.
Q: How Do You Take Breathe MD Supplement?
A: You take two capsules once daily with a meal or as directed by your healthcare professional.
Q: When should I take Breathe MD?
A: You can either take it in the morning or the evening. However, we recommend trying different routines to determine what works best.
Q: Does Breathe MD Have Any Side Effects?
A: There have been no reported cases of adverse side effects concerning Breathe MD. Furthermore, the product has been produced with botanical products that rarely trigger or raise health concerns. However, consult with your healthcare practitioner before using any supplements.
Q: Is Breathe MD Safe?
A: Yes, it is safe. The formula has been scientifically proven and tested and contains no harmful substance as it's produced from naturally sourced ingredients. The supplement is also manufactured in the USA in an FDA-regulated facility using cGMP standards
Q: Does Breathe MD Work, and how is it different from other products on the market?
A: Yes, it does. 1MD Nutrition's unique BreatheMD formula innovatively supports proper immune and respiratory function in a potent daily dose
---
What Do The Reviewers Think of Supplement?
Breathe MD has been in the market for a while and has received excellent consumer feedback. The product has proved to be effective and therefore has received good ratings.
Below are highlights of comments about the product:
Breathe MD worked wonder. Therefore, I'll order more to keep using .


– Elijah

I'll rate Breathe MD five stars: I have used it for almost a year, and my aging lungs have never been this better. It is indeed a supportive product. I won't hesitate to recommend it to others


– Martha

My husband and I started using this a few months ago and found it helpful in keeping our lungs healthy. We don't experience difficulties in breathing anymore. I recommend others to give it a try.


– Joylene

I made my purchase some weeks back, and I just started my second bottle. I have not noticed a change significant change yet. Hopefully, I will notice a change soon. I am staying optimistic because I have read the reviews of others, and it sounds like a product worth trying.


– John
Please note that results vary from one person to the other. What works for one person may not work the same for you. Give the product some time for you to see noticeable changes.
Conclusion
Quality life starts with excellent overall health and a properly functioning body. However, you can't experience the two if your respiratory health isn't okay. Your respiratory system is central in determining the kind of life you pursue.
Breathe MD allows you to live a better life free of the discomfort and frustrations of respiratory tract conditions and infections. The supplement also boosts immunity. That's a significant advantage in our world today, which is full of pathogens.
Therefore, ensuring that your respiratory system gets proper support is paramount. You surely can't take a back seat regarding matters concerning your health.
At Wellness Digest, our sourcing guidelines are strict and we only use primary references for our articles including peer-reviewed studies, academic research institutions, and medical associations. You can learn more about how we ensure our content is accurate and current by reading our editorial policy.