What is Gundry MD Prebio Thrive?
Gundry MD Prebio Thrive is an all-natural dietary supplement that improves digestion and overall body wellness. This drinkable formula contains a combination of fiber-dense prebiotic ingredients which support the health and growth of beneficial bacteria (probiotics) in the gut.
It is a Prebiotic and food for probiotics that increases the colonization of Lactobacilli and Bifidobacteria. They also increase nutrient absorption, decrease protein fermentation, minimize allergy risks, and reduce pathogenic bacteria populations.
Highlights
It's free of real and artificial sugar.
The manufacturing facility is in the USA.
The ingredients are 100% naturally-sourced.
The company does third-party testing.
Active Ingredients
Organic Acacia Gum
Organic Flaxseed
Organic Guar Gum
Galacto-Oligosaccarides
Agave Inulin
Pros
This product can give you added energy and vitality.
It balances the gut microflora.
Gundry MD Prebio Thrive can promote digestive health.
This product can strengthen the immune system.
Gundry MD Prebio Thrive can reduce swelling in the body.
Cons
It contains milk, which some users can't consume.
One scoop contains 30 calories.
The results will vary for different users.
Overall Rating:4.8 / 5
About the Brand
Gundry MD is the company behind the product Prebio Thrive. Founded by Dr. Steven Gundry in 2016, the company's mission is to improve human health, happiness, and longevity through diet and nutrition. Dr. Gundy is a former cardiac surgeon with vast experience in other medical fields.
He is also the author of many books such as "The Plant Paradox" which guides readers towards eating right. Other products by Gundry MD include Gundry MD Total Restore Gut Lining Support, Gundry MD Vital Reds, and Gundry MD Bio Complete 3.
Key Features
It supports proper digestion and effective nutrient absorption
Enhances the health and growth of probiotics in the gut
Helps destroy pathogenic bacteria in the digestive tract
It boosts energy and vitality
The supplement strengthens the body's immune system
Gundry MD Prebio Thrive Key Facts
| | |
| --- | --- |
| Benefits | Digestive Health, Energy, Mood, Weight Management, Overall Health |
| Ingredients | Galacto-Oligosaccharides, Organic Acacia, Agave Inulin, Flaxseed, Guar Gum |
| Discounts | up to 40% |
| Company | Gundry MD |
The Details of Gundry MD Prebio Thrive Ingredients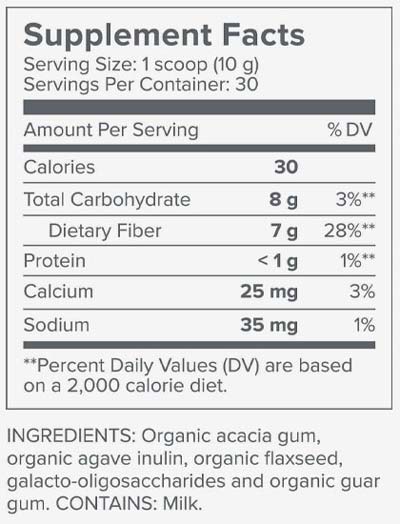 Acacia gum
This ingredient is a non-digestible polysaccharide that is known to increase the supply of beneficial bacteria into the digestive tract.
A study in the Nutrients journal claims that dietary fiber intake is linked to improved gut health. The study continues to explain that dietary fibers such as acacia gum are primarily oligosaccharides that resist digestion in the small intestine. When they reach the colon, they are fermented thus stimulating the stimulation of beneficial bacteria, Bifidobacterium.
In addition, Acacia Gum supports heart health, and it can suppress your appetite so you take in less calories. This can lead to weight loss. Acacia Gum may also protect against developing diabetes.
Agave Inulin
This dietary fiber is known to improve intestinal health and immune function. It helps in regulating appetite by promoting satiety, and could lead to weight loss. It enhances digestive health, promotes regular bowel movements, and can decrease symptoms like gas and bloating. It also protects the gut from damaging bacteria.
In addition, it can balance blood sugar levels and decrease cholesterol. In a randomized controlled trial by the Journal of Nutrition, agave inulin was found to enrich the gastrointestinal microbiota composition and activity in healthy adults. Fecal Actinobacteria and Bifidobacterium were enriched 3- and 4- fold respectively.
Flaxseed
This ingredient is a rich source of nutrients, antioxidants and indigestible fiber, and it also includes some protein. It also contains protein, omega-3 fatty acids, lignans, and alpha-linoleic acid (ALA).
It promotes digestive health and can decrease unpleasant symptoms like gas and diarrhea. It can promote satiety and may have weight loss benefits. Flaxseed may lower cholesterol and blood pressure, and balance blood sugar levels.
Dietary fibers in flaxseeds are mainly water-soluble viscous fibers. In a research study in the Nutrition and Metabolism journal, flax drink was found to lower fasting total cholesterol and LDL-cholesterol by 12% and 15% respectively. Increased fat excretion was also reported.
Guar Gum
This highly water-soluble fiber is produced by guar beans. It is known to increase the population of gut bacteria significantly, and it's incredibly high in fiber. It can improve gut health, promote regular bowel movements, and decrease symptoms like constipation and diarrhea. It can also suppress appetite, for possible weight loss.
Clinical trials in the Nutrition Journal found that partially hydrolyzed guar gum (PHGG), a non-gelling fiber has therapeutic benefits for irritable bowel syndrome. PHGG effectively decreased symptoms such as constipation, diarrhea, and abdominal pain.
Galacto-oligosaccharides (GOS)
This ingredient is a low glycemic oligosaccharide found in mammalian milk. It's a prebiotic which feeds the healthy gut bacteria to enhance the microbiome and improve gut health. It may be effective for treating bowel issues. It can also reduce appetite, leading to weight loss.
Galacto-oligosaccharides are considered prebiotics as they are not absorbed in the small intestine thus reach the colon intact where they serve as substrates for beneficial bacteria as per mini-reviews in the Journal of Functional Foods. The study concluded that GOS increased intestinal concentration of lactate and short-chain fatty acids as well as stool frequency and weight.
How Does it Work?
Gundry MD Prebio Thrive is formulated using prebiotic-rich ingredients which supplement the gut bacteria with food. This prebiotics support the healthy growth of the beneficial bacteria which then aid in the proper digestion of food and nutrition absorption.
Additionally, the growth of gut bacteria helps to fight off pathogenic bacteria, controls inflammation, and enhances immune function. Therefore, digestive issues such as irritable bowel syndrome are reduced. Researchers support the benefits of the ingredients in this formula for enriching digestive wellness.
People Also Ask
Q: Where Can You Buy Gundry MD Prebio Thrive? How Much Does it Cost?
A: You can buy Prebio Thrive from the Gundry MD website or on Amazon. If you became a VIP, there are a wealth of ingredients available to you. This product costs:
1 jar – $79.00
3 jars – $222.00
6 jars – $414.00
Q: How Do You Use Gundry MD Prebio Thrive?
A: According to Dr. Steven Gundry, you should mix a scoop of Prebio Thrive in water, juice, smoothie or any other beverage of your choice and take it first thing in the morning.
Q: What is the Refund Policy for Gundry MD Prebio Thrive?
A: Gundry MD products come with a 90-day money-back guarantee.
Q: Does Gundry MD Prebio Thrive Have Any Side Effects?
A: No serious side effects have been reported against Gundry MD Prebio. However, a few customers claimed to have experienced mild bloating.
Q: How Does Gundry MD Prebio Thrive Compare to Other Similar Products?
A: Gundry MD Prebiotic Thrive is a natural supplement created by a doctor, making it more credible compared to other prebiotics. In terms of cost, however, it is quite expensive compared to products such as Peak Performance Organic Inulin Powder which costs only $18.00.
Q: How Long Will It Take to See Results With Gundry MD Prebio Thrive?
A: Rebalancing the gut bacteria can take time which is why this product does not provide a precise amount of time to work. Since products work differently for individuals, Prebiotic Thrive may work fast in some while in others realizing the result may take time.

Dr. Steven Gundry emphasizes using the product as recommended for better results. In my own experience, I started noticed potent benefits within a couple of weeks.
Q: Is Gundry MD Prebio Thrive Worth It?
A: This is a prime quality drinkable prebiotic, a bit costly, but notably worth it because it contains organic prebiotic ingredients with scientific backing. We asked our expert nutritionist team (RDNs) to evaluate Gundry MD Prebio Thrive and they gave it 5 stars for optimal nutrition and health benefits.
Q: Is Gundry MD Prebio Thrive Safe?
A: According to the manufacturer's promises this product is safe and may not cause side effects. After several weeks taking Gundry MD Prebio Thrive I can say for certain that I have experienced no unpleasant side effects.
Q: Does Gundry MD Prebio Thrive Work?
A: Based on the Gundry MD Prebio Thrive ingredients present in this formula; this supplement could work. Since I myself started taking it several weeks ago, I can say that it has worked incredibly well to improve my digestive health and overall well-being.
Q: What Do the Reviewers Think of Gundry MD Prebio Thrive?
A: Reviewers, in general, gave a good response about this supplement. Notably, most users loved the experience and that makes them feel better and more energized.
Some even claimed to experience some weight loss. On the other hand, a small number of users claim they noticed mildly increased bowel movement which cleared afterwards.
Here are some of the top Gundry MD Prebiothrive reviews from real customers:
The Best Product!
I am pleased with the Prebio Thrive. I was having some issues. My stomach feels better, and I don't seem to be craving sweets as much. Bathroom time is smoother now. Thanks for this product! –

Dahnne

Unexpected Benefits
I've been taking this for 4 months. Not only did it help with stomach issues, but my diet changed completely. I love sweets and junk food, but after taking Prebiothrive for a few days, I felt full and stopped craving the junk food […] and I feel great! I highly recommend. –

Karen R.

Love It!
It tastes good and curbs my appetite. My husband and I take it every morning in our Jamaica flower tea, and we love it. –

Constance C

Prebiothrive
This product is so great for my digestion and overall daily healthy functioning. When my bottle begins to run low, I definitely get a little nervous, hoping the next shipment will come soon!! –

Collette J.
---
Conclusion
Gundry MD Prebio Thrive Prebiotic Supplement improves your digestive health and overall wellbeing. This best probiotic product does work because of the ingredient in its formula. Some users even attest to the positive results they have achieved.
If you feel adventurous enough to try this product, you can purchase it online and give it a try. However, for optimal results and in addition to it, remember that to maintain a healthy gut and achieve healthy living, you need to start with yourself.
I myself have several food intolerances, so I reached out to the manufacturer directly to check if there was anything I couldn't consume. The product was ideal for me, and the customer service team was incredibly helpful.
Adopt a healthy lifestyle by exercising regularly and making smart meal choices. Gradually, your digestive health will improve and with time, your whole body will thank you for it.
Up NEXT – Best Leaky Gut Supplements
At Wellness Digest, our sourcing guidelines are strict and we only use primary references for our articles including peer-reviewed studies, academic research institutions, and medical associations. You can learn more about how we ensure our content is accurate and current by reading our editorial policy.