What is New Mood?
Onnit New Mood is a natural product which can help you sleep and make your day easier, and it comes in the form of either capsules or a powdered drink. It includes potent New Mood ingredients which can lower levels of stress and anxiety, enhance brain health, and improve your overall mood.
The product calms and relaxes you and makes small problems less significant and larger ones much easier to tackle. This is a healthy supplement which includes vitamins and antioxidants.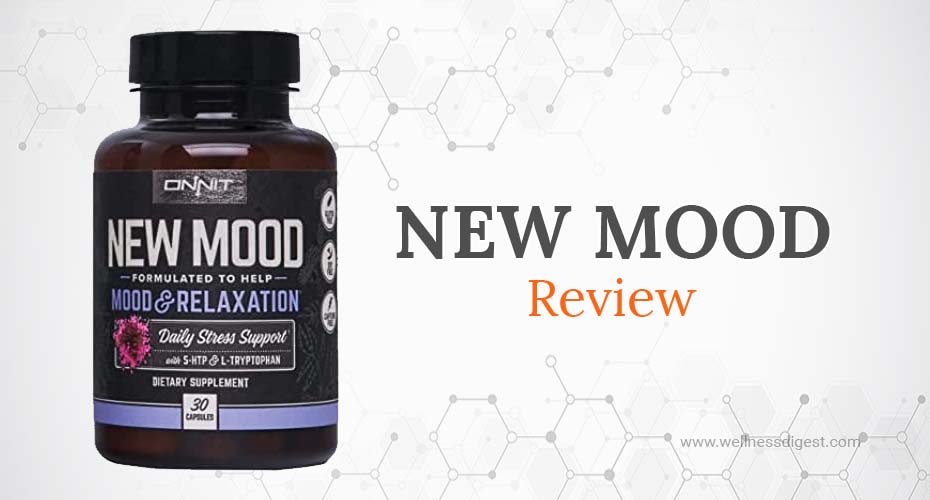 Who is the Manufacturer of New Mood?
The manufacturer is a sports and health nutrition company by the name of Onnit. Aubrey Marcus founded this company in 2011, and it has it's headquarters in Austen, Texas. In addition to producing nutritional supplements like Alpha Brain, they also sell sports equipment, and they own a number of gyms. The international corporation Unilever acquired this company in 2021.
---
What are the Pros and Cons of New Mood?
Pros
It can help you balance daily stressors.
Onnit New Mood promotes a sense of calmness and relaxation.
This supplement helps maintain blood pressure levels.
Onnit New Mood can improve the quality of your sleep.
It's healthy and supports the immune system.
Cons
This is a very popular product and may run low stock at times.
It is not meant to treat serious clinical depression or anxiety.
Onnit does not offer free samples of the product.
---
Onnit New Mood Review – Key Facts
Benefits
Balance daily stressors,promotes a sense of calmness and relaxation,maintain blood pressure levels,improve the quality of sleep,supports the immune system.
Ingredients
Tryptophan,5-HTP,Magnesium and more
Pricing
$29.95/bottle
Company
Onnit
Form
Capsule
Unit Count
30.00 Count
What Are the Ingredients in New Mood?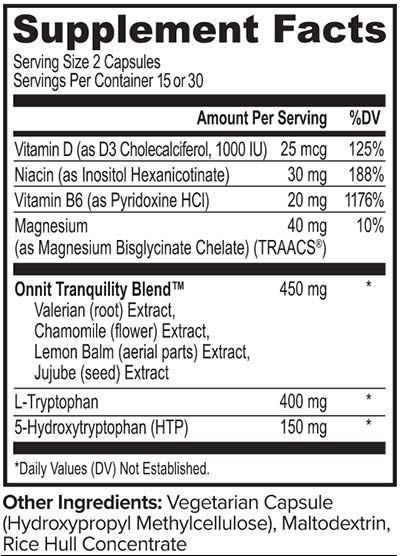 Here are some of the primary active Onnit New Mood ingredients:
Tryptophan
This is an essential amino acid which exists in a number of protein-rich foods like fruit, meat, dairy, and seeds. It produces 5-HTP, which is the direct precursor to the mood-elevating neurotransmitter serotonin.
As serotonin is the precursor to melatonin, this amino acid also helps with sleep [1]. The Journal of Dietary Supplements carried out a systematic review of the effect of tryptophan on mood and emotional functioning [2].
5-HTP
This brain chemical is the precursor to serotonin, which is a great mood-enhancing chemical. Physicians use it to treat depression, anxiety, and panic, and it can also help improve the quality of sleep [3].
The International Journal of Molecular Science discussed 5-HTP from various angles including physiology, toxicology, and biotechnology.
Magnesium
This key mineral comes largely from foods. It plays an important role in protein synthesis, muscle and nerve function, blood glucose control, bone health, energy production, and many other functions [4].
In addition, it can decrease stress levels. According to the book Magnesium and the Central Nervous System, a deficiency in this mineral can lead to high levels of stress [5].
How Does New Mood Work?
Onnit New Mood contains the brain chemicals tryptophan and 5-HTP, which can improve positive mood. 5-HTP is the precursor to the neurotransmitter serotonin, and tryptophan produces more 5-HTP. Niacin also help increase serotonin. This elevation in these brain chemicals can improve mood and lower stress and anxiety.
In addition, tryptophan can cause the production of melatonin, which is a hormone that is usually released from our pineal gland when it's time to sleep. The extra melatonin leads to faster and more quality rest. A review of the literature in Nutrition Journal examined the effectiveness of melatonin for promoting a healthy sleep [6].
This supplement also includes Vitamins B 12 and magnesium. These have a number of health benefits like lowering blood pressure, supporting heart and nervous system health, and producing amino acids.
They also have antioxidants, which can get rid of damaging free radicals and lower oxidative stress. This helps to support a strong immune system. A review in the Journal of Dairy Science looked at the physiological role of antioxidants in the immune system [7].
READ ALSO – VitaPost Blood Pressure Support
Frequently Asked Questions (FAQs)
Q: Where Can I Buy New Mood?
A: This New Mood supplement is available on the manufacturer's official website, and you can also get it from a wide range of online retailers and offline shops. The prices on the official site are as follows:

One-Time
30 Capsules – $29.95
60 Capsules – $59.90
Instant New Mood – $59.95
Subscribe
30 Capsules – $25.46
60 Capsules – $50.92
Instant New Mood Pineapple – $47.96
All Other Flavors – $50.96
Q: When to Take New Mood?
A: Take 2 of the capsules at night before you go to sleep, and additionally, you can take 2-4 during the day to reduce stress and anxiety. Do not take more than the maximum dosage of 6 in a 24-hour period under any circumstances.

For the New Mood Instant, take 1 packet and mix with 8 ounces of water right before you go to sleep. You can also take 1 during the day to lower stress. Don't take more than 2 packets in 24 hours.
Q: What is the Return Policy or Guarantee?
A: The company has a return policy which they call "Keep It!". If you are not happy with the product and you want a refund, contact the company within 90 days of your purchase to request one. You'll get all of your money back, and you can keep the remainder of the item. You have to try the product for at least 2 weeks before asking for a refund.
Q: Is New Mood Safe?
A: Onnit New Mood contains safe, organic ingredients which have been clinically tested and meet high-level safety standards. They do not contain any potentially harmful ingredients, chemicals, or artificial flavors or colors and have no harmful New Mood Onnit side effects associated with taking them. You can be certain that this is a safe product, whether you take the powered drink or the supplements.
Q: Does Onnit New Mood Make You Tired?
A: One of the main goals of this supplement is to help you sleep, so yes it can make you tired. However, taking it during the day will also relax you and lower your stress, which will help you get through your activities successfully.
Q: How Long Does it Take New Mood to Work?
A: When it comes to sleep, this product promises to put you out in an hour. For anxiety and brain health benefits, the effects should kick in after 30-60 minutes. The results last for 3-4 hours. Naturally, this will vary somewhat depending on the individual.
Q: Is Onnit New Mood Safe During Pregnancy?
A: Onnit New Mood contains 5-HTP, and possibly other ingredients which are not safe for pregnant women to take. Ask your physician about suitable mood boosters.
Q: Does New Mood Work?
A: Yes, New Mood definitely works. It contains ingredients which increase levels of brain chemicals related to improving mood and decreasing stress and anxiety. In addition, it can lead to melatonin production which can induce sleep.

It works, and it's a healthy product with vitamins, minerals, and antioxidants. It's clear from the New Mood review posts online that users found it highly effective and said it improved their lives significantly.
The Final Word
Onnit New Mood by all accounts appears to be a quality mood and sleep supplement which induces relaxation and calmness, reduces stress, and increases positive emotions. It also helps to lower blood pressure , and it's high in healthy nutrients and antioxidants. It's a reasonably-priced supplement which will be affordable for many users.
Looking through the Onnit New Mood review postings online, it's clear that this is an extremely popular product. Users with insomnia said it worked quickly to put them to sleep, and others mentioned the great decline in anxiety and positive mood they experienced. There were few poor reviews of Onnit New Mood.
This supplement is healthy and safe, containing only clinically tested safe organic ingredients which do not lead to harmful side effects. It's made by Onnit, which is a well-known and highly reputable manufacturer that is trustworthy. Onnit New Mood comes highly recommended for those who want to change their mood.