What is Nutra Thrive for Dogs?
Dr. Gary Ritcher Nutra Thrive for Dogs is a canine supplement with a unique formula. The supplement has several specific health benefits to your dog's health including immune and digestion function support, improved joint health, and coat quality. It's a veterinarian developed and approved formula which promotes optimal canine wellness.
It includes a combination of crucial probiotics and easy-to-absorb nutrients, minerals, vitamins, antioxidants, and digestive enzymes that work together to support your pet's overall health.
Notably, most reviews for Ultimate Pet Nutrition Nutra Thrive For Dogs are positive. As both a reviewer and a dog-owner whose canines love the product, I can recommended it for animal lovers everywhere.
About the Brand
The manufacturer is a company called Ultimate Pet Nutrition, located in Encino, California. Founded by renowned veterinarian and animal nutritional expert Dr. Gary Richter, they produce healthy organic nutritional food and supplements for dogs and cats. This is a well-known and respected brand.
How Does It Rate?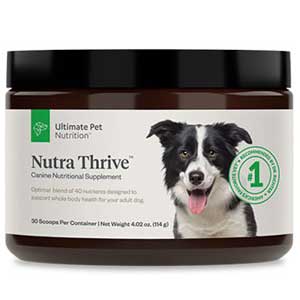 Highlights
These are veterinarian developed and approved formulas.
The products use 100% organically-sourced ingredients.
They have over 50,000 satisfied customers.
The products have no fillers or artificial additives.
Active Ingredients
Chlorella
Papain
Protease
Amylase
Folic Acid
Probiotics
Reishi Mushrooms
MSM
Spirulina
Kelp
Biotin
Carrot
Lipase
L-Arginine
L-Methionine
Calcium Fructoborate
Pros
It contains minerals, vitamins, and amino acids that support healthy teeth, muscles, and bones.
Nutra Thrive for Dogs can promote optimal gastrointestinal health in dogs.
This supplement can enhance canine joint health.
It can strengthen your dog's immune system.
This product can improve coat quality.
Cons
The results will vary somewhat in different dogs.
This is a popular product which may sometimes run low stock.
You can only buy this product online.
Overall Rating:4.8/ 5
Nutra Thrive Dog Nutritional Supplement – Key Facts
| | |
| --- | --- |
| Benefits | Help support your dog's overall health,immune function to digestion, joint health to coat quality. |
| Ingredients | Super Canine blend, Vitamins and mineral blends, L-Arginine and more |
| Discounts | Up to 29% Off |
| Company | Ultimate pet nutrition |
What are the Ingredients in Nutra Thrive for Dogs?
Superfoods Blend
Feeding your dog with food containing superfoods may have a physiological effect on fecal metabolites and gut health, making it a potential candidate for microbial and fitness in dogs.
A study in the Journal of Animal Science confirms this information. Superfoods are very rich in antioxidants, which repair damage to the cells and tissue and promote a stronger immune system in dogs.
They also include anti-inflammatory agents which can decrease swelling in the gut, and in the rest of the body. Superfoods support heart health, improve energy, and may slow down aging.
Super Canine blend
This compound ingredient includes a mixture of beef, other raw foods, and fiber. This provides protein to build the muscles, and the fiber helps to promote healthier digestion, more regular bowel movements, and decrease symptoms like gas and bloating.
According to The Canadian Veterinary Journal, a raw diet is effective in managing various health problems such as gastrointestinal dysfunction in pets. They may also resolve issues like obesity, inappetence, and dull coat in dogs.
Vitamins and mineral blends
This is a combination of several vitamins and minerals present in dog food supplements, which help to carry out a range of different functions in the body. They resolve nutrient deficiencies, provide energy, regulate hormone production, protect the organs from harm, reduce inflammation, and repair damage to the cells and tissue.
According to Scientific Research, well-balanced vitamins and minerals in the diet are essential as they help improve and maintain animal health and possibly increase longevity.
L-Arginine
This is an amino acid which is essential in building protein, and it also supports growth and other biological processes. The added protein can help build muscle mass and strength in dogs.
In addition, it improves circulation, and it may support heart health. According to the Journal of Nutrition, Arginine is a potent element in a dog's food that helps reduce frothing and muscle tremor.
What is the Science of Nutra Thrive for Dogs?
Nutra Thrive is formulated using a combination of a potent blend of minerals, vitamins, antioxidants, digestive enzymes, probiotics, and amino acids.
All these are meant to upgrade your dog's food so that when it feeds on it, it can lead a longer, healthier, and happy life.
Worth noting also in the way Nutra Thrive works is, the blend contains beef liver and Engevita GSH Glutathione inactive yeast which is a rich source of Vitamin B complex, vitamin D, protein, and dietary fiber which is easy to absorb
Frequently Ask Question (FAQs)
Q: Where Can You Buy Nutra Thrive for Dogs?
A: You can purchase this product from the brand's official website as well as from other online retailers like Amazon. If you have a Ultimate Pet Nutrition Nutra Thrive For Dogs coupon code you can save some money, and they sometimes offer promo codes.
Q: How Much Does it Cost?
A: If you buy in bulk, you also get a discount. Here are Nutra Thrive for Dogs prices from the official site:

1 jar – $45.95
3 jars – $134.85
6 jars – $254.70
Q: How Do You Take Nutra Thrive for Dogs?
A: You should mix the product in your dog's food as follows:

1 scoop for a dog that weighs 0-30 lbs.
1.5 scoop for a dog that weighs 30-50 lbs.
2 scoops for a dog that weighs 50 lbs. and above
Q: What is the Refund Policy for Nutra Thrive for Dogs?
A: Nutra Thrive for Dogs has a 90-day 100% money-back guarantee. This helps anyone who may find the product not suitable for their dog, or no noticeable improvements in their dog's happiness and health to claim back their money.
Q: Does Nutra Thrive for Dogs Have Any Side Effects?
A: No. Nutra Thrive is made using a combination of quality hand-selected ingredients to ensure maximum purity and effectiveness with no side effects. There were multiple consumer reviews but no mention of dogs having negative symptoms from consuming Nutra Thrive for Dogs.
Q: How Does Nutra Thrive for Dogs Compare to Other Similar Products?
A: A quiet comparison of the ingredients used to formulate Nutra Thrive versus other similar products shows it to have many potent constituents. In such a case, however, unlike expected the supplement is still averagely priced and well affordable. All these make it on the list of highly competitive dog supplements in the market.
Q: How Long Will It Take to See Results With Nutra Thrive for Dogs?
A: While Nutra Thrive is designed to work fast and efficiently to help your dog lead a healthier and happy life, results may vary. Some dog owners noticed the results within a short time while others had to wait a little longer. However, if you use this supplement as recommended, and consistently, you should be able to see positive results.
Q: Is Nutra Thrive for Dogs Worth It?
A: This product has a unique formula and developed using well-studied potent ingredients to ensure quality and efficiency. Also, the positive reviews available on the brand's official website are an indication that this product is worth every dollar.
Q: Is Nutra Thrive for Dogs Safe?
A: Nutra Thrive is safe for your dog's consumption. It has been formulated using premium researched ingredients to ensure that your dog achieves optimal health without experiencing any health concerns.
Q: Does Nutra Thrive for Dogs Work?
A: Following the massive positive reviews this product has received, it is clear that it does work. Also, the ingredients used to manufacture are based on research studies to ensure effectiveness.
Q: Is Nutra Thrive Legit?
A: Nutra Thrive for Dogs has been manufactured by a reputable and trusted brand, Ultimate Pets Nutrition. Customer reviews made it clear that it has proven benefits and little to no side effects.
Nutra Thrive for Dogs Reviews: What Do Customers Say?
Numerous Nutra Thrive for Dogs reviews and testimonials are overwhelmingly positive and users said that the supplement decreased itchiness and hair loss in dogs.
They also said that it improved canine joint health, and made their pups active and full of energy. Dogs liked the flavor, and it enhanced digestion. Here are some of my favorite reviews, selected for your interest and information:
Noticeable Difference
After the first week, my shepherd's coat went from dull greasy feeling hair to a soft and shiny coat. She also ate her food right down with Nutra Thrive on top. I didn't start with a pinch; I went with a full scoop with a 1/4 cup of warm water for her morning and evening feedings. She loves it, and I love her gorgeous coat.

– Sharon S.

Cost Brightness

My older dog had a lackluster coat and some skin irritation and Nutra Thrive seemed to remedy most of these problems. Thanks Nutra Thrive.

– Roseann T.

Works as Advertised

I mix one scoop with a pinch of my two dogs' food, add 2 teaspoons of water, mix well, and put in my dogs' treat bowls. They both love it. Chloe is a rat-Boston terrier, and Daisy is a chihuahua. It helped Chloe with diarrhea and Daisy bloomed (pun intended). They have been using it for over 2 years and I am reordering a case for the third time.

– Susan
Conclusion
There are many dietary supplements on the market today that promise to help boost your dog's overall health. One reason Nutra Thrive is worth attention is that it has stood the test of time due to its unique formula and effectiveness.
Nutra Thrive for Dogs is an advanced blend of highly potent ingredients in the form of a powder, and has a bacon flavor which should be appetizing for your dog. The product also helps to resolve poor-looking hair coat in dogs. Veterinarians and animal nutrition experts worldwide recommend this brand for canine health and wellness.
In addition, this superfood formula combines unique food nutrients such as mushroom blend, carrot, chlorella, and spirulina, which offer several health benefits to your dog. This product promises many benefits to canine health, and one that is particularly significant is that it may increase longevity.
Many dog owners has recommended this supplement as a top brand to animal lovers who want to enhance their dog's health.
Up Next – Dr. Marty ProPower Plus Review
At Wellness Digest, our sourcing guidelines are strict and we only use primary references for our articles including peer-reviewed studies, academic research institutions, and medical associations. You can learn more about how we ensure our content is accurate and current by reading our editorial policy.
1. The Pet Lover's Guide to Canine Arthritis and Joint Problems. Can Vet J. 2006 Sep;47(9):906–7. PMCID: PMC1555687.
2. Nogueira JPS, He F, Mangian HF, Oba PM, De Godoy MRC. Dietary supplementation of a fiber-prebiotic and saccharin-eugenol blend in extruded diets fed to dogs. J Anim Sci. 2019 Nov 4;97(11):4519-4531. doi: 10.1093/jas/skz293. PMID: 31634399; PMCID: PMC6827403.
3. Stogdale L. One veterinarian's experience with owners who are feeding raw meat to their pets. Can Vet J. 2019 Jun;60(6):655-658. PMID: 31156268; PMCID: PMC6515799.
4. Pedrinelli V, Zafalon RVA, Rodrigues RBA, Perini MP, Conti RMC, Vendramini THA, de Carvalho Balieiro JC, Brunetto MA. Concentrations of macronutrients, minerals and heavy metals in home-prepared diets for adult dogs and cats. Sci Rep. 2019 Sep 10;9(1):13058. doi: 10.1038/s41598-019-49087-z. PMID: 31506479; PMCID: PMC6736975.
5. Burns RA, Milner JA, Corbin JE. Arginine: an indispensable amino acid for mature dogs. J Nutr. 1981 Jun;111(6):1020-4. doi: 10.1093/jn/111.6.1020. PMID: 7241223.
6. Whitaker DT, Ostrander EA. Hair of the Dog: Identification of a Cis-Regulatory Module Predicted to Influence Canine Coat Composition. Genes (Basel). 2019 Apr 26;10(5):323. doi: 10.3390/genes10050323. PMID: 31035530; PMCID: PMC6562840.