What is 1MD EnzymeMD?
1MD EnzymeMD is a healthy organic supplement full of amino acids which support digestive wellness, and it includes a probiotic. It can break down nutrients and ease symptoms like gas, bloating, and indigestion after eating. Researchers support the benefits of the ingredients in this supplement. In addition, it can eliminate toxic gases. This is a high-level product which a prominent gastroenterologist designed. Our team of RDNs evaluated the supplement and found it to be a very high-level digestion product which should be very effective.
Highlights
The manufacturing takes place in a facility in the USA.
A board-certified gastroenterologist designed this product.
It contains 18 digestive enzymes.
The product is free of peanuts and shellfish.
It's 100% vegan.
Active Ingredients
Lactase
Papain
Protease
Bromelain
Phytase
Cellulase
Peptidase
Maltase
Xylanase
Hemicellulose
Alpha Amylase
Beta Glucanase
Invertase
Pros
It can decrease gas, indigestion, and bloating after eating.
The product can get rid of toxic gases.
1MD EnzymeMD contains enzymes which can break down nutrients.
A board-certified gastroenterologist designed it.
1MD EnzymeMD can improve digestive health.
Cons
It has soy, wheat, and milk, which some users can't consume.
There are no free samples of the product available.
High demand sometimes leads to low stock.
Overall Rating:4.8/ 5
About the Brand
The manufacturer is a reputable company called 1MD which is in Sherman Oaks, California. Founded in 2015, this organization produces high-quality organic supplements to support a number of different health issues. A team of highly respected physicians designs the products.
1MD EnzymeMD – Key Facts
| | |
| --- | --- |
| Benefits | Give Your Body the Enzymes It Needs,relieves bloating, gas, and indigestion discomfort |
| Ingredients | Saccharomyces boulardii,Alpha-Amylase,Bromelain, Peptidase,Cellulaseand more |
| Price | $35.99/bottle |
| Discounts | Up to 16% Off |
| Company | 1MD |
What are the Ingredients in 1MD EnzymeMD?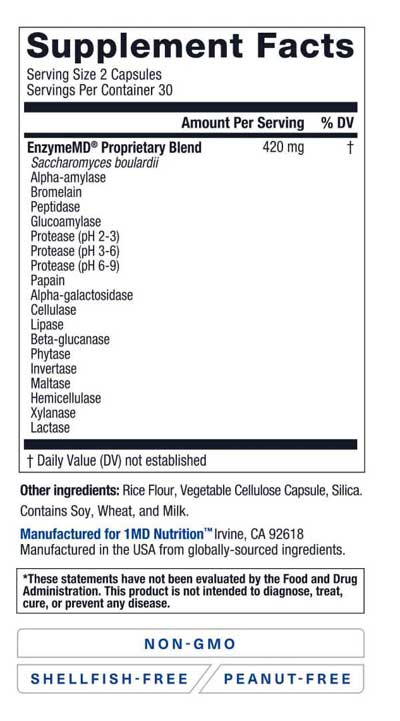 Here are some of the primary active 1MD EnzymeMD ingredients:
Bromelain
These are protein-digesting enzymes that come from pineapple juice. They can break down the food into smaller components, and this helps digestion and can ease diarrhea and other symptoms.It may also help treat some digestive disorders.
It's high in anti-inflammatory agents, which can help decrease pain and swelling involved in arthritis or sore muscles. In addition, it may help treat cardiovascular disease. There's some evidence that it may reduce sinus congestion.
An article in Biomedical Reports examined the potential role of bromelain in clinical and therapeutic applications.
Lactase
This is an enzyme which is required in order to fully digest whole milk. Under normal circumstances it's produced by the body. and it's most abundant in babies. It breaks down lactose, a sugar which many people find hard to digest. and it can help people them to avoid having gas and cramps.
An article in Nutrients examined lactose intolerance in adults.
Papain
This is an enzyme which comes from the papaya fruit. Its role is to break proteins down into smaller components, peptides and amino acids.Papain can ease digestive symptoms like bloating and constipation. It's also high in anti-inflammatory agents which can reduce gut swelling and throat inflammation and help heal wounds. In addition, it may ease muscle soreness.
An article in the American Journal of Biochemistry and Biotechnology examined papain as a plant enzyme of biological importance.
How Does 1MD EnzymeMD Work?
This product is full of digestive enzymes which help break the food down into small particles that are easy to digest and won't do harm to the gut wall. They may be helpful in reducing gas and bloating, although the research showed varying results. A study in Current Drug Metabolism found that digestive enzymes may be helpful in treating gastrointestinal diseases.
1MD EnzymeMD also included a probiotic, which supports the intestinal lining by growing good bacteria. They fight off bad bacteria and promote a healthy microbiome.
In addition, it helps to decrease symptoms like gas and bloating. An article in Tropical Life Sciences Research discussed the beneficial properties of probiotics.
Is 1MD EnzymeMD a Legitimate Product?
There's no doubt at all that this is a legitimate product. First of all, the company that makes it is very well-known and reputable, and physicians develop all of their products. In addition, there are numerous reviews of 1MD EnzymeMD online which attest to its existence and its effectiveness.
Frequently Asked Questions (FAQs)
Q: How Do I Take 1MD EnzymeMD?
A: If you want to know how to take digestive enzymes supplements, take 1 or 2 supplements 20 minutes before a meal. Do not take more than this amount under any circumstances.
Q: How Much Does 1MD EnzymeMD Cost and Where Do I Buy It?
A: You can buy this supplement on the manufacturer's official website, Amazon, Walmart, and from other online retailers. If you want free shipping, enter the code SHIP1MD at checkout. The prices on the official site are as follows:
One-Time Purchase
1 Bottle – $42.99
3 Bottles – $36.99/each
6 Bottles – $32.99/each
Subscription
1 Bottle – $35.99
3 Bottles – $29.99
6 Bottles – $25.99
Q: What Is the Return Policy For 1MD EnzymeMD?
A: The is a 90-day return policy for this product. If you are not happy with it, let customer service know or write a note on the return parcel. Send it back within 90 days of the purchase date. You must send both the open and the full bottles back. You should get a full refund, but they will deduct the shipping fees.
Q: How Does 1MD EnzymeMD Compare to Similar Products?
A: The price of EnzymeMD by 1MD is quite average for the market, aligned with many other similar brands. In terms of ingredients, this supplement if full of more substances like effective amino acids and probiotics compared to other enzyme supplements. 1MD EnzymeMD is clearly a top brand on the market. For myself, I find it to be more than worth the money.
Q: Does 1MD EnzymeMD Work?
A: 1MD EnzymeMD should work very well. It's full of amino acids your body requires, and they break down nutrients for easier and smoother digestion. It contains probiotics which line the intestines with good bacteria which elevates gut health. Most of the 1MD EnzymeMD reviews agree that this product is highly effective.
Q: Is 1MD EnzymeMD a Safe Product?
A: 1MD EnzymeMD is an extremely safe product. It's composed solely of enzymes, with few inactive ingredients and no chemical or artificial substances. There are no potential side effects associated with taking this product. Of course, you should still get medical approval before using any new supplement.
Q: Is 1MD EnzymeMD Worth It?
A: 1MD EnzymeMD is a very potent enzyme product which supports healthy digestion. It's one of the best supplements of its kind on the market, and it's definitely worth it. Many of the 1MD EnzymeMD reviews agree that this is a highly effective product which reduces digestive symptoms and supports intestinal health.
Q: Is 1MD EnzymeMD Vegan?
A: Vegan customers will be happy to know that this product is 100% vegan. There are no meat, dairy, or egg derivatives included. As a vegan myself, I actually called the company to double check this fact and was met with a friendly and helpful customer service department.
What Do the 1MD EnzymeMD Reviews Say
The vast majority of the reviews of 1MD EnzymeMD online were very positive. Most customers said it helped tremendously to ease their digestive symptoms like gas, bloating, and diarrhea. There were few poor reviews of this product. As a customer myself, I can say that I have never experienced any kind of symptoms while taking this supplement.
Here are some of the top 1MD EnzymeMD reviews, according to my own exhaustive search of hundreds of customer comments.
Great Results

I have obtained day-by-day results with less gas…and a more comfortable life. The longer I have taken these supplements, the more positive the results have become. They are easy to swallow, with no after taste. – Myrtle M.

Smooth Digestion

I am a nurse practitioner and have read extensively about digestion…Enzyme MD has aided in the digestion of certain foods that I struggle with. It has definitely helped me, and I will continue to use this product. – Debra K.

Bye Bye Bloating

No more bloating, gas, or constipation for the first time in too many months to count. I became a subscriber, which saves a lot of money. Not only are the supplements the best on the market and the only ones to get an A+ by professional reviewers, but the customer support also deserves an A+. They will help in any way they can. It doesn't get any better than this. – Dave J

The Highest Grade

This works wonders. My wife has been having issues for years. This has given her immediate relief. A+ – Frank B.
Conclusion
EnzymeMD by 1MD is a dietary supplement which supports digestive health. It contains many amino acids which break down the nutrients into small enough pieces to digest easily. It also has probiotics which line the intestines with healthy bacteria. Designed by a top gastroenterologist, this product should ease digestive symptoms like gas and bloating.
The reviews for 1MD EnzymeMD had very good things to say about this supplement. Most users said it worked rapidly to help settle their digestion and it led to an overall healthier digestive tract. Many customers said they planned to repurchase and keep taking it. There weren't very many poor reviews of this supplement.
1MD EnzymeMD is a safe, quality product which should not lead to any uncomfortable side effects. However,RDNs recommend that if you do experience unusual symptoms, discontinue use of the product immediately. Prior to starting EnzymeMD by 1MD, it's important to see a doctor and make sure it's medically suitable for you.
Personally I can say that this was the digestive supplement for me. I suffered from a number of issues like bloating and diarrhea, and 1MD EnzymeMD cleared up all of my symptoms rapidly. I highly recommend it!
At Wellness Digest, our sourcing guidelines are strict and we only use primary references for our articles including peer-reviewed studies, academic research institutions, and medical associations. You can learn more about how we ensure our content is accurate and current by reading our editorial policy.
---
1. Szajewska H, Kolodziej M. Systematic review with meta-analysis: Saccharomyces boulardii in the prevention of antibiotic-associated diarrhoea. Alimentary pharmacology & therapeutics. 2015 Oct;42(7):793-801.
2. Tung JM, Dolovich LR, Lee CH. Prevention of Clostridium difficile infection with Saccharomyces boulardii: a systematic review. Canadian Journal of Gastroenterology and Hepatology. 2009;23(12):817- 21.
3. Papaya. In: Drugs and Lactation Database (LactMed. National Library of Medicine (US); 2006.
4. Valussi M. Functional foods with digestion-enhancing properties. Int J Food Sci Nutr. 2012;63 Suppl 1:82-89. doi:10.3109/09637486.2011.627841
5. Majeed M, Majeed S, Nagabhushanam K, Arumugam S, Pande A, Paschapur M, et al. Evaluation of the safety and efficacy of a multienzyme complex in patients with functional dyspepsia: A randomized, double-blind, placebo-controlled study. J Med Food. 2018;21(11):1120-1128. doi:10.1089%2Fjmf.2017.4172
6. Szajewska H, Guarino A, Hojsak I, Indrio F, Kolacek S, Shamir R, Vandenplas Y, Weizman Z. Use of probiotics for management of acute gastroenteritis: a position paper by the ESPGHAN Working Group for Probiotics and Prebiotics. Journal of pediatric gastroenterology and nutrition. 2014 Apr 1;58(4):531-9.
7. Duchemin AM, Steinberg BA, Marks DR, Vanover K, Klatt M. A small randomized pilot study of a workplace mindfulness-based intervention for surgical intensive care unit personnel: effects on salivary a-amylase levels. Journal of occupational and environmental medicine/American College of Occupational and Environmental Medicine. 2015 Apr;57(4):393.
8. Fleming D, Rumbaugh K. Approaches to dispersing medical biofilms. Microorganisms. 2017;5(2):15.
9. Reddy KK, Grossman L, Rogers GS. Common complementary and alternative therapies with potential use in dermatologic surgery: risks and benefits. Journal of the American Academy of Dermatology. 2013 Apr 1;68(4):e127-35.
10. de Lencastre Novaes LC, Jozala AF, Lopes AM, de Carvalho Santos-Ebinuma V, Mazzola PG, Pessoa Junior A. Stability, purification, and applications of bromelain: A review. Biotechnology progress. 2016 Jan;32(1):5-13.
11. Barrett AJ, Woessner JF, Rawlings ND, editors. Handbook of proteolytic enzymes. Elsevier; 2012 Dec 2.
12. Yin D, Yin X, Wang X, Lei Z, Wang M, Guo Y, Aggrey SE, Nie W, Yuan J. Supplementation of amylase combined with glucoamylase or protease changes intestinal microbiota diversity and benefits for broilers fed a diet of newly harvested corn. Journal of animal science and biotechnology. 2018 Dec;9(1):24.
13. Lundquist I, Panagiotidis GE, Salehi AL. Islet acid glucan-1, 4-alpha-glucosidase: a putative key enzyme in nutrient-stimulated insulin secretion. Endocrinology. 1996 Apr 1;137(4):1219-25.
14. Fernández-Lucas J, Castañeda D, Hormigo D. New trends for a classical enzyme: Papain, a biotechnological success story in the food industry. Trends in Food Science & Technology. 2017 Oct 1;68:91-101.
15. Fei X, Yuan W, Zhao Y, Wang H, Bai S, Huang Q. Papain Ameliorates the MPAs Formation-Mediated Activation of Monocytes by Inhibiting Cox-2 Expression via Regulating the MAPKs and PI3K/Akt Signal Pathway. BioMed research international. 2018;2018.
---