What is Dermal Repair Complex?
Beverly Hills MD Dermal Repair Complex is a skincare product in the form of a daily supplement. It offers rich benefits for the skin, including firming, toning, improving elasticity, moisturizing, and removing signs of age like fine lines and wrinkles.
It's full of enriching natural ingredients, vitamins, minerals, and antioxidants that nourish and repair skin damage. I myself have been using it for several weeks, and I'm eager to share my experience with this amazing supplement.
Our team tests 100s of supplements. We'll provide you with the research that supports (or doesn't support) the ingredients that you'll find in this product. We'll also share some reviews on Beverly Hills MD Dermal Repair Complex so you can get a better idea of what customers really think about this supplement.
Why Should You Trust Wellness Digest?
Wellness Digest is one of the top sites which reviews current and popular health and beauty brands to help you choose the most worthwhile and natural products on the market.
Our writers have both journalistic expertise and knowledge in the specific fields related to the products they discuss. In addition, every article is medically reviewed by professionals in the fields of nutrition, dermatology, medicine, and other related fields.
About the Brand
Beverly Hills MD is a top skincare company founded in 2014 by plastic surgeons John Layke and Payman Danielpour. Located in Beverly Hills, California, they offer a range of skincare formulations with ingredients that show promise in scientific research. They use all-natural products and are completely cruelty-free.
Dr. John Layke, DO is a practicing plastic surgeon with the Beverly Hills Plastic Surgery Group. He received his training at the Long Island Plastic Surgery Group, the largest and oldest private practice group in America. Dr. Layke is board certified by the American College of Surgeons in General Surgery.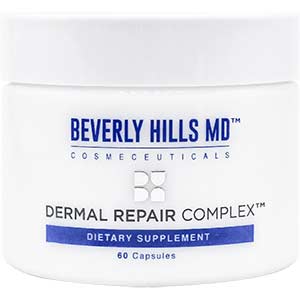 Highlights
The ingredients are 100% naturally sourced.
The formula is based on scientific research.
The brand is cruelty-free.
The manufacturing facility is in the USA.
Active Ingredients
Hyaluronic Acid
Hydrolyzed Collagen
MSM
Saw Palmetto
Vitamin A
Vitamin B
Pros
This supplement reduces the appearance of wrinkles and lines.
Beverly Hills MD Dermal Repair Complex can repair skin damage.
It makes the skin tighter and more elastic.
The product can deeply moisturize the skin.
Beverly Hills MD Dermal Repair Complex makes the skin radiant.
Cons
This is a very popular product which sometimes goes low stock.
The results will vary among customers.
Free shipping on order over $39 is only for U.S residents.
Overall Rating:4.8/ 5
Key Facts
| | |
| --- | --- |
| Benefits | Reduces the appearance of wrinkles and lines, skin damage, makes the skin tighter,elastic and radiant |
| Ingredients | Hydrolyzed Collagen, MSM, Saw Palmetto and more |
| Discounts | Up to 20% Off |
| Company | Beverly Hills MD |
| Age Group | Adult |
| Gender | Unisex |
What Does Dermal Repair Complex Do?
This formula contains hydrolyzed collagen, which makes the skin firmer and more elastic and smooths wrinkles and lines. In addition, it's rich in hydration which moisturizes, eliminates dryness, and plumps the skin.
When collagen is hydrolyzed, the collection of peptides are much smaller components which penetrate the skin easily. An article in Molecules explored the sources and applications of hydrolyzed collagen.
An article in the Journal of the American Academy of Dermatology discussed the therapeutic benefits of moisturizers in preventing dry skin.
Collagen also assists in eliminating fine lines and other signs of age. A study published in Nutrients concluded that a collagen supplement improved skin hydration, elasticity, density, and roughness (5).
How Does Dermal Repair Complex Work?
Beverly Hills MD Dermal Repair Complex is full of antioxidants which can get rid of harmful free radicals and lower oxidative stress. This can repair damage to the skin and protect it from environmental stressors like UV rays and dust. An article in Frontiers in Pharmacology explored protecting the skin from solar radiation (6).
Anti-inflammatory agents in this supplement can lessen redness and skin swelling, reduce irritation, and treat skin conditions. The product can also lower the levels of the hormone DHT, which helps prevent skin damage. This supplement promotes cell turnover for fresher, younger looking skin, and it improves skin tone.
What Ingredients Are in Dermal Repair Complex?
Here are some of the primary active Beverly Hills MD Dermal Repair Complex ingredients:
Hydrolyzed Collagen
Research shows that the oral injection of hydrolyzed collagen can elevate the levels of peptides in your blood and skin. This produces more collagen which makes the skin tighter and more elastic, smoothing lines and wrinkles (1).
In addition, it provides the skin with hydration and can retain moisture. It's a potent antioxidant which can repair skin damage and protect from UV rays.
A study in the Journal of Medicinal Food found that collagen from fish had potent antioxidant potential.
A review in the International Journal of Dermatology found that in 90 days, hydrolyzed collagen reduced skin wrinkles and improved elasticity and hydration (2).
MSM
This is a chemical called methylsulfonylmethane which contains sulfur, and it exists in humans, animals, and plants. The sulfur helps to support the keratin in the skin, improving skin quality and texture. It can also help treat skin irritations and wounds (3).
In addition, it decreases the breakdown of collagen for tighter skin with better elasticity. This can smooth wrinkles and lines and diminish acne scarring.
A study in Natural Medicine Journal concluded that MSM improved skin health and reduced wrinkles and lines.
It has anti-inflammatory benefits, and can soothe red, itchy skin or swelling. A review in Nutrients discussed the applications and safety of MSM, including its use in skin care.
Saw Palmetto
The extract comes from a palm tree native to the Southeastern U.S, and it's rich in fatty acids which nourish and hydrate the skin. It can decrease levels of the hormone DHT, which both leads to hair loss and damages the skin.
An article in the Archives of Dermatological Research discussed the role of androgens and androgen receptors in skin disorders.
It also lowers sebum production in the pores, reducing acne (4). Saw palmetto is full of anti-inflammatory agents which can reduce redness, and swelling, and help heal skin conditions. It has potent antioxidants which repair and protect the complexion. An article in the Indian Journal of Drugs and Dermatology reviewed a dermatologist's perspective of saw palmetto.
Dr. John Layke Dermal Repair Complex contains a vitamin blend, composed mostly of B vitamins. The blend contains 2,500 micrograms (mcg) of biotin, which is typically used for hair products like Har Vokse rather than skincare products.
Our review team has crafted a list offering the best in anti-aging supplements.
Best Deals, Feature Product & Coupon
Targets internal problems that cause visible aging
Protects and enhances skin elasticity
Reduces the appearance of sagging or drooping
Improves strength and quality of hair and nails
How Do You Use Dermal Repair Complex?
The recommended dosage for Beverly Hills MD Dermal Repair Complex is 2 capsules per day, with a meal and a full glass of water. Do not take more than this amount for any reason.
Does Dermal Repair Complex Cause Weight Gain?
None of the ingredients in Beverly Hills MD Dermal Repair Complex cause weight gain, so there is almost no chance this will happen. It's simply not a side effect that occurs with this supplement, and there are many consumers who claim that they lost some pounds after consistent use of this supplement.
Are there any Dermal Repair Complex Side Effects?
The ingredients found in Dermal Repair Complex are generally safe. Since the product contains Hyaluronic Acid, it may cause skin redness. The saw palmetto in the formula may trigger stomach pain or headaches.
Because individual results may vary, there is the risk of allergic reaction to the ingredients used in the product. Before taking any supplement, it is best to speak with your healthcare provider.
What is the Return Policy for Dermal Repair Complex?
The manufacturer has a 60-day money-back warranty on this supplement. If you're not happy with the product Dermal Repair, contact the customer service department for instructions and send it back within 60 days of the day the company sent it to you. You'll get a full refund, minus the shipping costs.
For real anti-aging results we recommend reviewing our list of the best anti-aging supplements.
Business Address:
Beverly Hills MD
8383 Wilshire Blvd #800
Beverly Hills, CA 90211
Phone: 1-877-828-5528 | Mon – Fri 6AM-5PM PST and Sat – Sun 6AM-4PM PST
Email: [email protected]
FAQ's
Since our initial review, we have received a few additional questions about Dr. John Layke Dermal Repair Complex. Here are the answers to the most common questions.
Q: Were there any Dermal Repair Complex Complaints?
A: The reviews on Beverly Hills MD Dermal Repair Complex were very positive, without much in the way of complaints or negative comments.
However, note that it's important to buy on the official website or from a very recognized retailer, because a few users who did otherwise complained about getting an imitation product.
Q: Is Dermal Repair Complex Safe to Take?
A: Yes, Beverly Hills MD Dermal Repair Complex is a very safe product made of pure organic ingredients. There are no artificial colors or flavors, or other potentially harmful ingredients. In addition, no customer has ever mentioned having Beverly Hills MD Dermal Repair Complex side effects.
Two plastic surgeons founded this company, and skin care experts designed the formula. The brand is trusted by many consumers and they use the supplement on a daily basis.
Q: Is Dermal Repair Complex Effective?
A: According to Dermatologists and other skin care experts, Beverly Hills MD Dermal Repair Complex is a potent anti-aging formula produced by a reputable skin care company. Based on the ingredients alone, this is a highly effective product. However, in addition, many of the Beverly Hills MD Dermal Repair Complex independent reviews raved about the amazing results on their skin.
Q: Who Should Use Dermal Repair Complex?
A: Beverly Hills MD Dermal Repair Complex Supplement is ideal for anyone who wants to reduce the signs of age on their skin for a more youthful look. However, you can also use this to treat younger skin which has no wrinkles as it will slow aging and protect from future damage.
Q: Are Dermal Repair Complex Products Cruelty Free?
A: According to the manufacturer, Beverly Hills MD Dermal Repair Complex is completely cruelty-free as they have never tested any products on animals.
Q: Does Beverly Hills MD Dermal Repair Complex Really Work?
A: There are numerous positive customer reviews on Dermal Repair Complex that suggests that this supplement does actually work.
It has many proven benefits and its ingredients are proven to reduce the appearance of wrinkles and sagging skin, protecting and enhancing skin elasticity.
Q: Is Dermal Repair Complex FDA Approved?
A: FDA doesn't approve dietary supplements. However, Dermal Repair Complex Supplement is formulated with safe and effective ingredients.
Q: Is Beverly Hills MD Dermal Repair Complex Legit?
A: Dermal Repair Complex is manufactured by Beverly Hills MD, which is a reputed and trusted brand. Their products are safe, effective and 100% legitimate.
Read Also – Beverly Hills MD Deep Wrinkle Filler Reviews
Beverly Hills MD Dermal Repair Complex Reviews
The vast majority of the Dermal Repair Complex reviews had very good things to say about this supplement. Many people mentioned that it made their skin more youthful-looking by getting rid of fine lines and wrinkles and making it firmer.
Users loved Beverly Hills MD Dermal Repair Complex before and after and the compliments they were getting on their complexion. Of course not every customer liked the product, and there were some users who didn't get the benefits they expected.
One of the most popular YouTube reviews of Dermal Repair Complex is published by a channel called "BusyBeingJen." The creator claims that the video is unsponsored, and she shares before-and-after images of her skin after using the product for 6 weeks.
It's worth noting that she used both the Dermal Repair Complex (dietary supplement) and the Lift + Firm Sculpting Cream (topical serum) so we cannot ascribe these results to the supplement alone:
Beverly Hills MD Dermal Repair Complex reviews on Amazon.com are a mix of positive and negative, with the product receiving an average rating of 4 out of 5 stars after more than 2,804 customer reviews.
Verified Customer Beverly Hills MD Dermal Repair Complex Reviews
I've tried several products in the market in hopes of getting rid of my acne until I came across this product. I highly recommend this product to women over the age of 40 who are feeling like they have tried every single product in the market just to make their skin feel smoother and more youthful. Thanks Beverly Hills MD!

by Janette

I have been taking BHMD Dermal Repair Complex for about a month. I didn't have high hopes as I've tried other anti-aging supplements in the past that I was dissatisfied with, but this product is a game-changer. I am so in love with it.

by Lisa

After about two weeks I really started seeing a difference in the appearance of my skin with the way it felt and looked. My forehead lines weren't as deep, my skin was brighter and more even-toned, and my saggy jowls and overall firmness of the skin on my face were tighter.

by Nickie R

I was so extremely pleased that I shared it as a FB post with my family and my best friend. I just started my second bottle, and I will never stop using this product. I just LOVE IT!

by Christine Kopliner

I'm 72 and I'm delighted to see that even my deepest wrinkles seem to be lessening! It is SO nice to find that there is something about my aging appearance that I can at least to some extent control. I'm also relieved and happy to see the growth of lots of new hair and a dramatic reduction in the hair loss I've been experiencing for several years.

by Jamie

I'm hoping after using Repair Complex Dermal for several months I'll notice even more progress, but even if it just sustains the difference it's made already I'll be happy. I would definitely recommend it.

by Judy
Note : *All individuals are unique. As such, your results will vary.
These statements have not been evaluated by the Food and Drug Administration. This product is not intended to diagnose, treat, cure or prevent any disease.
SEE ALSO: XYZ Smart Collagen Reviews
Where to Buy Dermal Repair Complex?
Dermal Repair Complex is for sale on the manufacturer's official website, on Amazon, and from several other online and offline retailers.
Alternatives
There are many different dietary supplements for skincare available on the market today, with some making specific promises about the strength and length of your hair and nails and others promising to correct a variety of skin concerns, and still others promising to do it all essentially.
If you are interested in skin health, there is strong evidence to support the use of VitaPost Collagen Complex to help reduce the signs of skin aging.
We recommend products based on the effectiveness and safety of their ingredients, as determined by a review of medical research.
How Much Does Beverly Hills MD Dermal Repair Complex Cost?
They offer free shipping on orders over $39 in the US. The prices on the official site are as follows:
1 Jar – $58
2 Jars – $54/each
3 Jars – $50/each
How to Contact Beverly Hills MD
If you are unable to find the answer in this Dermal Repair Complex review, you can give Beverly Hills MD a shout through the following methods:
Mailing Address:
Beverly Hills MD
8383 Wilshire Blvd #800
Beverly Hills, CA 90211
Beverly Hills MD's customer service team is available Monday to Friday, from 6:00 AM to 5:00 PM PST, and on weekends from 6:00 AM to 4 PM PST.
Before & After
There are many customer reviews on Beverly Hills MD Dermal Repair Complex.
Below, we have shared a Before and After image from one of the consumers, who is very happy after trying this supplement.
Conclusion
Beverly Hills MD Dermal Repair Complex is a supplement that supports skin health, and in particular, provides anti-aging benefits. It contains rich organic ingredients which give moisture and boost levels of collagen and elastin, tightening the skin and improving elasticity. Beverly Hills MD Dermal Repair Complex results in smooth, soft, wrinkle free skin which is healthy and youthful.
The selection of Beverly Hills MD Dermal Repair Complex customer reviews online were mostly very positive. Many users noticed that the Repair Complex works rapidly to remove signs of age and give them a younger-looking appearance. There were few complaints, except people who realized they had bought an imitation product somewhere online.
Beverly Hills MD is the manufacturer of this product, and they are a very popular and well-respected skin care brand in the market. It contains high-level anti-aging ingredients which are 100% natural and not associated with any side effects and is widely approved by dermatologists. If you're looking for a quality skin care supplement, Dermal Repair Complex Beverly can be a great option for many users.
Don't stop here. Check out a few other amazing skincare brands we suggest:
At Wellness Digest, our sourcing guidelines are strict and we only use primary references for our articles including peer-reviewed studies, academic research institutions, and medical associations. You can learn more about how we ensure our content is accurate and current by reading our editorial policy.
Oral Ingestion of Collagen Hydrolysate Leads to the Transportation of Highly Concentrated Gly-Pro-Hyp and Its Hydrolyzed Form of Pro-Hyp into the Bloodstream and Skin: https://pubs.acs.org/doi/10.1021/acs.jafc.6b05679
Effects of Hydrolyzed Collagen Supplementation on Skin Aging: a Systematic Review and Meta-Analysis - PubMed (nih.gov) https://pubmed.ncbi.nlm.nih.gov/33742704/
Methylsulfonylmethane: Applications and Safety of a Novel Dietary Supplement: https://www.ncbi.nlm.nih.gov/pmc/articles/PMC5372953/
https://www.researchgate.net/publication/317937538_Saw_palmetto_extract_A_dermatologist's_perspective
A Collagen Supplement Improves Skin Hydration, Elasticity, Roughness, and Density: Results of a Randomized, Placebo-Controlled, Blind Study: https://www.ncbi.nlm.nih.gov/pmc/articles/PMC6835901/
Natural Antioxidants: Multiple Mechanisms to Protect Skin From Solar Radiation: https://www.frontiersin.org/articles/10.3389/fphar.2018.00392/full
Avins, A.L., Bent, S., Staccone, S., Badua, E., Padula, A., Goldberg, H., Neuhaus, J., Hudes, E., Shinohara, K. and Kane, C. (2008). A detailed safety assessment of a saw palmetto extract. Complementary Therapies in Medicine, [online] 16(3), pp.147–154. Available at: https://www.sciencedirect.com/science/article/abs/pii/S0965229907000970 [Accessed 27 Oct. 2021].
Sibilla, S. and Borumand, M. (2015). Effects of a nutritional supplement containing collagen peptides on skin elasticity, hydration and wrinkles. Journal of Medical Nutrition and Nutraceuticals, [online] 4(1), p.47. Available at: https://www.jmnn.org/article.asp?aulast=Borumand&epage=53&issn=2278-1870&issue=1&spage=47&volume=4&year=2015 [Accessed 27 Oct. 2021].
A comparative study of the effects of retinol and retinoic acid on histological, molecular, and clinical properties of human skin: https://onlinelibrary.wiley.com/doi/full/10.1111/jocd.12193
Saw Palmetto: https://www.nccih.nih.gov/health/saw-palmetto
Choi FD, Sung CT, Juhasz ML, Mesinkovsk NA. Oral Collagen Supplementation: A Systematic Review of Dermatological Applications. J Drugs Dermatol. 2019 Jan 1;18(1):9-16. PMID: 30681787.
Prager N, Bickett K, French N, Marcovici G. A randomized, double-blind, placebo-controlled trial to determine the effectiveness of botanically derived inhibitors of 5-alpha-reductase in the treatment of androgenetic alopecia. J Altern Complement Med. 2002 Apr;8(2):143-52. doi: 10.1089/acm.2002.8.143. Erratum in: J Altern Complement Med. 2006 Mar;12(2):199. PMID: 12006122.
Evron E, Juhasz M, Babadjouni A, Mesinkovska NA. Natural Hair Supplement: Friend or Foe? Saw Palmetto, a Systematic Review in Alopecia. Skin Appendage Disord. 2020 Nov;6(6):329-337. doi: 10.1159/000509905. Epub 2020 Aug 23. PMID: 33313047; PMCID: PMC7706486.