What is Vitamin Energy?
Vitamin Energy is a brand of energy shot drinks and supplements which are full of vitamins, minerals, and antioxidants. They can give you a huge boost of energy, which could improve your productivity. They have numerous other health benefits like elevating mood, assisting with weight loss, and enhancing digestive health. Here are some of the top products in the line:
Vitamin Energy Workout + – This supplement can enhance workout performance by providing 7 or more hours of energy. It's high in nutrients and tastes like sour apple.
Vitamin Energy Immune – The product supports a strong immune system, provides you with 7 + hours of energy, promotes weight loss, and supports digestive health.
Vitamin Energy Focus – This is a healthy supplement full of nutrients which also supports mental focus, clarity, and memory.
Vitamin Energy Mood – Packed with vitamins and other rich nutrients, this supplement can elevate your mood and energy levels.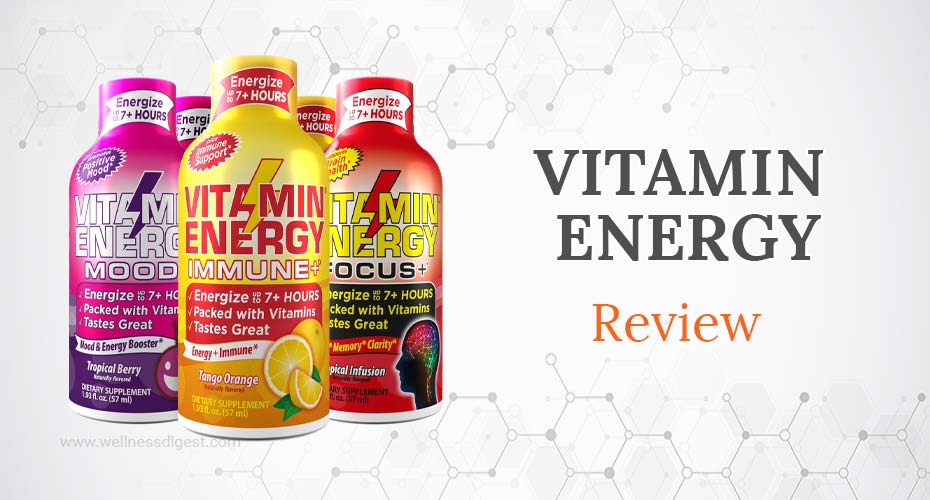 Why Should You Buy Vitamin Energy?
With any 12 pack, you get 3 free shots.
Vitamin Energy Supplements come in delicious flavors.
The products are suitable for the Keto Diet.
They begin acting very rapidly.
They have no calories or carbohydrates.
---
What are the Pros and Cons of Vitamin Energy?
Pros of Vitamin Energy
These products provide you with over 7 hours of energy.
Vitamin Energy promotes healthy digestion.
These products can help you lose weight.
Vitamin Energy does not lead to a sugar crash.
The brand supports a strong immune system.
Cons of Vitamin Energy
There could be more flavor selections for individual products.
Different users will react differently to the products.
You can only buy these products online.
---
What Are the Ingredients in Vitamin Energy?
Here are some of the primary active ingredients in Vitamin Energy:
Vitamin B12
This vitamin plays an important role in the synthesis of DNA and cellular energy production as documented in our 1MD B12 reviews article. We take it in through food, and deficiency is common and can increase the risk of a number of health issues [1].
An article published in Nutrients discussed the role of Vitamin B12 in health and disease.
L-Arginine
This is an amino acid which is involved in the biosynthesis of key proteins in the body. It also increases the production of nitric oxide, which improves circulation. It can help with erectile dysfunction, and athletes take it to increase muscle mass. In addition, L-arginine can boost immunity and promote healthy digestion [2].
A study in the European Journal of Clinical Nutrition found that L-arginine supplementation improved sports performance in athletes [3].
Vitamin C
This is an essential vitamin which is involved in bone formation, wound healing, maintaining healthy gums, and metabolic functioning. It's also a potent antioxidant which protects the body from free radicals and promotes a strong immune system, as we noted in our Immune Support Review article on another health supplement containing this ingredient. [4]
An overview in the Indian Journal of Clinical Biochemistry examined Vitamin C in disease prevention and cure.
How Does Vitamin Energy Work?
Vitamin Energy is a brand that incudes a number of shots and supplements, but what they have in common is the rich collection of nutrients including vitamins like C, D, and a number of Bs.
These resolve any deficiencies in the body, elevate overall health and functioning, and help issues like digestion. An article in the International Journal of Food Sciences examined the health benefits of micronutrients [5].
The products are very rich in antioxidants, which destroy harmful free radicals in the body and lower oxidative stress. This promotes healing, and it supports a strong immune system.
The products contain stimulants like caffeine and theobromine which will provide you with a huge boost of extra energy and speed up the metabolism. This can help you burn fat and lose weight rapidly. A meta-analysis in Critical Reviews in Food Science Nutrition found that caffeine could promote weight loss, fat loss, and lowered BMI [6].
Is Vitamin Energy a Trustworthy Brand?
Vitamin Energy LLC is the manufacturer of these products, and they have their headquarters in Glen Mills, Pennsylvania. Founded in 2016, this company produces energy shots and supplements that are full of nutrition and health benefits.
They are the fastest growing energy shot company in the last few years. The company has an excellent reputation and is certainly trustworthy.
READ ALSO – Power Life Nutrition | A Closer Look At Power Life Nutrition by Tony Horton
People Also Ask
Q: Where Can You Buy Vitamin Energy?
A: You can buy Vitamin Energy supplements on the manufacturer's official website, and on Amazon. The prices of some of the top products are as follows:

Immune + 12 Pack – $29.95
Focus + 12 Pack – $29.95
Workout + 12 Pack – $29.95
Cocktail 12 Pack – $29.95
Sport + 12 Pack – $29.95
Mood + 12 Pack – $29.95
Vitamin D + 12 Pack – $29.95
Immune Support (Capsules) – $29.95
Mood Support (Capsules) – $29.95
Q: What is the Return Policy For Vitamin Energy?
A: Vitamin Energy has a great return policy. There's no time limit involved. If you are not happy with the product, just send them an email and they will give you a full refund. The company focuses on customer satisfaction.
Q: Is Vitamin Energy a Healthy Brand?
A: The Vitamin Energy drinks and supplements are extremely healthy, as they are full of minerals and vitamins like D, C, B vitamins, and others. They promote strong bones, balance the metabolism, and contain antioxidants which promote healing in the body and strengthen the immune system.
Q: Is Vitamin Energy Worth Buying?
A: The Vitamin Energy Booster products are very reasonable for the market and should be affordable for many users. They are lower than the average cost for this type of product. Vitamin Energy is worth buying due to its ingredient list full of nutrients which nourish the body and promote healing, wellness, and energy along with other benefits. In addition, they come in delicious flavors which the reviewers loved.
Q: Does Vitamin Energy Have Side Effects?
A: Vitamin Energy includes very healthy ingredients which are safe, and don't lead to harmful side effects. They do include caffeine, which may cause you some jitters if you are sensitive to it. For most users, the amount included causes them no issues.
Q: Who is the Best Customer for Vitamin Energy?
A: A Vitamin Energy booster is ideal for users who want to boost their health and immune system, and for customers looking to elevate their energy levels. They also offer benefits like weight loss and digestive wellness for people with these concerns.
Q: What Do the Vitamin Energy Reviews Say?
A: The vast majority of the reviews for Vitamin Energy had great things to say about these products. Users loved the flavors, and they said the Vitamin Energy drinks and supplements gave them a lot of energy and improved their productivity. Some customers experienced weight loss and had improved digestive health. There were few complaints about the products.
The Bottom Line
Vitamin Energy is a popular brand of energy drinks and supplements which provide a wealth of nutrients like minerals, vitamins, and antioxidants. This can elevate health and immune system functioning and provide numerous medicinal benefits. These products may also help with weight loss and improve digestive health. They are reasonably priced and come in delicious flavors.
The reviews for Vitamin Energy were mostly quite positive. Customers said these products gave them energy, and an overall sense of health and well-being. Many said they were able to lose weight, and that it happened quickly. Most users also said they loved the taste of the products and enjoyed taking them.
According to the evidence, a Vitamin Energy drink or supplement can boost your energy and productivity, helping you to succeed. They are also safe products which should not cause any harmful side effects. We would highly recommend this brand to anyone looking to boost their health and immunity.
You can also check out TestoPrime Instant Energy. It is an all-natural supplement that quickly elevates mood, energy, and mental clarity.
At Wellness Digest, our sourcing guidelines are strict and we only use primary references for our articles including peer-reviewed studies, academic research institutions, and medical associations. You can learn more about how we ensure our content is accurate and current by reading our editorial policy.
[1] O'Leary F, Samman S. Vitamin B12 in health and disease. Nutrients. 2010 Mar;2(3):299-316. doi: 10.3390/nu2030299. Epub 2010 Mar 5. PMID: 22254022; PMCID: PMC3257642.
[2] Anti-Aging Effects of L-Arginine: https://www.sciencedirect.com/science/article/pii/S2090123210000573
[3] The effect of l-arginine supplementation on body composition and performance in male athletes: a double-blinded randomized clinical trial | European Journal of Clinical Nutrition (nature.com) https://www.nature.com/articles/ejcn2016266
[4] Chambial S, Dwivedi S, Shukla KK, John PJ, Sharma P. Vitamin C in disease prevention and cure: an overview. Indian J Clin Biochem. 2013 Oct;28(4):314-28. doi: 10.1007/s12291-013-0375-3. Epub 2013 Sep 1. PMID: 24426232; PMCID: PMC3783921.
[5] Health Benefits of Micronutrients (Vitamins and Minerals) and their Associated Deficiency Diseases: A Systematic Review: https://www.iprjb.org/journals/index.php/IJF/article/view/1024
[6] Tabrizi R, Saneei P, Lankarani KB, Akbari M, Kolahdooz F, Esmaillzadeh A, Nadi-Ravandi S, Mazoochi M, Asemi Z. The effects of caffeine intake on weight loss: a systematic review and dos-response meta-analysis of randomized controlled trials. Crit Rev Food Sci Nutr. 2019;59(16):2688-2696. doi: 10.1080/10408398.2018.1507996. Epub 2018 Oct 18. PMID: 30335479.