What is ISDIN?
ISDIN is a European skin care brand which contains a huge selection of products. These items promote anti-aging, cleansing, moisturizing, sun care, and numerous other benefits for enriching and creating youthful-looking skin. ISDIN also includes hair care and supplements. This line is one of the top dermatology brands in Europe and has decades of experience in the industry. Here are some of the top products:
ISDIN Melatonik
A night serum which works to repair and replenish your skin and restore elasticity while you're sleeping
Isdinceutics Melaclear
A Vitamin C-based serum which can reduce dark spots and even out your skin tone
ISDIN Uradin Lotion 10
A deeply hydrating lotion which provides you with 24-hour moisture and eliminates dry skin
Eryfotona Ageless
A powerful sunscreen which protects your skin while preventing photodamage.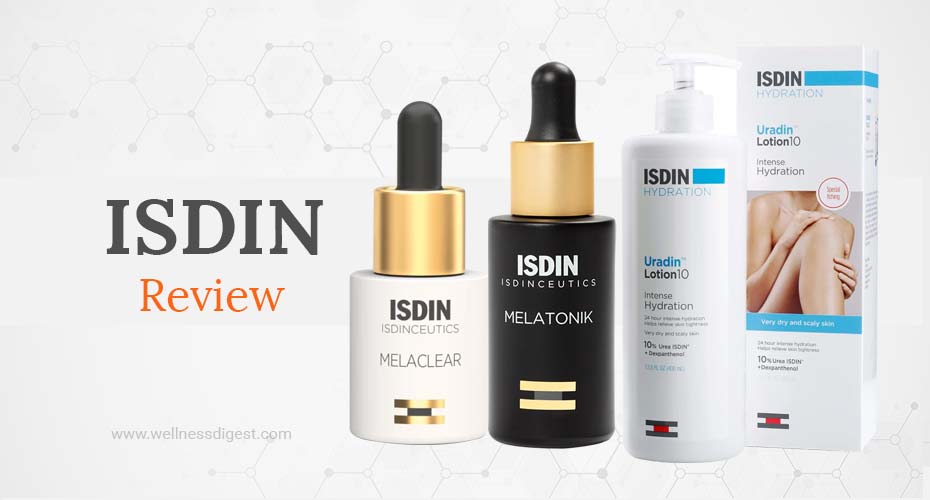 Who Owns ISDIN?
The manufacturer of these products is ISDIN, which is a company based in Barcelona, Spain. Established in 1975 by two groups of companies called Puig and Esteve, this organization produces primarily skin care products, as well as items that support hair health. They have a special line of ISDIN sunscreen products [1]. In addition to the European branch, there is also ISDIN USA.
---
What Are the Benefits & Drawbacks of ISDIN?
Pros
Dermatologists develop these products based on scientific research.
There's are products which reduce the signs of photoaging.
ISDIN skin care offers items with anti-aging benefits.
There are products which support stronger, healthier hair.
The company protects environmental concerns.
Cons
Some of the products are a little expensive.
There are free samples, but they sometimes go out of stock.
Some products have fragrance, which some users won't like.
---
What Are the Ingredients in ISDIN?
Here are some of the primary active ingredients in ISDIN:
Zinc Oxide
This is an inorganic compound which has soothing skin properties. It's one of the best sunscreen ingredients because it scatters the UV rays, so they don't cause damage. In addition, it can help in treating sunburn.
This compound is anti-microbial and can kill bacteria on the skin [2]. A study in Journal of Physics found that zinc oxide nanoparticles can enhance the UV-blocking properties of sunscreens [3].
Apple Stem Cell Extract
These stem cells can reduce the aging of the dermis cells by boosting collagen, reversing wrinkles and lines on the skin. They have high antioxidant levels which repair the skin and protect from the sun [4].
An article in Future Science OA discussed current trends and future directions in the use of plant stem cells in cosmetics [5].
Creatine
This is an amino acid that we get through foods like seafood and red meat. It's often used to build muscles, but it's also an effective anti-aging ingredient which can firm the skin and reduce wrinkles as well as protect from sun damage [6].
A study in the Journal of Cosmetic Dermatology concluded that the creatine was a beneficial active ingredient for topical use in preventing skin aging [7].
How Does ISDIN Work?
There are many ISDIN products, and they all work somewhat differently. What many of them have in common is that they are rich in nutrients and antioxidants. The antioxidants destroy potentially damaging free radicals, and lower oxidative stress.
This promotes healing of the skin barrier and better immunity, as well as protecting from UV rays and pollution. An article in Frontiers in Pharmacology explored the role of natural antioxidants in preventing damage from solar radiation [8].
The ISDIN sunscreen products contain ingredients which block and scatter the UV rays, preventing them from damaging the skin, and some also heal sunburn. Many of them have anti-inflammatory properties which can heal skin conditions and decrease redness. An article in CMAJ discussed the efficacy of sunscreen for the prevention of skin cancer [9].
The anti-aging line contains some substances which boost collagen production, tightening the skin and improving elasticity. This can smooth wrinkles and fine lines. There are lightening ingredients like ISDIN Vitamin C which can fade dark spots.
The line also contains some very hydrating ingredients which moisturize the skin and eliminate dry patches. They go under the skin and make it plumper, smoothing lines and wrinkles.
Is ISDIN a Trustworthy Brand?
ISDIN is a highly reputable company which has been perfecting their skin care products for decades. They are a responsible organization that supports sustainability and does not test their products on animals. Their skin care includes only organic ingredients, with no chemical or artificial substances. There's no doubt that this is a trustworthy brand.
RELATED – Stacked Skincare Review
People Also Ask
Q: Where to Buy ISDIN?
A: You can buy ISDIN products in many online and offline locations including the manufacturer's official website, Amazon, Walmart, and numerous others. Here are the prices of some of the top products from the official site:

ISDIN Melaclear – $82
Eryfotona Ageless – $66
Isdin Uradin Podos Gel Oil – $33
Isdinceutics Age Contour Night – $110
Isdinceutics Beauty Routine – $32
Isdinceutics Flavor-C Serum – $92
Isdinceutics Hydralift – $130
ISDIN Micellar Solution – $33
Isdinceutics Vital Eyes – $97
ISDIN Uradin Lotion 10 – $33
ISDIN Melatonik – $160
Q: What is the Refund Policy?
A: ISDN offers a 30-day return policy, as long as the product is as new and in resalable condition. If you're not happy with the item, contact customer service by email for instructions. Then send the item back within 30 days of the purchase date. You'll get a full refund, minus the shipping costs.
Q: How to Use ISDIN?
A: There are many different products in the ISDIN line for different purposes. They each have their own set of directions on the label. Do read the instructions carefully before using a new item.
Q: Is ISDIN Good For Your Skin?
A: ISDIN is incredibly good for your skin. These products include a rich collection of skin care substances which are full of nutrients that nourish the skin, antioxidants that repair damage and protect from harm, tone, and make the complexion more youthful.

They have sun skin care that includes ISDIN sunblock and other items that prevent harm from the damaging UV rays.
Q: Is ISDIN Vegan?
A: There may be animal byproducts in some of these items. Research the ingredients or contact the company if you want to know for sure if a product is suitable for you.
Q: Is ISDIN Cruelty Free?
A: ISDIN say they are a cruelty-free company which does not test on animals, and they think that it's not necessary for product development or efficacy.
Q: Is ISDIN an Effective Brand?
A: ISDIN is a high-level company which has over 40 years of experience designing and producing skin and hair care products. They make their formulas using the expertise of dermatologists and other skin care experts all over the world. These products are highly effective at reducing signs of age, moisturizing, cleansing, protection from sun damage, and promoting heathy hair.
Q: What Do the ISDIN Reviews Say?
A: There are many products in the line, and the ISDIN reviews for most of them were highly positive. Users said these items greatly benefitted their skin, removed signs of age, helped treat skin conditions, provided rich moisture, and protected them from sun damage. According to the ISDIN sunscreen reviews, customers were very happy with the results of these creams.
Q: Do the ISDIN Products Have Side Effects?
A: The ISDIN products use 100% organic, safe ingredients that have no side effects associated with them. You should not experience any unpleasant symptoms or a skin reaction from this line.
The Final Word
With 45 years of experience in the skin care industry, ISDIN produces a high-level line of skin care and other products which are completely organic. They focus on sun protection, anti-aging, moisturizers, cleansers, body care, hair health, ISDIN eye cream, wrinkle creams and other items. It's an expert skin brand made by top European dermatologists.
There are numerous ISDIN skin care reviews online discussing the different products, and the general consensus was that these were highly effective items which really enriched and nourished the skin. Even the products that were on the expensive side, people said were worth every penny. There were few poor reviews of the ISDIN line.
The ISDIN brand contains safe, quality, organic ingredients which use current research in their development. They will not lead to a skin reaction or other side effects. This company is very concerned about sustainability and supports the environment by using recyclable packaging. In addition, they are cruelty-free.
If you're looking for an alternative to the ISDIN brand, Perricone MD products can be a great option to explore. Perricone MD offers a wide range of skincare products, including moisturizers, serums, lipsticks, eye creams, and more. These products are specifically designed to promote and maintain healthy skin.
At Wellness Digest, our sourcing guidelines are strict and we only use primary references for our articles including peer-reviewed studies, academic research institutions, and medical associations. You can learn more about how we ensure our content is accurate and current by reading our editorial policy.
[1] ISDIN, Spain's NO.1 Dermatological Brand Establishes Its Presence on Tmall International: https://www.prnewswire.com/news-releases/isdin-spains-no1-dermatological-brand-establishes-its-presence-on-tmall-international-300073153.html
[2] Frontiers | Mechanism of Anti-Bacterial Activity of Zinc Oxide Nanoparticle Against Carbapenem-Resistant Acinetobacter Baumannii | Microbiology (frontiersin.org)
[3] Ultraviolet Protection Properties of Commercial Sunscreens and Sunscreens Containing Zno Nanorods: Microsoft Word - FC043.docx (iop.org)
[4] Cosmetics | Free Full-Text | Anti-Aging Properties of Plant Stem Cell Extracts | HTML (mdpi.com)
[5] Trehan S, Michniak-Kohn B, Beri K. Plant stem cells in cosmetics: current trends and future directions. Future Sci OA. 2017 Jul 12;3(4):FSO226. doi: 10.4155/fsoa-2017-0026. PMID: 29134115; PMCID: PMC5674215.
[7] Peirano RI, Achterberg V, Düsing HJ, Akhiani M, Koop U, Jaspers S, Krüger A, Schwengler H, Hamann T, Wenck H, Stäb F, Gallinat S, Blatt T. Dermal penetration of creatine from a face-care formulation containing creatine, guarana and glycerol is linked to effective antiwrinkle and antisagging efficacy in male subjects. J Cosmet Dermatol. 2011 Dec;10(4):273-81. doi: 10.1111/j.1473-2165.2011.00579.x. PMID: 22151935.
[8] Dunaway S, Odin R, Zhou L, Ji L, Zhang Y, Kadekaro AL. Natural Antioxidants: Multiple Mechanisms to Protect Skin From Solar Radiation. Front Pharmacol. 2018 Apr 24;9:392. doi: 10.3389/fphar.2018.00392. PMID: 29740318; PMCID: PMC5928335.
[9] The Efficacy and Safety of Sunscreen Use for the Prevention of Skin Cancer | CMAJ