What is 1MD?
1MD is a line of organic dietary supplements developed by a team of dedicated physicians. These products provide support for several health conditions, such as joint, bone, and heart health, digestion, immunity, and prostate health.
They contain high quality natural ingredients which are clinically tested. The company also offers support from physicians to learn more about different health issues.
Here are some of the top products in the line: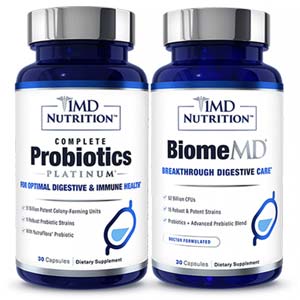 Highlights
The ingredients are 100% pure and naturally sourced.
Physicians develop all the products.
They provide comprehensive health guides on their site.
The manufacturing takes place in a facility in the USA.
Active Ingredients
Saw Palmetto
Pumpkin Seed Oil
Alpha Lipoic Acid
Selenium
Zinc
Siliphos Milk Thistle Extract
Vitamin E
Astaxanthin
Eggshell Membrane Collagen
Type II Chicken Collagen
Hyaluronic Acid
Pros
A team of physicians developed these products.
1MD covers a range of health issues like joint, gastrointestinal and heart health.
The prices are reasonable and competitive for the market.
They offer detailed health courses with physicians.
The ingredients are clinically studied.
Cons
The company only ships within the United States.
There are no free samples available.
The results will vary for different individuals.
Overall Rating:4.8/ 5
Prostate MD

This supplement supports and promotes prostate, urinary tract and bladder health, and helps maintain normal urinary function.

This product contains 320 mg of USPlus saw palmetto extract which is known as prostate and urinary tract health supporter that help reduce occasional symptoms associated with normal aging.

Ingredients – 20mg of USPlus saw palmetto extract, 160mg of pumpkin seed oil, 100mg of pygeum bark, 15mg of lycopene, 6mg of lutein, 45mg of pine bark extract, 45mg of stinging nettle, 45mg of sunflower lecithin, 24mg of safflower oil, 2mg of copper (222% of your Daily Value or DV), and 2mg of boron

Other ingredients include gelatin, water, glycerin, sunflower oil, corn oil, and beeswax.

How to use
Adults take one (1) softgel daily, with a glass of water, or as recommended by a healthcare professional.

Price – $42.99 (1 bottle)

---

1MD Complete Probiotics

These are probiotics which support good intestinal bacteria and healthy digestion, as well as boost our immune health. Probiotics is known to promote a balanced gut and help maintain a regular bowel movement. This product contains 51 Billion CFUs and it is dairy free and vegetarian.

Ingredients – Lactobacillus acidophilus, Bifidobacterium lactis, Bifidobacterium longum, Bifidobacterium bifidum, Lactobacillus plantarum, Lactobacillus casei, Lactobacillus salivarius, LactoSpore (Bacillus coagulans MTCC 5856), Lactobacillus gasseri and Lactobacillus rhamnosus.

How to use
Take one (1) capsule daily on an empty stomach or between meals. Those with sensitivity concerns may prefer to take with a small meal.

Price – $40.99 (1 bottle)

---

1MD Liver MD

This product promotes healthy liver function, aids liver detoxification process, promotes energy level, and boosts a stronger immune system.

Siliphos is a well absorbed form of Milk Thistle Extract. Milk Thistle has been used for centuries to treat hepatic and gallbladder conditions as referenced in our 1MD Liver MD Reviews article.

Ingredients – EVNolMax Vitamin E Extract, Zinc, Selenium, Siliphos (a well absorbed form of Milk Thistle Extract), EVNolMax 20% HDT Palm oil fruit extract, L-Cysteine and Alpha Lipoic Acid.

How to use
Adults take one (1) capsule, twice (2x) daily, with a meal and a full glass of water, or as recommended by a healthcare professional

Price – $40.99 (1bottle)

---

1MD Move MD

The supplement provides comprehensive joint supports which helps decrease pain, swelling, and stiffness and improves joint flexibility and mobility.

Ingredients – ApresFlex Boswellia Serrata Gum Resin Extract, Zanthin Natural Astaxanthin Algae Exact, Type I, V, and X Eggshell Membrane Collagen, Type II Chicken Sternum Collagen, and Hyaluronic Acid

How to use
As a dietary supplement, adults take one (1) capsule daily, with or without food, or as recommended by a healthcare professional.

Price – $40.99 (1bottle)

---

Immunity MD

This supplement works to support stronger immunity which helps maintain the integrity of our lip, skin and mouth, promotes optimal gut health and reduces stress.

Ingredients – Lactobacillus acidophilus, Lactobacillus rhamnosus, L-Lysine, Zinc Sulfate, NutraFlora® Prebiotic.

How to use
Take two (2) capsules daily with food. During stressful periods, you may increase the serving size to two (2) capsules, twice (2x) daily with food. Do not exceed the daily serving limit of four (4) capsules.

Price – $32.99 (1 bottle)

---
About the Brand
1MD is an extremely reputable and well-respected company which has its headquarters in Sherman Oaks, California. They started in 2015 as a health and wellness organization which makes doctor-developed supplements of the highest quality.
The products deal with health issues like digestion, joint, eye, and heart health, immunity, and others. Our team of Registered Dietitian Nutritionists (RDNs) has a very high opinion of this brand nutritionally and professionally.
What are the ingredients in 1MD Products?
Here are some of the primary active ingredients in 1MD:
Vitamin C
Vitamin C is an essential nutrient for the development and repair of all body tissue. It's a potent antioxidant that helps protect your cells against free radicals, promotes wound healing and make the immune system stronger. Vitamin C also aid the absorption of non-heme iron.
In addition, it has anti-aging properties for the skin and can lighten areas of pigmentation. An article in Nutrients discussed Vitamin C and immune function which shows that vitamin C has the anti-inflammatory and anti-infection properties. There's evidence that vitamin C can reduce the severity and duration of common cold and strengthen the body's immune system. Its antioxidant property also offers heart health benefits, as we mentioned in our VitaPost Immune Support Reviews article on another health supplement containing this element.
As our bodies don't make it naturally, we have to get it from our diet. Vitamin C is found in citrus fruits, berries, peppers, broccoli, and spinach. And it is also available as oral supplements.
Pygeum
This extract comes from the bark of the African Cherry Plant called Prunus Africana, and it has numerous medicinal properties. The most potent benefit is in treating urinary tract and bladder infections, including symptoms associated with an enlarged prostate. This is largely due to its potent anti-inflammatory properties. It may also help heal the symptoms associated with kidney disease. This is largely due to its potent anti-inflammatory properties. It may also help heal the symptoms associated with kidney disease. In addition, it could boost sexual libido.
A study in the Cochrane Database of Systematic Reviews concluded that ingestion of Pygeum significantly decreased urinary symptoms associated with prostate enlargement.
Vitamin D3
Vitamin D is a fat-soluble vitamin and it also plays a role as hormone. It can be produced by your body when UV ray from sunlight strike the skin and trigger the vitamin D synthesis. It can be also obtained from the dietary sources such as fatty fish and oral supplements
Vitamin D supports bone health by promoting calcium absorption and it is needed for bone growth and remodeling. It also has neuroprotective properties and supports muscle function. And it also regulates many other bodily processes and cellular functions.
In addition, it may help improve mood and mental health. A randomized double blind study in the Journal of Internal Medicine found that Vitamin D3 reduced symptoms of depression in overweight and obese subjects. In addition, it has potent anti-inflammatory and antioxidant benefits which support a strong immune system.
What is the Science Behind 1MD?
There are numerous products in the 1MD line which all work in different ways. Most of them are rich in antioxidants which kill harmful free radicals roaming your system, lowering oxidative stress. This supports general health and a stronger immune system.
An article in the Journal of Dairy Sciences explored the physiological role of antioxidants in the immune system.
Many of the supplements are rich in anti-inflammatory properties which reduce swelling, for example, in the joints. This can ease pain and make mobility easier. Products which support joints and bones are also rich in nutrients like calcium to support strength and health. An article in Nutrients discussed calcium intake in bone health.
Some of the products support healthy digestion and include 1MD probiotics and prebiotics. These lines the walls of the intestines with good bacteria and feed it, supporting the microbiome. This can ease digestive symptoms like gas and bloating and promote healthy bowel movements.
Naturally, there are many other products and ingredients in the line, and this provides just a few examples.
Frequently Asked Questions
Q: How Do I Take 1MD?
A : The 1MD supplements all have their own individual instructions based on the product. Read the directions carefully on the label and follow carefully. Pay special attention to any warning labels or information.
Q: Where to buy 1MD Products?
A : You can buy this brand on the manufacturer's official website, and from a number of other online and offline retailers like Amazon and Walmart.
Q: How Much Do 1MD Products Cost?
A : You can get free shipping if you use the code SHIP1MD at checkout.

They often offer great deals on the official site for different highlighted products. Here are the prices of some of the top products in the line:


Q: What is the 1MD Return Policy?
A : The manufacturer has a 90-day return policy. If you are not happy with the products, call the customer service department to let them know or write a note on the return package. Then send all the products back, even if they are empty, within 90 days of the purchase date.
Q: Is There a Free Trial?
A : No, there's no free trial associated with the 1MD products. You do have the option of subscribing to a monthly service where you get your bottle automatically and considerable discount from a one-time purchase.
Q: Does 1 MD Work?
A : These products should work very well. Physicians have developed the formulas for the 1MD pills using high level ingredients which are clinically tested extensively for safety, purity, and efficacy.
The formulas employ scientific research which reveal their health benefits. The 1MD supplements reviews were overwhelmingly positive, indicating that these products do really work.
Q: Is 1MD Nutrition Legit?
A : Yes, there's no doubt 1MD is a legitimate brand which is very well known. They produce quality products made by physicians, and they undergo rigid testing for safety and purity. The numerous 1MD reviews online indicate that these are very legitimate, and very effective products.
Q: Can You Trust 1MD Products?
A : Yes, 1MD is a name that you can trust. This is a very reputable physician-run company which develops the products as a medical team. They include the ideal ingredients in their optimal concentrations, and they go through rigid clinical testing.

You can be certain that the 1MD products are safe and effective, and a number of RDNs recommend them to patients for their rich benefits. I have spoken to the manufacturer personally about their development and production process.
How Are the Reviews for 1MD?
There are numerous 1MD reviews online, and the vast majority of them had very good things to say about these products. Customers said these were high-quality supplements which helped them with their health issue, be it digestion, prostate, bone, or other health problems.
Here are some of the top real 1MD reviews, based on my own research and review of dozens of customer comments.
Top Notch Probiotics

I'm so happy I decided to give 1MD Probiotics a try. I have tried so many other probiotic supplements and this by far is the best I have ever used. I love how my stomach feels. BEST I HAVE EVER USED! – Jack N

It Helps

I replaced my vitamin A supplement and my Lutein and Zeaxanthin with 1MD VisionMD. The pill is smooth and compact, easy to swallow, and I do see an improvement in my night vision. I chose VisionMD because of the source of the vitamins, which are much higher quality than synthetic forms.– Hannah.

An Essential Vitamin!

I have been taking D3 for years and am happy with this brand. D3 has gotten lots of attention as of late, and for good reason. It is important for various reasons and keeping up your levels can prevent problems in the long run. If you are new to it, do your research and ask questions. You can test your levels, too, to see where yours stand. Home tests are available via a simple online search.– B. Roscoe

Extra Easy to Take

If you are looking for a vitamin D3 supplement, 1MD is an excellent choice. They are exceptionally easy to swallow, have very few ingredients, are manufactured in the USA, one soft gel a day gives you more than the recommended daily allowance of D3, and I have been tolerating them extremely well. Big thumbs up for this supplement from me. – Melanie Lane
Conclusion
1MD is a brand of health supplements which are meant to treat a number of conditions, such as digestive issues, joint pain, vision, and many others. Physicians run the company and develop all of the products based on science and clinical research. Most of the supplements support a strong immune system.
There are many 1MD reviews online, and the majority of these customers loved the products and raved about 1MD supplements efficacy. They found them to be not only high quality and effective, but somewhat less expensive than some of the other brands.
If you have any medical condition it is essential that you go to a doctor before taking any supplements, to make sure it's medically suitable for you. In summary, this is a well-known, respected brand that I myself trust very much. I would highly recommend any of their supplements to those seeking health and wellness.
Another option worth considering is the UMZU review. It serves as an alternative to the 1MD Nutrition brand and works to promote overall health and well-being.
At Wellness Digest, our sourcing guidelines are strict and we only use primary references for our articles including peer-reviewed studies, academic research institutions, and medical associations. You can learn more about how we ensure our content is accurate and current by reading our editorial policy.
Chapman CM, Gibson GR, Rowland I. In vitro evaluation of single- and multi-strain probiotics: Inter-species inhibition between probiotic strains, and inhibition of pathogens. Anaerobe. 2012 Aug;18(4):405-13. doi: 10.1016/j.anaerobe.2012.05.004. Epub 2012 Jun 4. PMID: 22677262.
Purchiaroni F, Tortora A, Gabrielli M, Bertucci F, Gigante G, Ianiro G, Ojetti V, Scarpellini E, Gasbarrini A. The role of intestinal microbiota and the immune system. Eur Rev Med Pharmacol Sci. 2013 Feb;17(3):323-33. PMID: 23426535.
Aragon G, Graham DB, Borum M, Doman DB. Probiotic therapy for irritable bowel syndrome. Gastroenterol Hepatol (N Y). 2010 Jan;6(1):39-44. PMID: 20567539; PMCID: PMC2886445.Kadooka Y, Sato M, Ogawa A, Miyoshi M, Uenishi H, Ogawa H, Ikuyama K, Kagoshima M, Tsuchida T. Effect of Lactobacillus gasseri SBT2055 in fermented milk on abdominal adiposity in adults in a randomised controlled trial. Br J Nutr. 2013 Nov 14;110(9):1696-703. doi: 10.1017/S0007114513001037. Epub 2013 Apr 25. PMID: 23614897.
Ooi LG, Ahmad R, Yuen KH, Liong MT. Lactobacillus gasseri [corrected] CHO-220 and inulin reduced plasma total cholesterol and low-density lipoprotein cholesterol via alteration of lipid transporters. J Dairy Sci. 2010 Nov;93(11):5048-58. doi: 10.3168/jds.2010-3311. Erratum in: J Dairy Sci. 2011 May;94(5):2658. PMID: 20965319.
Chen YS, Jan RL, Lin YL, Chen HH, Wang JY. Randomized placebo-controlled trial of lactobacillus on asthmatic children with allergic rhinitis. Pediatr Pulmonol. 2010 Nov;45(11):1111-20. doi: 10.1002/ppul.21296. PMID: 20658483.
Itoh H, Uchida M, Sashihara T, Ji ZS, Li J, Tang Q, Ni S, Song L, Kaminogawa S. Lactobacillus gasseri OLL2809 is effective especially on the menstrual pain and dysmenorrhea in endometriosis patients: randomized, double-blind, placebo-controlled study. Cytotechnology. 2011 Mar;63(2):153-61. doi: 10.1007/s10616-010-9326-5. Epub 2010 Dec 10. PMID: 21153437; PMCID: PMC3080472.
Deguchi R, Nakaminami H, Rimbara E, Noguchi N, Sasatsu M, Suzuki T, Matsushima M, Koike J, Igarashi M, Ozawa H, Fukuda R, Takagi A. Effect of pretreatment with Lactobacillus gasseri OLL2716 on first-line Helicobacter pylori eradication therapy. J Gastroenterol Hepatol. 2012 May;27(5):888-92. doi: 10.1111/j.1440-1746.2011.06985.x. PMID: 22098133; PMCID: PMC3504346.
Jäger R, Shields KA, Lowery RP, De Souza EO, Partl JM, Hollmer C, Purpura M, Wilson JM. Probiotic Bacillus coagulans GBI-30, 6086 reduces exercise-induced muscle damage and increases recovery. PeerJ. 2016 Jul 21;4:e2276. doi: 10.7717/peerj.2276. PMID: 27547577; PMCID: PMC4963221.
Khani S, Motamedifar M, Golmoghaddam H, Hosseini HM, Hashemizadeh Z. In vitro study of the effect of a probiotic bacterium Lactobacillus rhamnosus against herpes simplex virus type 1. Braz J Infect Dis. 2012 Mar-Apr;16(2):129-35. doi: 10.1016/s1413-8670(12)70293-3. PMID: 22552453; PMCID: PMC7128665.
Bunea R, El Farrah K, Deutsch L. Evaluation of the effects of Neptune Krill Oil on the clinical course of hyperlipidemia. Altern Med Rev. 2004 Dec;9(4):420-8. PMID: 15656713.
Deutsch L. Evaluation of the effect of Neptune Krill Oil on chronic inflammation and arthritic symptoms. J Am Coll Nutr. 2007 Feb;26(1):39-48. doi: 10.1080/07315724.2007.10719584. PMID: 17353582.
Costanzo M, Cesi V, Prete E, Negroni A, Palone F, Cucchiara S, Oliva S, Leter B, Stronati L. Krill oil reduces intestinal inflammation by improving epithelial integrity and impairing adherent-invasive Escherichia coli pathogenicity. Dig Liver Dis. 2016 Jan;48(1):34-42. doi: 10.1016/j.dld.2015.09.012. Epub 2015 Sep 28. PMID: 26493628.
Ulven SM, Kirkhus B, Lamglait A, Basu S, Elind E, Haider T, Berge K, Vik H, Pedersen JI. Metabolic effects of krill oil are essentially similar to those of fish oil but at lower dose of EPA and DHA, in healthy volunteers. Lipids. 2011 Jan;46(1):37-46. doi: 10.1007/s11745-010-3490-4. Epub 2010 Nov 2. PMID: 21042875; PMCID: PMC3024511.
Ianiro G, Pecere S, Giorgio V, Gasbarrini A, Cammarota G. Digestive Enzyme Supplementation in Gastrointestinal Diseases. Curr Drug Metab. 2016;17(2):187-93. doi: 10.2174/138920021702160114150137. PMID: 26806042; PMCID: PMC4923703.
Suarez F, Levitt MD, Adshead J, Barkin JS. Pancreatic supplements reduce symptomatic response of healthy subjects to a high fat meal. Dig Dis Sci. 1999 Jul;44(7):1317-21. doi: 10.1023/a:1026675012864. PMID: 10489912.
Nakamura T, Tandoh Y, Terada A, Yamada N, Watanabe T, Kaji A, Imamura K, Kikuchi H, Suda T. Effects of high-lipase pancreatin on fecal fat, neutral sterol, bile acid, and short-chain fatty acid excretion in patients with pancreatic insufficiency resulting from chronic pancreatitis. Int J Pancreatol. 1998 Feb;23(1):63-70. doi: 10.1007/BF02787504. PMID: 9520092.
Carr AC, Maggini S. Vitamin C and Immune Function. Nutrients. 2017 Nov 3;9(11):1211. doi: 10.3390/nu9111211. PMID: 29099763; PMCID: PMC5707683.
Wilt T, Ishani A, Mac Donald R, Rutks I, Stark G. Pygeum africanum for benign prostatic hyperplasia. Cochrane Database Syst Rev. 2002;1998(1):CD001044. doi: 10.1002/14651858.CD001044. PMID: 11869585; PMCID: PMC7032619.
Layer P, Gröger G. Fate of pancreatic enzymes in the human intestinal lumen in health and pancreatic insufficiency. Digestion. 1993;54 Suppl 2:10-4. doi: 10.1159/000201097. PMID: 7693530.
Conrozier T, Mathieu P, Bonjean M, Marc JF, Renevier JL, Balblanc JC. A complex of three natural anti-inflammatory agents provides relief of osteoarthritis pain. Altern Ther Health Med. 2014 Winter;20 Suppl 1:32-7. PMID: 24473984.
Vannucci L, Fossi C, Quattrini S, Guasti L, Pampaloni B, Gronchi G, Giusti F, Romagnoli C, Cianferotti L, Marcucci G, Brandi ML. Calcium Intake in Bone Health: A Focus on Calcium-Rich Mineral Waters. Nutrients. 2018 Dec 5;10(12):1930. doi: 10.3390/nu10121930. PMID: 30563174; PMCID: PMC6316542.