What is 1MD BiomeMD?
1MD BiomeMD is an all-natural supplement containing both probiotics and prebiotics, made by a team of physicians. The supplement can enhance the health of the gut microbiome, promoting a strong digestive tract and eliminating symptoms like bloating, diarrhea, and gas.
In addition, it promotes regular bowel movements. This is a healthy product which supports a stronger immune system. Many RDNs recommend this probiotic, suggesting it has the best strains for promoting optimal gut health. My own research and comparison of different products confirmed this.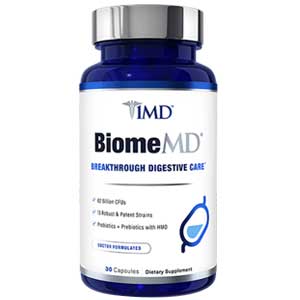 Highlights
A team of physicians develops this brand.
It includes 62 billion CFUs of powerful probiotics and 15 strains.
1MD BiomeMD is free of dairy, wheat, peanuts, and shellfish.
It contains no harmful additives or fillers.
Active Ingredients
Lactobacillus Plantarum
Lactobacillus Acidophilus
Lactobacillus Casei
Lactobacillus Gasseri
Lactobacillus Fermentum
Lactobacillus Paracasei
Bifidobacterium Longum
Bifidobacterium Bifidum
Lactobacillus Salivarius
Pros
It can promote overall digestive wellness.
1MD BiomeMD Probiotics can make the immune system stronger.
1MD BiomeMD can regulate your bowel movements.
The supplement can get rid of symptoms like diarrhea and gas.
It can help with the absorption and digestion of nutrients.
Cons
Free shipping only applies to customers in the United States.
This is a highly popular product which sometimes goes out of stock.
It contains milk, which some users can't consume.
Overall Rating:4.8/ 5
About the Brand
1MD is a nutritional health organization which is in Sherman Oaks, California. Their parent company is Scale Media, which owns several similar health and nutrition companies.
The entrepreneurs Ben Flohr and Ziv Haklili founded 1MD in 2015. They produce doctor-formulated supplements for various purposes such as joint pain, digestion, immune support, and other health issues.
1MD BiomeMD Review – Key Facts
| | |
| --- | --- |
| ? Benefits | promote overall digestive wellness,immune system stronger,regulate your bowel movements,absorption |
| ? Ingredients | Human Milk Oligosaccharides,Lactobacillus Acidophilus,Bifidobacterium Lactis, and more |
| ? Pricing | $49.99/bottle |
| ✅ Discounts | Up to 10% Off |
| ? Company | 1MD |
What is the Science Behind 1MD BiomeMD?
BiomeMD by 1MD contains a number of rich strains of both probiotics and prebiotics. Probiotics are live microorganisms which live in your body. They are good bacteria which line your intestinal walls, eliminating bad bacteria and restoring the gut microbiome to health.
Additional probiotics help this bacteria to proliferate in the gut. Prebiotics are responsible for feeding the good probiotics in the gut so they can help it multiply and promote overall digestive health. An article in Nature Reviews Gastroenterology and Hepatology discussed probiotics and prebiotics in intestinal health and disease (1).
In addition, probiotics are rich in antioxidants, which destroy damaging free radicals and lower the oxidative stress in your system. This helps healing in the body, including the gut, and it supports a strong immune system. An article in Nutrients examined the antioxidant properties of probiotic bacteria (2).
What Are the Ingredients in 1MD BiomeMD?
Here are some of the primary active ingredients in 1MD BiomeMD:
Human Milk Oligosaccharides – This is a group of complex sugars derived from human breast milk. They are high in healthy nutrients, and there's evidence that they can help balance the gut microbiota and strengthen the immune system [3]. They provide numerous benefits to babies, including protecting them from infection.
They are prebiotics which feed the good bacteria in the get and help them proliferate. A review article in Frontiers in Pediatrics discussed the immune-strengthening effects of human milk oligosaccharides [4].
Lactobacillus Acidophilus – This is a natural probiotic which exists in the gut, and it assists in breaking down sugars into lactic acid. It can promote the health of the microbiota by eliminating bad bacteria. In addition, it can promote regular bowel movements and eliminate symptoms like gas and diarrhea [5].
This strain also has powerful antioxidant activity. It can cause healing in the body and strengthen the immune system. It has antiviral and antimicrobial benefits and may help prevent colds and viruses. An article in Therapeutic Advances in Gastroenterology discussed the use of this strain in the treatment of digestive disorders
Bifidobacterium Lactis – This is a well-known probiotic which is apparently the most documented strain in the world. There's evidence that it can improve bowel function and reduce symptoms like diarrhea by proliferating in the gut and balancing the microbiota.
In addition, it can strengthen immunity [6], and it may decrease cholesterol and blood sugar levels. They also assist in the absorption of key nutrients in the body. A study in Microorganisms discussed the science behind this probiotic.
Is 1MD BiomeMD a Safe Supplement?
Yes, 1MD BiomeMD is a safe product composed of high-quality and scientifically supported organic ingredients. A team of physicians developed this formula, which does not include any potentially harmful chemicals or additives. It's non-GMO, and free of shellfish, peanuts and wheat. It does have milk, so people who are intolerant shouldn't use this supplement.
People Also Ask
Q: BiomeMD Probiotic: Where To Buy?
A: You can buy this product on the manufacturer's official website, Amazon, Walmart, eBay, and from other online and offline retailers. On the official site, they offer free shipping if you use the code SHIP1MD at checkout. In addition, check the Sale section of their website for some great deals. The prices on the official site are as follows:
One-Time
1 Bottle – $49.99
3 Bottles – $46.99
6 Bottles – $43.99
Subscription
1 Bottle – $34.99
3 Bottles – $31.99
6 Bottles – $28.99
Q: How Do I Take 1MD BiomeMD?
A: The manufacturer of BiomeMD by 1MD recommends that you take one of these supplements each day, preferably with food that is high in fiber. Do not take more than this dosage under any circumstances.
Q: Who Should Take 1MD BiomeMD?
A: 1MD BiomeMD Probiotics is an ideal product for users who want to promote their overall digestive health, including healthier bowel movements and the elimination of unpleasant gut symptoms like constipation, diarrhea, and bloating.
It's also a great immune booster for anyone looking to elevate their overall health and well-being. I spoke with the manufacturer personally, and they did say the product is only suitable for adults above the age of 18.
Q: Is 1MD BiomeMD an Effective Product?
A: 1MD BiomeMD is an effective product, and this is clear from the ingredients, strains of probiotics and prebiotics carefully selected by doctors. This product is also made by a very respected company which makes quality supplements for health and wellness.
It should work, and according to the 1MD BiomeMD reviews, it does function extremely well to settle the digestive tract and promote overall gut health.
Q: Is There a Free Trial and/or Refund Policy For 1MD BiomeMD?
A: There is no free trial for this supplement. 1MD is offering a 90 day return policy. If you're not happy with the product, let the company know or write a note on the return parcel.
Then send back all bottles, open or used, to the company within 90 days of the purchase date. You'll get a full refund, minus the shipping costs.
Q: Does 1MD BiomeMD Have Any Side Effects?
A: 1MD BiomeMD contains very healthy organic ingredients with no harmful additives. Occasionally people experience mild digestive upset in the first couple of days of taking a probiotics, but they disappear quickly. There are no harmful side effects associated with taking this product. As I read through the reviews, I did not notice any customers talking about having unpleasant symptoms.
Q: How Does 1MD BiomeMD Compare to Other Similar Products?
A: The cost of BiomeMD by 1MD is quite reasonable compared to other brands on the market, at the very least it's average for the market. In terms of ingredients, not every brand includes both pre and probiotics like this one. There are a higher number of strains than some of the other products.
Q: Is 1MD BiomeMD Worth It?
A: By all accounts, 1MD BiomeMD is a very worthwhile digestive health supplement. The formula is potent but safe, leading to no harmful side effects. The cost is reasonable, and lower than some of the other leaky gut supplements in the market.
More than that, the 1MD BiomeMD reviews confirm that it's highly effective at decreasing gut health symptoms and supporting overall digestive health. The manufacturer is also highly reputable and known for their quality supplements.
What Do the 1MD BiomeMD Reviews Say?
The 1MD BiomeMD Probiotics review posts had mostly very good things to say about the supplement. Users said it really eased their digestive symptoms and made their system run much more smoothly. Some mentioned additional benefits like a curbed appetite which helped with weight loss.
In my research for this product review, I read through many great customer comments about 1MD BiomeMD. Here is some of the top feedback:
Best Brand Out There

I had my gallbladder removed and have had a few problems with having to "run to the bathroom". I've tried several other probiotics, and this is the only one that made a huge difference! –Bev M.

This Probiotic is the Real Thing

I have had digestive issues for a while and have tried different probiotics. Nothing was very helpful. I asked Google for the BEST probiotic, and they said this was it. So far, so good!Barb W.

Great Product

This probiotic has been very effective for me. I've noticed an improvement after the first week of continued use. Will definitely buy again. Shelley M.

Easy to Take

So far, so good. I did a little research on the best probiotic, and this was #1. It is easy to take, and I enjoy that it does not have a before or after taste/smell. Allison L.
Conclusion
1MD BiomeMD is a natural supplement designed by a team of physicians, and its goal is to promote digestive health and wellness. Packed with key strains of probiotics and prebiotics, it builds a strong microbiome full of healthy bacteria which leads to healthy bowel movements. It also eliminates symptoms like constipation and bloating. This is a high quality, reasonably-priced gut health supplement.
Reading through the 1MD BiomeMD Probiotics review posts all over the Internet, it becomes clear that users really appreciated this supplement. Customers with digestive difficulties said 1MD BiomeMD eased their discomfort rapidly, and they noticed some benefits right away. One RDN in the reviews mentioned that this was the most potent probiotic she had ever experienced.
A company by the name of 1MD makes this supplement and they are well-known, respected, and produce quality products that are clinically tested and safe. There are no harmful side effects associated with taking it, and the reviews confirm this. If you're looking to improve your gut health, 1MD BiomeMD is a great choice.
At Wellness Digest, our sourcing guidelines are strict and we only use primary references for our articles including peer-reviewed studies, academic research institutions, and medical associations. You can learn more about how we ensure our content is accurate and current by reading our editorial policy.