What is Gundry MD Energy Renew?
Gundry MD Energy Renew is an energy boost supplement that supports several other health functions in the body. It helps improve focus, keeps the user more awake, improves metabolism, and reduces the tendencies to feel tired.
In particular, this product aims to help the body renew its energy generation functions. That is, findings agree that with age comes the tendency to get tired faster.
Findings point out that with age comes an internal go slow on functions inside the body for lack of proper nutrition. This leads to reduced energy which means less body activity and consequently weight gain. Energy Renew helps revamp cellular function so that you feel more energetic for your daily task.
How Does It Rate?
Highlights
Owned by Dr. Steven Gundry.
Third-party tested ingredients.
Unique blend with all-natural ingredients.
Save up to 10% after subscription.
Active Ingredients
Hibiscus Flower Extract
Schizandra Berry
Mangosteen
Goji
Vitamin C
D-Ribose
N-Acetyl L-Carnitine
Pros
It helps the body recover faster from exhaustion and tiring tasks.
Supports metabolic health
It improves mental alertness
Supports focus, clear thinking and reduces brain fog
Helps strengthen the body's free radicals fighting mechanism
Cons
Individual results vary.
Mild side effects due to drug interaction.
Overall Rating:4.8/ 5
About Brand
Energy Renew is owned by Gundry MD which is the brand of Dr. Steven Gundry. Dr. Steven Gundry is one of the world's most celebrated pediatric heart surgeons. Manufacturers claimed that their products have undergone rigorous testing for quality and effectiveness.
Gundry MD Energy Renew is one of those supplements formulated by the doctor to promote all-day energy, support mental alertness, and improve control over weight.
Key Facts
| | |
| --- | --- |
| Benefits | Energy, Focus, Skin Health, Weight Loss |
| Ingredients | Polyphenols, Vitamin C, D Ribose, N Acetyl L-carnitine |
| Price | $74.95/bottle |
| Discounts | up to 40% |
| Company | Gundry MD |
What are Gundry MD Energy Renew Ingredients?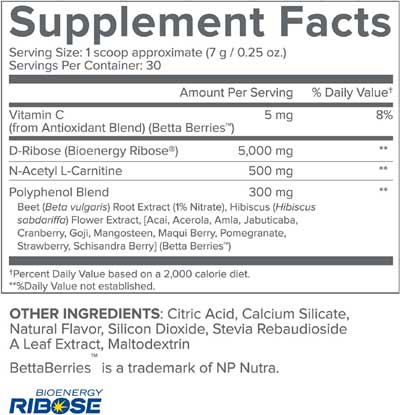 Some of the primary Dr. Gundry MD Energy Renew ingredients include:
Hibiscus Flower Extract
Hibiscus sabdariffa as its other name goes has several health support benefits. It plays a role in restoring blood pressure as well as helps reduce fat levels.
Besides, the ingredient has immune function support properties in that it is packed with antioxidants. Claims that the Journal of Nutrients supports.
Schizandra Berry
Fruit extracts from this berry offer cognitive support benefits as it is an active adaptogen. That is, it helps increase resilience against stress and anxiety. Notable levels of this extract can improve energy levels for improved daily performance in physical activity and mental tasks.
The Phytochemistry Reviews shares a study report on this berry that confirms its medicinal values.
Mangosteen
The ingredient is packed with nutrients that can improve your health in different ways. For one, it is a strong antioxidant that actively benefits the immune function. It helps the body manage the inflammatory response mechanism.
According to a research report in Food Science and Nutrition, this ingredient was found to notably improve the body's antioxidant capacity.
Goji
This plant natively originated from China and has a history of being used as a weight support component in the ancient world. It supports healthy metabolism, helps speed up fat burning, which in the long run translates to a healthy weight. It is a potent antioxidant according to a review article in Oxidative Medicine and Cellular Longevity.
How Does Gundry MD Energy Renew Work?
The way Gundry MD Energy Renew works is it helps your body optimize its energy production, digestion, and recovery. It is formulated to deliver an immediate, sustained supply of cellular energy and to provide key nutrients needed for daily health. With the components of the healthy and easily absorbed ingredients, this formula improves the way the body breaks down energy resources such as fats into ketones to fuel your body.
Frequently Ask Question (FAQs)
Q: Where Can You Buy Gundry MD Energy Renew? How Much Does it Cost?
A: This energy boost supplement can be ordered directly from the company's website or from popular retailer websites. A jar goes for $74.95, but you can save big on Gundry md energy renew coupon codes.
Q: How Do You Take Gundry MD Energy Renew?
A: Mix a single scoop of Energy Renew powder with a 10-ounce glass of plain water, and drink. You are free to take the solution at any time during the day.
Q: What is the Refund Policy for Gundry MD Energy Renew?
A: The supplement has a return policy that gives unsatisfied users a chance to demand their funds within 90 days. All one needs to do is call the company and they'll be guided on the terms, product, and refund procedure to follow.
Q: Are There Any Gundry MD Energy Renew Side Effects?
A: The supplement is purely organic and doesn't cause any unwanted reactions that could be harmful.
Q: How Long Will It Take to See Results With Gundry MD Energy Renew?
A: Energy Renew is designed to boost your day-to-day energy levels. It begins to work as soon as the ingredients are absorbed into the system.
Q: Is Gundry MD Energy Renew Worth It?
A: The product uses as a strong blend of constituents, which makes it worth it. In particular, it could be beneficial to anyone seeking to improve their daily energy levels.
Q: Is Gundry MD Energy Renew Safe?
A: All the ingredients in this energy drink are organic, lab researched, and safe. It is also free from artificial sweeteners and components that are likely to cause a health issue in the long run.
Q: Does it Work? Unbiased Gundry MD Energy Renew?
A: Yes. It uses premium energy support blends that notably support an active, stress-free, and sculpted body. The long-term benefit, besides improving metabolism and energy is that your body weight will improve.
---
What Do the Reviewers Think of Gundry MD Energy Renew?
Users who have reviewed Energy Renew are so far well satisfied with the product. Its ratings are generally good as well. Improved mental alertness, physical activity, and weight loss are some of the notable properties that customers have shared in their Gundry MD energy renew supplement reviews feedback.
For example, one review says,

"It's only been a few weeks and I've felt better than I have in a long time. I really have more energy to get things done. I just wish it wasn't so expensive. Started saving change to save enough to get the next couple of months. ?"

Another review says,

"I started taking Energy Renew because I was consistently running low on energy around 2 pm each day. I started taking Energy Renew 3 weeks ago. I now have consistent energy from 6 am to 9 pm every day! And that is with very minimal exercise, which I plan to increase in the coming weeks."
As my job is working with children, I need plenty of energy. Every year it seemed as if my energy was getting lower and lower. After using Energy Renew for a month now, I have more energy and my body does not feel so tired. I recommend this product to anyone who wants a renewed energy level. Thank Dr. Gundry.

~ by Shiela Keaise

A young gentleman with Gundry MD phoned me a few minutes ago and I was having a pleasant conversation with him when my phone died and the line went dead. I want him and you folks to know that it wasn't deliberate on my part; the battery in my handset died on me as we were talking. Anyway, he had mentioned emailing me and I would like him to do that. I am very satisfied with the Gundry MD products I have ordered and I anticipate ordering more, but first I would like to read what the young man who phoned me was going to say before the line went dead plus whatever else he was going to say in his email to me. My apologies to him and I wish him a nice day. BTW, I have been doing projects over the last few weeks that I have been wanting to do for years and haven't had the energy to think through and do. I frankly can't believe what I am getting done. Thank you, Dr. Gundry and Energy Renew!

~ by Kenneth Lawrence Surrey B.C., Canada
Alternatives
Dr. Gundry Energy Renew supplement can boost energy, improve focus and alertness, protects your cells, and improves overall health. The market is saturated with many dietary supplements for enhancing general health.
Below are some of the Energy Renew Alternatives that have similar ingredients and effectiveness.
Bio Complete 3

Pros

Supports weight management.
Reduces food cravings.
Increases energy and vitality.
Support Smoother Digestion.

Cons

Individual results vary.
Have to take 4 capsules daily.

Multi-GI 5

Pros

Reduces bloating and gas.
Supports healthy digestion.
Strengthen immune system.

Cons

Mild side effects.
Individual results vary.

Morning Complete

Pros

Rich in healthy nutrients and antioxidants.
Some ingredients reduces the risk of developing diabetes.
Provide resistance to stress.
Improves digestion

Cons

Popular product sometimes runs out of stock.
No free samples available.
Conclusion
All factors considered; it is fair to conclude that Gundry MD Energy Renew is one of the best probiotic supplements which has well-balanced nutritional formula. It helps naturally energize, strengthen and balance your body functions. And yes, it has what it needs to deliver real results.
That is, each of its ingredient components is confirmed with different studies to work. In precise, the formulation as a whole replenishes the unique needs of the body chemistry and energy type.
It is gentle enough for women and men of all ages, and a great choice for those with sensitive digestive systems — or even those who are just looking for a natural, drug-free boost to keep their energy up throughout the day.
The ingredients in the product get integrated into the body system to boosts your body's ability to naturally produce more energy and optimize metabolism. Users also get cognitive benefits such as clear thinking and fewer feelings of tiredness.
At Wellness Digest, our sourcing guidelines are strict and we only use primary references for our articles including peer-reviewed studies, academic research institutions, and medical associations. You can learn more about how we ensure our content is accurate and current by reading our editorial policy.
---
1. Richardson CA, Glynn NW, Ferrucci LG, Mackey DC. Walking energetics, fatigability, and fatigue in older adults: the study of energy and aging pilot. J Gerontol A Biol Sci Med Sci. 2015 Apr;70(4):487-94. doi: 10.1093/gerona/glu146. Epub 2014 Sep 4. PMID: 25190069; PMCID: PMC4447797.
2. Herranz-López M, Olivares-Vicente M, Encinar JA, Barrajón-Catalán E, Segura-Carretero A, Joven J, Micol V. Multi-Targeted Molecular Effects of Hibiscus sabdariffa Polyphenols: An Opportunity for a Global Approach to Obesity. Nutrients. 2017 Aug 20;9(8):907. doi: 10.3390/nu9080907. PMID: 28825642; PMCID: PMC5579700.
3. Xie Z, Sintara M, Chang T, Ou B. Daily consumption of a mangosteen-based drink improves in vivo antioxidant and anti-inflammatory biomarkers in healthy adults: a randomized, double-blind, placebo-controlled clinical trial. Food Sci Nutr. 2015 Jul;3(4):342-8. doi: 10.1002/fsn3.225. Epub 2015 Apr 13. PMID: 26286710; PMCID: PMC4534161.
4. Ma ZF, Zhang H, Teh SS, Wang CW, Zhang Y, Hayford F, Wang L, Ma T, Dong Z, Zhang Y, Zhu Y. Goji Berries as a Potential Natural Antioxidant Medicine: An Insight into Their Molecular Mechanisms of Action. Oxid Med Cell Longev. 2019 Jan 9;2019:2437397. doi: 10.1155/2019/2437397. PMID: 30728882; PMCID: PMC6343173.
5. Shula Shazman, Selecting Intermittent Fasting Type to Improve Health in Type 2 Diabetes: A Machine Learning Approach, Type 2 Diabetes [Working Title], 10.5772/intechopen.87312, (2021).
6. Michael Albosta, Jesse Bakke, Intermittent fasting: is there a role in the treatment of diabetes? A review of the literature and guide for primary care physicians, Clinical Diabetes and Endocrinology, 10.1186/s40842-020-00116-1, 7, 1, (2021).
7. Ge Yang, Jinlong Wei, Pinyi Liu, Qihe Zhang, Yuan Tian, Guowen Hou, Lingbin Meng, Ying Xin, Xin Jiang, Role of the gut microbiota in type 2 diabetes and related diseases, Metabolism, 10.1016/j.metabol.2021.154712, 117, (154712), (2021).
---