What is Unify Health Labs?
Unify Health Labs is a brand of supplements which focus on supporting overall health and wellness. Personality Randy Jackson founded the brand after he went on a weight loss journey and lost over 100 pounds.
The products aim to promote weight loss, provide energy, support heart health and digestion, improve mood, and sharpen your cognitive focus. Our team of RDNs had very positive things to say about the nutritional content and amazing health benefits of this brand.
Personally I have a lot of respect for Randy Jackson and the journey he went through, and I would highly recommend his products. I use them myself to help with my gut health and energy levels, ands I have total faith in the brand.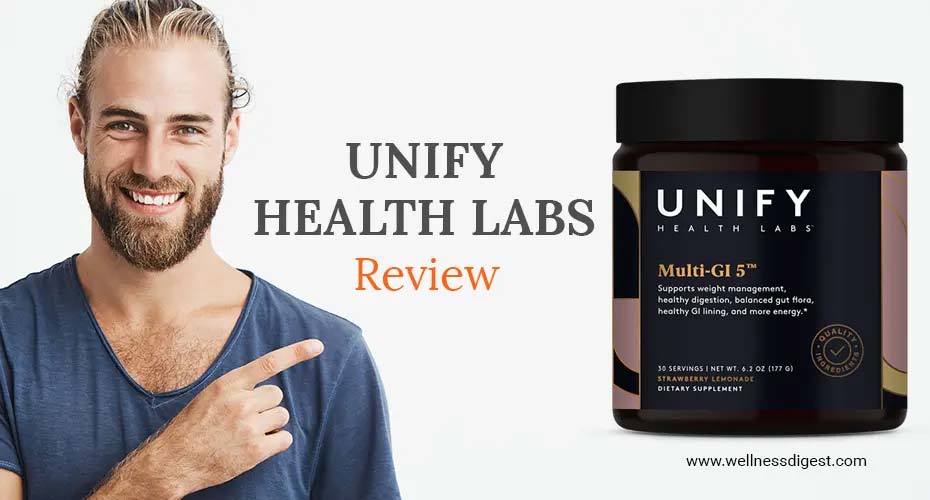 About the Brand
Unify Health Labs is a company that has its headquarters in Woodland Hills, California. The owner and founder is celebrity Randy Jackson. He developed these weight loss supplements based on his own personal weight loss journey. The goal of the products is to help people reclaim their health.
Rating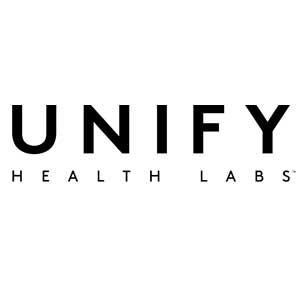 Highlights
There is research and science backing the products.
They use 100% organic ingredients with no additives or fillers.
The personal journey of celebrity Randy Jackson inspired the brand.
The products are quality-tested and made in a GMP- compliant facility in the USA.
Active Ingredients
Whey Protein
Alpha Lipoic Acid
Turmeric
Amla Fruit Extract
Moringa Leaf Extract
Pomegranate
Vitamin C
Amylase
Vitamin B12
Choline Bitartrate
Theacrine
Monk Fruit
Licorice Root
Vitamin D3
Pros
These products can give you an added energy boost.
The Unify Health Labs products can improve your mood.
The product line can give you a shaper mental focus.
They can help you manage your weight.
Unify Health Labs can support a healthy metabolism.
Cons
There are items which include artificial coloring.
The drink and shake products only have one flavor option.
These are popular products which sometimes run low stock.
Overall Rating: 4.8/ 5
Unify Health Labs Products
Here are some of the top items in the line:
Multi K2 and D3

This provides 2 essential vitamins that many people don't have in sufficient amounts. It supports bone and heart health, added energy, and an elevated mood. The modern American diet deprives millions of people of their most essential vitamins.

So to better enable you to get what your body needs to thrive, they combined two of the most potent vitamins your body needs — Vitamins D3 and K2. And Unify Health Labs' Multi-K2 & D3 combines an ultra-potent form of Vitamin D3 with two special forms of Vitamin K2.

These two vitamins are key to supporting strong bones, a healthy heart, elevated energy levels, and even a boosted mood.

Ingredients: Vita-MK7®, MK-4,Vitamin D3

How to Take
Simply take 1 easy-to-swallow capsule each day with a full glass of water or your favorite beverage.

---

Multi-GI 5 with 3 ultra-powerful gut health blends for total support: Prebiotics, Probiotics, and a special GI Health blend. It has 12 potent gut-boosting ingredients which help with digestion, weight loss, and extra energy.

Main Ingredients:
Prebiotic Blend, Oligosaccharides (Inulin from chicory root), GI Health Blend, Fermented L-Glutamine, Zinc-Carnosine Complex, Magnesium Beta-Hydroxybutyrate, Deglycyrrhizinated Licorice Root Extract (<1% Glycyrrhizic Acids), Black Pepper Extract (fruit) (BioPerine®), Berberine Hydrochloride, Probiotic Blend, Lactobacillus gasseri, Bacillus coagulans (as ProDURA®), Lactobacillus Plantarum, Lactobacillus Plantarum

Other Ingredients: Citric Acid, Natural Flavor, Natural Sweetener Blend (Erythritol, Oligosaccharides, Natural Flavor), Enzymatically Modified Stevia, Silica, Monk Fruit Extract

How to Take
Multi-GI 5 is a delicious, strawberry-lemonade flavored drink. To use Multi-GI 5, simply mix a scoop of our easy-dissolve powder with water or your favorite tea and drink.

---

Multi-Digest 6

This supplement helps to promote healthy digestion and to reduce symptoms like bloating and gas. Hard to digest foods like carbs, sugars, proteins, fats, and gluten can lead to big problems for your gut. That's because they're some of the most difficult foods to digest — often leading to bloating, indigestion, bathroom problems, and discomfort.

So to help you enjoy your meals again, they created Multi-Digest 6. It's loaded with 6 powerful digestive helpers to assist breaking down difficult-to-digest foods and unlock their full nutrient potential to support your optimum health.

Ingredients: Glutalytic — The Gluten Buster, Bacterial Protease — The Protein Answer, Lipase The Fat Fixer, Amylase & Glucoamylase — The Energizer, Invertase

How to Take
Supporting gentler, more comfortable digestion with Multi-Digest 6 couldn't be easier. Simply take 1 easy-to-swallow capsule before your meals with a full glass of water or your favorite beverage.

---

Advanced Multi Prostate Support

This is a supplement for men who suffer from prostate enlargement issues. It could reduce symptoms like frequent and nighttime urination. Sleepless nights. Trouble using the restroom. A loss of confidence in your romantic life. These are all problems associated with an aging prostate.

But at Unify Health Labs, they decided to do something about it. By unifying 9 carefully selected, scientifically-researched nutrients, they created one formula to support normal urination and a healthy prostate.

They call it Advanced Multi-Prostate Support. And it's formulated to support your health and help you reclaim your confidence, and independence… so you can get back to living life on your terms!

Ingredients: healthy urination support blend, healthy prostate structure support blend

How to Take
Using Advanced Multi-Prostate Support is easy. Simply take 2 easy-to-swallow capsules each day with 8 ounces of water. You can take them any time of day, but we suggest the morning to help establish consistent use

---

Unify Health Labs Multi-Mineral Pro

If you're over 40, you're in danger of weakening bones. But supporting strong, healthy bones that help you enjoy an active, fulfilling life is more than getting enough calcium.

That's why Unify Health Labs combined calcium with essential minerals and bone-supporting probiotic strains to create Multi-Mineral Pro — your all-in-one bone health formula that supports the structure and strength of your bones.

Ingredients – Aquamin® TG, GIVOMAG, Probiotic Bone Support Blend

How to Take
Supporting the structure and strength of your bones couldn't be easier. Simply take 2 easy-to-swallow capsules each day with a full glass of water or your favorite beverage

---

Unify Health Labs Multi-Energy Activator

Multi-Energy Activator uses a truly unique approach to supporting a balanced mood, enhanced physical and mental performance, and increased energy — without caffeine.

Its groundbreaking formula uses a potent blend of research-proven ingredients, including essential vitamins and naturally occurring compounds your body uses to provide the energy and focus you need to get the most out of your day.

Ingredients – Vitamin B12, Choline Bitartrate, Theacrine

How to Take
Supporting more energy and peak mental performance couldn't be easier. Simply take 3 easy-to-swallow capsules each day with a full glass of water or your favorite beverage.

---

Unify Health Labs Total Multi Cleanse

Total Multi-Cleanse is an essential wellness tool for naturally "resetting" your gut. Its one-of-a-kind formula uses essential nutrients, powerful prebiotics, and 3 strains of research-tested probiotics to revitalize digestion and help restore balance in the gut — supporting an enhanced sense of wellness every day.

Ingredients – TRAACS® (magnesium bisglycinate chelate), Sunfiber®, Healthy Gut Probiotic
Blend, Methionine

How to Take
For optimal results, simply mix 1 scoop of Total Multi-Cleanse with 8 fl. oz. of water or your favorite beverage.

---

Unify Health Labs Multi-Protein Fiber Shake

Protein and fiber are essential to keeping your body working at its peak potential. That's why they developed this delicious chocolate-flavored shake mix that's packed with 3 types of protein, dietary fiber, and a potent blend of essential nutrients to support healthy weight management, cravings control, and a supercharged metabolism.

With just one scoop a day, you can regain control over your cravings for unhealthy foods, feel full faster, support your metabolism, and get the nutrients your body needs.

Ingredients
Three kinds of protein — pea protein, calcium caseinate protein, and whey protein — to help keep your body fueled and your cravings satisfied throughout the day.
Fiber, from fructooligosaccharides, glucomannan, and psyllium seed powder, to support healthy, more comfortable digestion and feed your good gut bacteria.
Powerful metabolic enhancers to help your body break down food efficiently.
Antioxidant boosters, like ashwagandha root powder, rhodiola root powder, and turmeric extract to help defend your cells against oxidative stress.
DHA fatty acids to support your skin and heart health.
MCT to support more energy and focus.
Multi-Protein Fiber Shake is perfect for anyone who wants to make it easier to stay fit, slim down, and enjoy the healthier body and optimized wellness they deserve.
How to Take
To use, simply mix one scoop of Multi-Protein Fiber ShakeTM with 8 fl. oz. of water, coconut milk, rice milk, or almond milk.
---
Multi-Action Heart Health
As you age, supporting a healthy heart is critical to enjoying a long, rewarding life. That's why our team of experts decided to do something groundbreaking. By unifying 6 potent and scientifically-researched nutrients, we created one formula to help give your heart what it needs to thrive. It is Multi-Action Heart Health.
It's specifically formulated to support healthy blood flow and nitric oxide levels, artery and blood vessel health, and cholesterol levels already within normal range — all of which are necessary to help you support your heart.
Ingredients – Amla Fruit Extract,Sodium Nitrate (as NO3-T®), Botanical Blend (as FITNOX®), N-Acetyl-L-Cysteine, Grape Seed Extract, Alpha Lipoic Acid
---
What are the Ingredients in Unify Health Lab?
Here are some of the primary active ingredients in Unify Health Labs:
Whey Protein
This is the substance that you get after you curdle and strain milk. It's incredibly rich in amino acids, and it helps increase your protein intake. This should promote weight loss by suppressing your appetite, so you consume less calories overall. In addition, there is evidence that it can help reduce body fat.
Whey protein may decrease total cholesterol and LDL levels, and possibly also blood pressure. In addition, there's evidence that whey protein can increase muscle mass and strength, as we noted in our review of High Whey Impact Protein Powder article on another supplement containing this substance.
A study in the Journal of the American Collagen of Nutrition found that whey along with resistance training altered body composition.
Turmeric Root Extract
The turmeric plant is high in antioxidants and bioactive compounds called curcuminoids, and the most potent is curcumin. They kill harmful free radicals and help heal the body. They also support overall health and immunity, as we mentioned this element in our article on the Best Turmeric Supplements.
Turmeric has powerful medicinal properties like improving liver function and possibly decreasing cancer risk. It supports heart health, and could decrease the risk of developing Alzheimer's disease. There is some research which indicates that it could also improve mood by stimulating levels of the brain chemicals serotonin and dopamine.
Its powerful anti-inflammatory agents can reduce pain and swelling in the muscles and joints, and other areas of the body. An article in Foods reviewed the effects of curcumin on human health.
Amylase
This is a digestive enzyme which can help break down foods into smaller components that are easier to digest. In particular, it breaks down carbs into simple sugars as documented in our Biotics 8 Review article.
This supports overall digestive health, and may help promote more regular bowel movements and decrease GI symptoms like gas and bloating. Amylase exists naturally in the body, made by the pancreas and salivary glands for the most part as referenced in our ActivatedYou Active Enzyme Review article.
There's a chance that exercising could increase levels of this enzyme. A study on cattle in BioMed Research International found that amylase led to an improvement in starch digestion.
What is the Science Behind Unify Health Labs?
There are numerous products in this line which serve different purposes. Some brands have probiotics and prebiotics which line the gut with healthy bacteria and feed it, to promote digestive health.
There are products which could elevate mood with ingredients that raise levels of key neurotransmitters like dopamine. Others increase energy levels using natural ingredients, and without caffeine. According to an article in the Iranian Journal of Public Health, dopamine plays a key role in regulating positive mood.
Some ingredients help with weight loss by suppressing appetite and curbing cravings, and by speeding up the metabolism. This causes the body to go into a fat-burning state of thermogenesis, where you lose weight rapidly.
A study published in the International Journal of Obesity found that stimulation of thermogenesis led to body fat loss.
Unify Health Labs products include a lot of antioxidants, which can kill harmful free radicals in your system and lower oxidative stress. This strengthens the immune system and general health.
Unify Health Labs FAQ
Q: How to Use Unify Health Labs?
A: These Unify Health Labs products are mostly powdered drinks and shakes, with one capsule supplement. They each have their own set of instructions on the label. Follow the directions carefully for each product you use.
Q: How Much are Unify Health Labs Products
A: The prices on the official site are:

Unify Health Labs Multi-GI 5 – $49.95
Unify Health Labs Multi Metabolic 5 – $74.95
Unify Health Labs Multi K2 D3 – $39.95
Unify Health Labs Multi-Digest 6 – $59.96
Unify Health Labs Advanced Multi Prostate Support – $69.95
Unify Health Labs Multi-Mineral Pro – $69.95
Unify Health Labs Multi-Energy Activator – $74.95
Unify Health Labs Total Multi Cleanse – $74.95
Unify Health Labs Multi-Protein Fiber Shake – $74.95
Unify Health Labs Multi-Action Heart Health – $59.95
Q: Where Can You Buy It?
A: You can buy the Unify Health Labs products on the official website and on Amazon. The official site offers exclusive offers for first time buyers, and they often have a promo code for further discounts. You can also save money by buying in bulk.
Q: What is the Return Policy for Unify Health Labs?
A: The manufacturer is offering a 90-day money back warranty for these products. If you are not happy with the item, call the Unify Health Labs customer service number to let them know you want a refund.

Then send the product back within 90 days of the day the company shipped it to you. You'll get a full refund, minus shipping fees.
Q: Is Unify Health Labs Safe?
A: Yes, the Unify Health Labs use safe organics ingredients. Although some products have food coloring, there are otherwise no unsafe artificial or chemical ingredients.

There are a few medical conditions which preclude using these products. These include liver disease, hormone-sensitive conditions, diabetes, bleeding problems, allergy to ragweed, surgery within the next 2 weeks, gallbladder problems, or iron deficiency (1, 2).

I would strongly recommend that you see a doctor for approval before taking any new supplement, especially if you have a health issue or take medication.
Q: Is Unify Health Labs Legit?
A: Unify Health Labs is a legitimate product line founded by celebrity Randy Jackson and is very reputable. Numerous Unify Health Labs reviews attest to the fact that these are real and effective products that help to elevate health and immunity.
Q: Does Unify Health Labs Work?
A: There's a good chance that the Unify Health Labs products work well. They use a blend of potent organic ingredients carefully selected to help with energy, weight loss, digestion, and other health issues.

Some of the products only include a small handful of ingredients and could be richer. However, it's clear from the Unify Health Labs review postings that users thought these were effective products.
What Do the Reviews for Unify Health Labs Say?
According to what I read, which was a wealth of customer comments, the vast majority of the Unify Labs reviews had very good things to say about these products. Many customers mentioned losing a lot of weight, gaining energy, and feeling generally healthier. There were so many good reviews, but I picked out some of my favorites:
Multi-GI 5 review ~ Both my husband and I felt better, had less stomach discomfort, and more energy.

– Loretta

Regular Bowel Movements ~ Multi-Mineral Pro makes me feel less bloated, takes away heartburn, and helps with regular bowel movements.

– Janet C.

Easy, Tastes Good, And No Adverse Effects ~ I enjoy the Multi Protein Fiber Shake every weekday as my breakfast with almond milk. It keeps me full till lunch and it is a nice easy way to get out the door with breakfast in hand. It tastes delicious. I've been drinking this shake for over a month, and I am not tired of it yet. I do feel like this has helped regulate my metabolism. I have also switched to a plant based diet and I am seeing some weight loss.


– Kat

Total Multi Cleanse: Fantastic Product ~ This product is better than described. Works wonderful and I feel I am totally cleaned out. So glad I bought multiple jars.

– Carolyn R.
Conclusion
Unify Health Labs is a line of supplements and shakes which aim to promote many health benefits, such as improving digestive health, providing energy, boosting mood, strengthening bones, and helping with weight loss goals.
Celebrity Randy Jackson started the company based on his person health and weight loss journey. These products come highly recommended by many RDNs for their nutritional value and health benefits.
The majority of the Unify Health Labs reviews had good things to say about the products. People noted health benefits like better digestion and more energy. Quite a few people said Unify Health Labs really helped them lose weight. There weren't a huge number of poor reviews, but some people found the products to be expensive.
Some of these items have ingredients with very mild associated side effects, but they are very safe overall. As both a reviewer and a customer, I can only recommend this brand highly to anyone who is on their own health and wellness journey.
At Wellness Digest, our sourcing guidelines are strict and we only use primary references for our articles including peer-reviewed studies, academic research institutions, and medical associations. You can learn more about how we ensure our content is accurate and current by reading our editorial policy.
1. Zhou Q, Verne ML, Fields JZ, Lefante JJ, Basra S, Salameh H, Verne GN. Randomised placebo-controlled trial of dietary glutamine supplements for postinfectious irritable bowel syndrome. Gut. 2019 Jun;68(6):996-1002. doi: 10.1136/gutjnl-2017-315136. Epub 2018 Aug 14. PMID: 30108163.
2. Newman JC, Verdin E. ß-Hydroxybutyrate: A Signaling Metabolite. Annu Rev Nutr. 2017;37:51-76. doi:10.1146/annurev-nutr-071816-064916
3. Miller PE, Alexander DD, Perez V. Effects of whey protein and resistance exercise on body composition: a meta-analysis of randomized controlled trials. J Am Coll Nutr. 2014;33(2):163-75. doi: 10.1080/07315724.2013.875365. PMID: 24724774.
4. Dfarhud D, Malmir M, Khanahmadi M. Happiness & Health: The Biological Factors- Systematic Review Article. Iran J Public Health. 2014 Nov;43(11):1468-77. PMID: 26060713; PMCID: PMC4449495.
5. Belza A, Frandsen E, Kondrup J. Body fat loss achieved by stimulation of thermogenesis by a combination of bioactive food ingredients: a placebo-controlled, double-blind 8-week intervention in obese subjects. Int J Obes (Lond). 2007 Jan;31(1):121-30. doi: 10.1038/sj.ijo.0803351. Epub 2006 Apr 25. PMID: 16652130.
6. Hewlings SJ, Kalman DS. Curcumin: A Review of Its Effects on Human Health. Foods. 2017 Oct 22;6(10):92. doi: 10.3390/foods6100092. PMID: 29065496; PMCID: PMC5664031.
7. Cruz M, Fernandes K, Cysneiros C, Nassar R, Caramori S. Improvement of starch digestion using α-amylase entrapped in pectin-polyvinyl alcohol blend. Biomed Res Int. 2015;2015:145903. doi: 10.1155/2015/145903. Epub 2015 Apr 8. PMID: 25949991; PMCID: PMC4407515.