What is Active PK?
Active PK is a dietary supplement intended to not only reduce cravings and hinder the storage of fat on the abdomen, but also boost energy levels and mental clarity throughout the day.
Active PK is made by the company LCR Health and advertises its supplement to be a natural formula made up of a revolutionary blend of compounds.
Our tester tried out Active-PK, an all-natural, dietary supplement that claims to melt fat by accelerating the body's production of the natural enzyme AMPK, which can boost weight loss.
Read our detailed Active-PK review to learn about the pros, cons, and science behind it, so you can decide if this supplement may work for you.
In my own experience, it's a very worthwhile formula which delivers amazing weight loss and general health benefits.
About the Brand LCR Health
The manufacturer of Active PK is a health and wellness supplement company called LCR Health. Co-Founder Dr. Rand McClain designs the products based on stem cell and other high level technology, and he also runs a regenerative sports medicine clinic in Santa Monica, California. This is a highly reputable brand which has had a lot of success in the market.
In addition to Active-PK, LCR Health manufactures the following supplements:
TeloGenesis promotes longevity and optimum health while combating cellular aging.
Master Cell supports the body's natural detoxification system, assisting with brain fog and fatigue.
Highlights
It contains no caffeine.
The product is dairy-free.
The supplement is third-party tested for safety
It's vegetarian friendly.
Key Ingredients
Berberine HCL
Quercetin Dihydrate
Gynostemma Pentaphyllum Leaf Extract
Benefits
It features an active ingredient list of natural components.
The supplement contains only 3 additional inactive ingredients.
It can help regulate blood sugar and lower cholesterol levels.
The product can have a beneficial effect on metabolic rate.
Active PK can eliminate body fat.
Cons
There are only 3 primary active ingredients.
The results will vary for different users.
High demands may lead to low stock.
Overall Rating:4.8/ 5
Active PK Review – Key Facts
| | |
| --- | --- |
| Benefits | Burn Fat, Boost Energy, Improve Cognition |
| Ingredients | Gynostemma Pentaphyllum Leaf Extract, Quercetin Dihydrate, Berberine HCL |
| Discounts | Up to 10% Off |
| Company | LCR Health |
| Gender | Unisex |
| Type | Supplements |
| Age Group | Adult |
What are the Ingredients in Active PK?
Each serving contains 650 mg of three potent ingredients that have never been combined before. There are 3 active ingredients (Berberine, Quercetin, and Gynostemma) in the formula:
Quercetin Dihydrate
A plant flavonoid known as a natural antioxidant. Antioxidants are generally regarded as agents that can protect against disease and slow various processes of aging in the body.
Quercetin may also improve brain function, balance blood sugar, and support heart health. It's high in anti-inflammatory benefits and may reduce swelling in the body.
According to the International Journal of Molecular Sciences, quercetin regulates the stress response to improve memory. Several studies have found Quercetin to play a beneficial role in cognitive function.
Gynostemma Pentaphyllum Leaf Extract
Gynostemma Pentaphyllum is a climbing vine plant also known as Jiaogulan. Some of the purported benefits associated with this plant extract include lowered cholesterol and improved memory.
In addition, it could decrease stress levels, and may be beneficial to the treatment of diabetes and obesity. A study in Nutrients concluded that this herb was effective at promoting weight loss for obesity [1].
Berberine HCl
A natural chemical found in a variety of plants that can help lower cholesterol. Some clinical trials have also observed it to help regulate blood sugar levels, according to Diabetes Action.
It has the ability to significantly lower lipid levels and can help with weight loss and obesity by preventing fat storage. It's also a potent anti-inflammatory which can reduce swelling in the body. High-quality studies have additionally shown it to only have minor gastrointestinal side-effects, if any at all.
Our review team has crafted a list which offers the best in weight loss supplements.
Best Deals, Feature Product & Coupon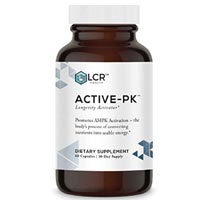 Boost energy levels
Reduce food cravings
Combat abdominal fat
Promotes focus
How Does Active PK Work?
One of the key claims of this product is that Gynostemma Pentaphyllum and Berberine HCL activate AMPK (AMP-activated protein kinase). What's so special about it? AMPK is critical in regulating healthy metabolism and can be targeted to treat metabolic disorders, according to the Biochemical Journal.
A recent study in Scientific Reports found Gynostemma Longipes (very closely related to Gynostemma Pentaphyllum) to activate AMPK and another study from Molecular Medicine found Berberine to also activate AMPK, therefore the active ingredients may very well promote favorable results.
Q: How Much Does Active PK Cost?
1 bottle – $89.95 plus free shipping
3 bottles – $242.85 plus free shipping
6 bottles – $455.70 plus free shipping
*All prices listed here are as they appear on the official LCR Health website and are subject to change.
Q: What is Active PK's Return & Refund Policy?
A: There is a money back guarantee that allows the user to try Active PK for up to 90 days and return it for a refund if they are unsatisfied with it.
Q: How do I use Active PK?
A: Active PK LCR can be taken with a glass of water on an empty stomach or with a meal. The daily recommended dosage is two capsules with a glass of water, either with food or on an empty stomach.

The ingredients in ACTIVE-PK are fully bioavailable, and once absorbed in your stomach will go to work boosting your AMPK levels all day.
Q: How Long will it take to see Results with Active PK?
A: According to expert research and evaluation, there should be a noticeable change within 12 weeks.
Q: Does It Have Any Side Effects?
A: For healthy people, this product is considered completely free from side effects. However, for people who are under healthy medication or extra sensitive to allergens, you'll need to check with your doctor before using any weight loss supplement.
Q: Is Active PK Worth it?
A: It's okay to say that this Active PK is worth the attention and trying. The tests on its ingredients indicate that it is a good health support product. In my experience, it offers wide heakth benefits and is an excellent fat burner.
Q: Is Active PK Safe?
A: Although Active PK appears safe for the general population and does not appear to have any side effects, the active ingredients could cause some gastrointestinal upset or discomfort but may be negated by limiting the total daily intake of the ingredients. I started taking this supplement 2 months ago, and I have yet to experience any side effects whatsoever.

LCR Health does recommend consulting your doctor prior to starting the supplement to review any potential medication interactions, as Quercetin Dihydrate and Berberine HCL do interact with several types of medications.

It is also important to review the "other ingredients," prior to using them to avoid any potential allergic reactions. Researchers suggest that you examine the studies exploring the efficacy of ingredients before trying any new supplement.
Q: Does Active PK Work?
A: The outcomes differ greatly from one user to the next. Consider incorporating additional lifestyle modifications, such as a food plan, if you want it to help you lose weight more effectively.
---
What Do Reviewers Have to Say About Active PK?
There are more positive than negative reviews, at least on the company's website. Several users stated they noticed increased energy levels and alertness, reduced appetite, and weight loss within 3 weeks to 3 months. Unsatisfied users mentioned feeling bloated and others stated not observing any weight loss after 3 months of consistent use.
Here are some real user reviews for this product:
My target weight is 175 and I am closer to that than before but what I a most excited about is the noticeable loss of belly fat. I will definitely order more when the time comes. Also, I believe that sometimes brain fog is better as well, and able to concentrate on work better. Getting older is not for the faint of heart!

Kent R.

I have been taking Active PK for a few weeks. I have had to tighten my belt and my stomach feels firmer. I am not as cold and seem to need less rest. Thank you,

Steve

I have for the first time seen a drop on the scale. Looking forward to more and losing my belly. I do believe this product is starting to work. Thank you

Linda

I have been taking two capsules first thing every morning two days shy of a month now. First thing I noticed was an increase in energy, I noticed this within the first few days, my energy level is so much higher. Next thing I've noticed is my jeans have all started fitting more loosely, then when I stepped on the scale I have dropped 8 pounds. This is a great natural product that I feel is really working for me!!

Mona H.
*Results may vary by individual.
These statements have not been evaluated by the Food and Drug Administration. This product is not intended to diagnose, treat, cure or prevent any disease.
Where can you Buy Active PK?
Active PK is sold online and can be ordered from the manufacturer's website. If you subscribe on the official site, there is a great offer for first time customers.
How Does Active PK Compare to Similar Products?
Active PK differs from other metabolic booster products like Garcinia Cambogia Plus, Balance of Nature, and Vitamin Energy on the market in a few ways. It is caffeine-free, a powerful blend of natural botanicals, and does not contain harmful, artificial ingredients. Our expert Registered Dietician and Nutritionist evaluated this product and found it to be rich in nutrients and effective at promoting weight loss.
Active PK Alternatives
After reading a review on Active PK, sometimes you may wonder if there are alternatives to this LCR Health dietary supplement. Below are some of the options you can consider using as alternatives.

MCT Wellness

Pros

Smoother digestion.
Boost energy, vitality.
Mental sharpness.

Cons

Multi-GI 5

Pros

Improves digestion and gut health.
Reduces bowel permeability and digestive discomfort.
Balances the gut flora.

Cons

The manufacturer does not offer free samples of this product.
Flatulence and constipation

Bio X4

Pros

Regulates the bowel.
Helps to boost the immune system.
Promotes optimal digestive health.

Cons

Not suitable for people having allergy issues.
Conclusion
Active PK appears to be a supplement that could be very beneficial for weight loss, but it's not a wonder drug. It may depend on your willingness to do your part by changing eating habits, exercising regularly, managing stress, etc.
But this could certainly provide the boost some consumers need to get over their hump and down to their goal weight. Like all supplements of this nature, it is best to keep your expectations reasonable. Personally, I experienced great weight loss and a wealth of added energy.
In precise it helps activate AMPK, which supports weight loss, thanks to the presence of ingredients like Gynostemma Pentaphyllum) that some research agree may support this property.
Active PK appears to be safe for the general public and well-received by users, but you should still talk to a doctor or healthcare professional about Active PK before using it.
More Like This: Noom Weight Loss Review: Change Your Eating Habits and Lose Weight!
At Wellness Digest, our sourcing guidelines are strict and we only use primary references for our articles including peer-reviewed studies, academic research institutions, and medical associations. You can learn more about how we ensure our content is accurate and current by reading our editorial policy.
Gynostemma Pentaphyllum Extract Ameliorates High-Fat Diet-Induced Obesity in C57BL/6N Mice by Upregulating SIRT1: https://www.ncbi.nlm.nih.gov/pmc/articles/PMC6835433/
National Research Council (US) Committee on Diet and Health. Diet and Health: Implications for Reducing Chronic Disease Risk. Washington (DC): National Academies Press (US); 1989. 7, Fats and Other Lipids. Available from: https://www.ncbi.nlm.nih.gov/pmc/articles/PMC6835433/
Stewart LK, Soileau JL, Ribnicky D, Wang ZQ, Raskin I, Poulev A, Majewski M, Cefalu WT, Gettys TW. Quercetin transiently increases energy expenditure but persistently decreases circulating markers of inflammation in C57BL/6J mice fed a high-fat diet. Metabolism. 2008 Jul;57(7 Suppl 1):S39-46. doi: 10.1016/j.metabol.2008.03.003. PMID: 18555853; PMCID: PMC2596873.
Nguyen PH, et al. New dammarane-type glucosides as potential activators of AMP-activated protein kinase (AMPK) from Gynostemma pentaphyllum. Bioorg Med Chem. (2011)
Kong WJ, Zhang H, Song DQ, et al. Berberine reduces insulin resistance through protein kinase C-dependent up-regulation of insulin receptor expression. Metabolism. Jan 2009;58(1):109-119.
Nour M, Lutze SA, Grech A, Allman-Farinelli M. The Relationship between Vegetable Intake and Weight Outcomes: A Systematic Review of Cohort Studies. Nutrients. 2018 Nov 2;10(11):1626. doi: 10.3390/nu10111626. PMID: 30400139; PMCID: PMC6266069.
Robin Willows, Matthew J. Sanders, Bing Xiao, Bhakti R. Patel, Stephen R. Martin, Jon Read, Jon R. Wilson, Julia Hubbard, Steven J. Gamblin, David Carling; Phosphorylation of AMPK by upstream kinases is required for activity in mammalian cells. Biochem J 1 September 2017; 474 (17): 3059–3073. doi: https://doi.org/10.1042/BCJ20170458
Ha TKQ, Pham HTT, Cho HM, Tran VO, Yang JL, Jung DW, Williams DR, Oh WK. 12,23-Dione dammarane triterpenes from Gynostemma longipes and their muscle cell proliferation activities via activation of the AMPK pathway. Sci Rep. 2019 Feb 4;9(1):1186. doi: 10.1038/s41598-018-37808-9. PMID: 30718856; PMCID: PMC6361897.