What is 1MD CholestMD?
1MD CholestMD is a dietary supplement designed to reduce your HDL and LDL cholesterol levels and triglycerides. In addition, it can lower blood pressure and it supports heart health. This is a healthy product with plenty of antioxidants, and they promote healing in the body and make the immune system stronger. Many RDNs support the efficacy of this product for lowering cholesterol and strengthening the immune system.
---
Highlights
The product is free of wheat, shellfish, peanuts, and dairy.
1MD CholestMD is physician formulated.
They use globally-sourced ingredients.
The company follows GMP standards in manufacturing.
Key Ingredients
Garlic Bulb
Olive Leaf
Niacin
Bergamot Orange Fruit Extract
Benefits
1MD CholestMD supports heart health.
It can balance HDL and LDL cholesterol levels.
1MD CholestMD leads to healthy triglyceride levels.
The product promotes normal blood pressure.
It has no harmful fillers or additives.
Cons
It's sometimes low stock due to popularity.
Results vary for different individuals.
There are no free samples available.
Overall Rating:4.8/ 5
About the Brand
The manufacturer of 1MD CholestMD is a well-known company called 1MD Nutrition, located in Sherman Oaks, California. They began in 2015 as an organization that makes top-level medical supplements designed by a group of dedicated doctors. Their mission is to help others live longer, healthier lives.
1MD CholestMD- Key Facts
Benefits
Help Maintain Healthy Cholesterol Levels,Supports healthy blood circulation,
Ingredients
Niacin (as Niacinamide and Niacin),Bergavit® Bergamot Orange Fruit Extract, Olive Leaf 40%
Price
$45.99/bottle
Discounts
Up to 16% Off
Company
1MD
What are the Ingredients in 1MD CholestMD?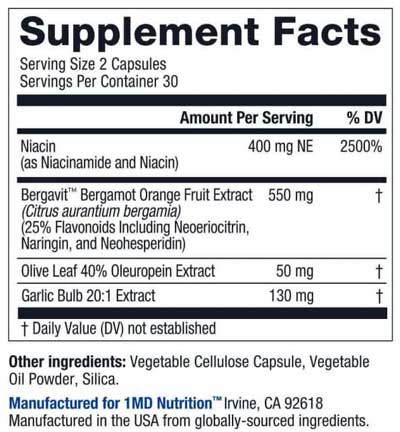 Here are some of the primary active ingredients in 1MD CholestMD:
Niacin
This is a type of Vitamin B3 which is found in a number of foods like red meat, chicken, and nuts. It's also inside the body naturally, and it has the role of converting nutrients into energy. It can lower LDL cholesterol and has been used for this purpose since the 1950s.
It also lowers triglycerides, prevents heart disease, and elevates cognitive functioning. In addition, it has powerful antioxidant effects and can heal the body and strengthen the immune system. It also builds and repairs DNA.
A review in the Archives of Internal Medicine examined new perspectives on the use of niacin in the treatment of lipid disorders.
Garlic Bulb
Garlic can both reduce cholesterol levels and decrease cardiovascular disease risk, and it may also lower blood pressure. It's also high in antioxidants which support a healthy immune system and longevity, and it can enhance bone health.
Garlic contains Vitamin C, manganese, selenium, and fiber. It may have significant antibiotic properties and could help prevent some illnesses like colds and flus. There's some evidence it could reduce the risk of developing cancer.
A study in the International Journal of Preventative Medicine found that a mix of garlic and lemon juice significantly decreased cholesterol levels.
Bergamot Orange Fruit Extract
This is a tropical fruit which can reduce both HDL and LDL cholesterol, as well as triglycerides according to Integrative Food, Nutrition, and Metabolism.
In addition, it reduced cardiovascular disease markers. This fruit contains a lot of antioxidants called polyphenols which help healing in the body and strengthen the immune system. It's also high in both Vitamins A and C and promotes eye health. It may help in reducing pain and inflammation, and it has stress and fatigue-reduction benefits. Bergamot is enriching for the skin and can heal acne.
How Does 1MD CholestMD Work?
A few of the ingredients in this supplement support healthy blood lipid levels. This leads to better arterial blood flow and improved cardiovascular health. In addition, it naturally causes lower cholesterol and triglyceride levels.
Other ingredients enhance vascular function. An article by the American Heart Association discussed the connection between cholesterol and cardiovascular risk. In addition, Harvard Health Publishing talked about the benefits and drawbacks of cholesterol to the body.
Frequently Asked Questions (FAQs)
Q: Where Can I Buy 1MD CholestMD? How Much Does It Cost?
A: If you want to know where to buy 1MD CholestMD, you can purchase it on the manufacturer's official website, Amazon, and several other online retailers.
For free shipping, use the code SHIP1MD at the checkout. In addition, be sure to check the Sale section of their website for great deals. The prices on the official site are as follows:
One-Time Purchase
1 Bottle – $54.99
3 Bottles – $49.99
6 Bottles – $44.99
Subscription
1 Bottle – $45.99
3 Bottles – $40.99
6 Bottles – $35.99
Q: How Do I Take 1MD CholestMD?
A: The recommended dosage is 2 capsules per day. Don't consume more than the suggested amount under any circumstances.
Q: Is 1MD CholestMD Legitimate?
A: Yes, 1MD CholestMD is most certainly a legitimate product. A well-known, doctor-run company makes this supplement, and they produce quality organic products for a variety of medical issues.
The reviews for 1MD CholestMD were highly positive, and they demonstrate that this is a real supplement. In addition, I myself have been taking it for 3 months already and I have seen a significant decrease in my cholesterol levels and an overall sense of health and well-being.
Q: What is the Return Policy or Guarantee?
A: This manufacturer has a 90-day return policy. If you're not happy with the product you have bought, contact customer service or write a note with the return package. Send the product back within 90 days of the day you bought it. You should get a full refund, minus the shipping and handling costs.
Q: Is 1MD CholestMD Safe?
A: 1MD CholestMD is a very safe supplement composed of completely organic ingredients, and there are no harmful chemical or artificial substances included. The manufacturing process follows strict safety guidelines, and this product does not have any side effects. The company assured me of these facts when I called them personally to discuss the product.
Q: How Does 1MD CholestMD Compare to Similar Supplements?
A: Generally speaking, there is some overlap in ingredients with other products. However, 1MD CholestMD is richer than many other brands on the market and it contains less in the way of inactive fillers and ingredients that aren't completely healthy. The price of this supplement is quite average for the market.
Q: Is 1MD CholestMD An Effective Product?
A: 1MD CholestMD seems like a highly effective product. It contains potent ingredients which can lower cholesterol and triglyceride levels, and it's also high in antioxidants which can heal and repair the body and make the immune system stronger. Most of the 1MD CholestMD reviews agreed that this was a good supplements, and their test results proved it.
Q: Who Should Take 1MD CholestMD?
A: 1MD CholestMD is suitable for people who have high cholesterol or triglycerides, or for those who want to make sure to keep their levels down. In addition, it's ideal for users who are looking for superior cardiovascular support. One RDN stated that this is the most effective natural remedy for getting cholesterol levels under control.
What Do the 1MD CholestMD Reviews Say?
Most of the 1MD CholestMD reviews were positive. Users said their test results were coming out with lower cholesterol and triglyceride levels and they felt much better. After reading through many reviews of this product, I selected my favorites which are as follows:
Better Than Taking a Statin

I started CholestMD about 6 months ago. They are easy to take. I just had blood tests done. My triglycerides went down from 236 to 105. My HDL stayed at 70. My LDL went from 139 to 130. I am very happy with this supplement. My triglycerides have never been that low. I highly recommend this product. Better than taking a statin! – Tanya D

Really Works

My doctor wanted to put me on Lipitor last year. I did a lot of research and found this supplement with very high recommendations and very good reviews. After a year of using it my LDL levels were reduced 20% my HDL levels went up 30% and my cholesterol to HDL ratio increased 28%. It is now well within range.Helen H

Impress Yourself and the Doctor

SHORT AND SWEET: Total cholesterol 2 months ago: 294 – total cholesterol 30 days ago: 226! That's right, ladies and gentlemen, the proof is in the lab results! I am overjoyed. – Patricia A.

Worked for Me

I took this for 2 months and my cholesterol dropped 49 points!!!!!!! I also stopped drinking soda and eliminated most sugar from my diet. This stuff is keeping me off statins so I will keep using it.Penny
Conclusion
1MD CholestMD is a supplement which promises to lower both HDL and LDL cholesterol levels as well as triglycerides. This product supports heart health, and it can balance out blood pressure levels. A respected company makes this supplement and uses high-quality ingredients backed by science.
The vast majority of the 1MD CholestMD reviews had great things to say about this supplement. When they got the results back from the doctor, many users found lower cholesterol and triglyceride levels as promised. This was a huge benefit to many customers. There were very few poor reviews of this product.
1MD CholestMD is a very safe product developed by a reputable manufacturer. You should not experience any 1MD CholestMD side effects from the product, and I can assure you that I have not in 3 months of taking the supplement. Personally, I highly recommend this supplement to anyone looking to lower cholesterol levels the natural way.
At Wellness Digest, our sourcing guidelines are strict and we only use primary references for our articles including peer-reviewed studies, academic research institutions, and medical associations. You can learn more about how we ensure our content is accurate and current by reading our editorial policy.
Rosenthal RL. Effectiveness of altering serum cholesterol levels without drugs. Proc (Bayl Univ Med Cent). 2000;13(4):351-355. doi:10.1080/08998280.2000.11927704
Anderson JW, Bush HM. Soy protein effects on serum lipoproteins: a quality assessment and meta-analysis of randomized, controlled studies. J Am Coll Nutr. 2011;30(2):79-91.
. Edel AL, Rodriguez-Leyva D, Maddaford TG, et al. Dietary flaxseed independently lowers circulating cholesterol and lowers it beyond the effects of cholesterol-lowering medications alone in patients with peripheral artery disease. J Nutr. 145(4):749-757.
Giolo JS, Costa JG, da Cunha-Junior JP, et al. The effects of isoflavone supplementation plus combined exercise on lipid levels, and inflammatory and oxidative stress markers in postmenopausal women. Nutrients. 2018;10(4):424.
Gordon RY, Cooperman T, Obermeyer W, et al. Marked variability of monacolin levels in commercial red yeast rice products: buyer beware! Arch Intern Med. 2010;170(19):1722-1727.
Onakpoya I, Spencer E, Heneghan C, et al. The effect of green tea on blood pressure and lipid profile: a systematic review and meta-analysis of randomized clinical trials. Nutr Metab Cardiovasc Dis. 2014;24(8):823-836.
Pan A, Yu D, Demark-Wahnefried W, et al. Meta-analysis of the effects of flaxseed interventions on blood lipids. Am J Clin Nutr. 2009;90(2):288-297.
Cholesterol management at a glance. National Center for Complementary and Integrative Health. https://www.nccih.nih.gov/health/cholesterol-management-at-a-glance Accessed Dec. 8, 2020.

9. Tangney CT, et al. Lipid management with diet or dietary supplements. https://www.uptodate.com/contents/search. Accessed Dec. 8, 2020.

10. Rosenson RS. Low density lipoprotein cholesterol lowering with drugs other than statins and PCSK9 inhibitors. https://www.uptodate.com/contents/search. Accessed Dec. 9, 2020.