What is CurcuminMD?
1MD Turmeric Curcumin is an all-natural supplement largely designed to support joint health by easing pain, swelling, and stiffness and improving flexibility and mobility.
However, it has other health benefits like supporting heart health, improving cognitive skills like focus and memory, elevating mood, and assisting with muscle recovery. This is a popular supplement which is highly potent, and many RDNs recommend it to their clients.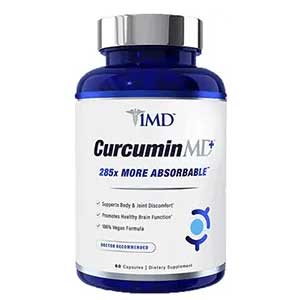 Highlights
It's highly bioavailable and up to 285 times more efficient than standard turmeric.
This formula is 100% vegan.
This is a physician-formulated supplement.
It's 100% natural with no harmful fillers or additives.
Key Ingredients
Boswellia Serrata Gum Resin
Optimized Curcumin
Benefits
1MD CurcuminMD can ease joint pain and discomfort.
It supports healthy brain function.
This product can promote heart health.
Curcumin MD1 may help with muscle recovery.
It can strengthen the immune system.
Cons
There are only 2 primary active ingredients.
The results will vary depending on the user.
Some customers don't like taking capsules.
Overall Rating:4.8/ 5
About the Brand
The manufacturer of Curcumin MD1 is a well-known company called 1MD Nutrition, founded in 2015. They have their headquarters in Sherman Oaks, California. This organization produces doctor-formulated natural supplements to support a number of health conditions like arthritis, digestion, and vision. These are safe products which include only quality organic ingredients.
Does Curcumin MD Work?
CurcuminMD is a natural product that includes 2 extremely powerful ingredients, packed with antioxidants which repair damage to the body and protect it from harm. They are also replete with anti-inflammatory agents that decrease swelling and can ease joint pain.
Researchers support the effectiveness of these ingredients for joint health and wellness. The product also strengthens the immune system. The manufacturer says the formula is 285 times more efficient than standard turmeric. It certainly works, and in my read through of the CurcuminMD reviews it was clear that users think the supplement is highly effective.
1MD CurcuminMD Plus – Key Facts
? Benefits
Formulated for joint health and more,Keep Your Life Running Smoothly
? Ingredients
Boswellia Serrata,Curcumin Turmeric Rhizome Extract
? Pricing
$36.99/bottle
✅ Discounts
Up to 18% Off
? Company
1MD
What are the Ingredients of CurcuminMD?
Here are the primary active ingredients in CurcuminMD:
Boswellia Serrata – This is a tree that originates in India, the Middle East, and North Africa, commonly used in Ayurvedic medicine. It's known for having powerful anti-inflammatory agents which can reduce pain and swelling, for example in the joints [1]. It's also highly effective at reducing swelling in the gut and may help treat inflammatory bowel disease. In addition, it may assist in treating asthma.
An article published in the Indian Journal of Pharmaceutical Sciences discussed the evidence on the effectiveness of Boswellia as an inflammatory agent. Boswellia Serrata also contains potent antioxidants which support a strong immune system. They can also repair and heal damage to the body, elevating overall health.
It can support brain health, as, according to an article in Der Pharmacia Lettre, and it may improve learning and memory. It increases the levels of key neurotransmitters like GABA, which lowers levels of stress and anxiety.
Curcumin Turmeric Rhizome Extract – Turmeric is a plant closely related to ginger. It been used for its medical properties for a long time and has been the subsect of scientific interest. It contains curcuminoids including curcumin, which are potent antioxidants that can heal and repair damage in the body [2].
According to an article in Foods, it can help with arthritis, inflammatory conditions, oxidative issues, metabolic syndrome, hyperlipidemia, and anxiety. In addition, it can support heart health and it has neuroprotective benefits. There's some evidence that it may have anti-cancer properties, as well as help improve cognitive decline in dementia patients.
A review in the International Journal of Cardiology confirmed the protective role of curcumin in cardiovascular diseases.
Is CurcuminMD Legit?
Yes, there is no doubt that CurcuminMD by 1MD is a legitimate brand. The manufacturer is well-respected, and if you go onto their website you'll see it's professional and filled with relevant information about the products and ingredients.
There are numerous CurcuminMD reviews that attest to the fact that this is a real supplement. In addition, I contacted the company personally to clear up some questions so I can assure you that they are legitimate.
Customer Questions and Answers
Q: How Long Does it Take for CurcuminMD to Work?
A: Although you may begin to feel some effects within a week, in fact it takes about 2-3 months to experience the full benefits.
Q: How Much is CurcuminMD and Where Can I Buy It?
A: The only place you can buy Curcumin MD by 1MD at the moment is on the manufacturers' official website. It's sometimes for sale on Amazon, but it's unavailable at the moment.
On the official website, you can make either a one-time purchase or buy a monthly subscription for a discount. You get free shipping if you buy 3 bottles or more, or if you use the code SHIP1MD at checkout. There are always good deals in the Sale section of the website. Here are the prices from the official site:
One Time Purchase
1 Bottle – $44.99
3 Bottles – $38.99
6 Bottles – $33.99
Subscription
1 Bottle – $36.99
3 Bottles – $31.99
6 Bottles – $26.99
Q: What is the Refund Policy or Guarantee?
A: This manufacturer is offering a very generous 90-day money back guarantee. If you're not happy with the product, contact the company or write a note on the return parcel and send it back within 90 days of the purchase date. You'll get a full refund.
Q: Who is the Best Customer for CurcuminMD?
A: CurcuminMD is ideal for someone who is suffering from a joint condition like arthritis. It should quickly ease the pain and swelling and give you more mobility.
However, this is also an overall healthy product which can help people who want to enhance their mood, support heart and brain health, or improve muscle recovery.
Q: How Should You Take CurcuminMD?
A: The recommended dosage is one capsule, twice a day. Do not take more than this amount for any reason as it could be harmful.
Q: Is CurcuminMD a Safe Product?
A: Yes, CurcuminMD is a very safe product. This is a physician-formulated supplement which includes high-level, clinically-tested ingredients. In addition, it does not cause any harmful side effects. They make the product in an FDA-approved facility under strict safety guidelines.
What Do the CurcuminMD Reviews Say?
There are numerous Curcumin MD reviews online, and they all had very good things to say about this product. In particular those with joint issues said their symptoms eased considerably, and other mentioned an increase in mood and other health benefits.
As I read through the customer feedback, I found that few users mentioned anything negative about the product, and there was no word about users having side effects. I picked out some of the best customer reviews so you can get an idea of what people are saying about 1MD Curcumin MD.
This Product Works!

After three weeks of using this product, I can tell a positive difference in my joint mobility all over my body, and in particular, a decreased level of pain in my shoulder joint/girdle where I had an injury and subsequent "frozen shoulder." Even the joints in my hands and fingers are more limber and less stiff. – Mareshu

Very Helpful for my Joint Pain

I have been using 1MD CurcuminMD Plus for a little while now and I find it to be quite effective. I was using a different brand that I found had a lot of fillers that 1MD doesn't have. 1MD also has Boswellia which has been helping my joints- I work out regularly and I have knee and wrist pain. The combination of Curcumin and Boswellia in this formula is making a big difference for me.Jackie

Good Product

This company seems to have good products and they stand behind them. I contacted them because I wanted to make certain it had turmeric in it, and they were detailed in the response and answered my concerns. It just doesn't say "turmeric" on the label, but she explained that it is a turmeric/curcumin combo. I have used another of their products and was also very satisfied. Gloria S.
The Final Word
CurcuminMD is a very high-level doctor-made supplement which supports overall health and wellness and makes the immune system stronger. It has medical benefits like improving heart heath, easing joint pain, helping muscle recovery, and enhancing memory and focus. It's a high quality supplement which is reasonably priced.
According to the vast majority of the CurcuminMD reviews, this is a highly effective supplement which helps ease joint symptoms, sharpen cognition, and elevate mood. It also promotes an overall feeling of health and wellness. Most of the reviews for this product were positive. This is a safe, quality product which should not cause you any harmful side effects.