Healthy eyes are essential for seeing and interacting with the colorful world around you. Without good sight, life becomes dull and challenging.
Some common eye problems include cataracts, glaucoma, macular degeneration, and retinopathy caused by diabetes. Eye problems could be due to genetics, toxic environmental threats, excess exposure to light, disease-related, and age-related issues. Some of these problems can be detected and solved early, and some are permanent situations.
Whatever the case, taking care of your vision is vital, and you don't have to wait for the problems mentioned above to take action.
There are simple ways to take care of your sight, such as eating well, exercising, having regular eye check-ups, and incorporating supplements into your diet. You can start with Vision MD, one of the market's most highly rated vision support dietary supplements.
What is Vision MD Supplement?
Vision MD is a dietary supplement that contains vital high-value ingredients that support your eye health and enhance your vision. It's a blend of clinically approved, trademarked, and biotically sourced ingredients full of carotenoids that fight oxidative stress and promote clear vision.
The supplement has been extensively researched and inspired by two kinds of research: Carotenoids in Age-Related Maculopathy Italian Study (CARMIS) and Age-Related Eye Disease Study 2 (AREDS2). 1MD Nutrition used the findings to produce the excellent Vision MD formula.
Benefits of Vision MD:
It provides blue light eye support by countering its harmful effects. Blue light has the shortest and the highest wavelengths. Continuous exposure to blue light can lead to retina damage and permanent eye damage. It's also one of the culprits that negatively affect your sleeping pattern.
It promotes practical eye function, visual acuity, and processing speed and maintains eye contrast sensitivity.
It helps reduce oxidative stress, eye strain, fatigue, and light glare that hurts the eyes and gradually diminishes visual functionality.
It helps decrease haziness, blurriness, and double vision due to aging.
The supplement can therefore be used by anyone facing poor vision, blurry vision, or looking out to prevent further deterioration of their sight. You can also use it if you're at risk of developing eyesight problems, but you want to ensure you get a fighting chance.
How Does It Rate?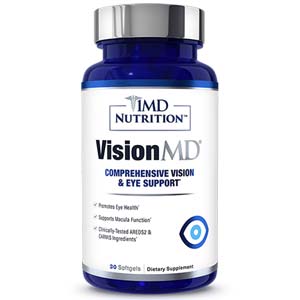 Brand Highlights
Manufactured in the USA.
Manufactured in an FDA-regulated facility
Ingredients are clinically researched
Key Features
Lyc-O-Mato
EvTene (Plam Oil Extract)
XanMax
Tocopherols
Astaxanthin
Lycopene
Lutein
Zeaxanthin
Benefits
Supports vision
Reduces the risk of age-related macular degeneration
Contain carotenoids antioxidants
Cons
Results may vary from individual to individual
Available in soft gel form only
Overall Rating:4.8/ 5
Product Specs
Benefits
It supports the eyes and enhances good vision
Ingredients

Lyc-O-Mato
EvTene (Plam Oil Extract)
XanMax
Tocopherols
Astaxanthin
Lycopene
Lutein
Zeaxanthin

Price

Six bottles go for $34.99 each every six months
3 Bottles go for $36.99 each every three months
1 Bottle goes for $39.99 every month

Company
1 MD Nutrition
About The Brand
Vision MD is a product of 1MD Nutrition, a brand dedicated to providing quality, superior health products that help people live healthier and longer lives. The brand works with a team of doctors to bring you the best scientifically and clinically researched formulas to revolutionize your health.
1MD Nutrition is a USA-based brand, and all its products are manufactured in the States in an FDA-regulated facility. Their products also comply with Good Manufacturing Practices (GMP) and are NSF-certified.
What Are The Key Ingredients
Lyc-O-Mato
It is a trademarked tomato fruit extract. It contains lycopene and bioavailable phytonutrients like carotenoids, tocopherols, and phytosterols that are highly beneficial to the body as they have several health benefits.
EvTene
It is derived from palm oil. It has the most prominent plant source of carotenes based on retinol. The extract is efficient in reducing the risk of developing age-related vision difficulties.
XanMax
It's a Marigold flower extract. It has healthy levels of lutein and zeaxanthin. It also has properties that are beneficial to the eyes. It's effective in promoting long-term eyesight and supporting eyes well-being.
Tocopherols
Tocopherols contain antioxidants that fight off free radicals and help minimize oxidative stress. It is also essential in reducing the risk of age-related problems concerning eyesight.
Astaxanthin
It's known for its potency in antioxidant properties and is effective in helping the eyes in their ability to focus on items within proximity.
Lutein
It has properties that help enhance vision and reduce the risk of macular degeneration caused by aging. It's highly located in the retina area and is responsible for creating visual images for you to see.
Zeaxanthin
It has antioxidants that help reduce the risk of oxidative stress to eye cells. It also helps enhance eye sharpness as well.
What is The Science of Vision MD?
Vision MD is a dietary supplement designed to support and improve eye health. The formula's foundation is based on two studies that inspired its formulation. 1MD Nutrition improved the ingredients and dosage to increase the formula's effectiveness. Vision MD is packed with vitamins and phytonutrients with a high potency of antioxidants and carotenoids essential for eye function support.
The supplement also contains ingredients suitable for reducing the risk of macular degeneration due to aging. It can also help improve deteriorating eyesight. It has a potent supply of beta carotene, which boosts eyes functions and keeps the eye cells healthy.
Frequently Asked Questions
Q: Where Can You Buy Vision MD? At How Much?
A: You can buy Vision MD from the official online store, where you can enjoy incredible discounts.
Below are discounted prices from the official online store:

Six bottles go for $34.99 each every six months
3 Bottles go for $36.99 each every three months
1 Bottle goes for $39.99 every month
Q: Who Should Take Vision MD?
A: It can be used by anyone experiencing eye problems or who wants to support and enhance their vision.
Q: How Do You Take Vision MD Supplement?
A: You take one soft gel daily with a full glass of water.
Q: Does Vision MD Have Any Side Effects?
A: There have been no reported adverse side effects concerning Vision MD. The manufacturer also ensured that it doesn't contain additives, it is shellfish-free, dairy-free, wheat-free, peanut-free, and has no GMOs.
Q: Is Vision MD Safe?
A: Yes, it is safe. The product has been clinically developed and tested to be safe for human consumption.
Q: Does Vision MD Work?
A: Yes, it does. You can confirm that by checking out the feedback provided by other consumers. However, please note that results may vary from individual to individual, so give yourself some time and use the product for a while to see desired changes.
Q: How is VisionMD different from other eye health supplements?
A: VisionMD draws its inspiration from the two studies, CARMIS and AREDS2 study. The clinical dosages used have been improved to guarantee effectiveness.
Q: Why do I need protection from blue light?
A: Blue light may irritate light-sensitive cells and also negatively affects your sleep.
---
What Do The Reviewers Think of Supplement?
Vision MD got a warm welcome in the market, and most customers have been repurchasing the product after seeing the results.
I'll highlight some feedback and reviews for you to have a look at:
Bought these for my mother but tried one myself. It doesn't taste great, but I saw a positive change with just one dosage! I would recommend.


– Anna

I've been taking the supplements for a few months now, and when I went for my regular eye check, the doctor informed me that my vision had improved. I'll keep taking the supplement and see what the will be the long term results


– SamKim

I started taking the product a while back before my driving test. I went for the test and passed! I am impressed. So grateful for the product.


– Kelly
Conclusion
It doesn't matter how healthy or wealthy you're. We all need our vision to take in the world with all its color. However, that can't be achieved if we don't prioritize our eye care. We must be intentional in maintaining healthy eyecare habits so that our vision stands the test of time and serves us longer.
The world today is seeing more people suffering from loss of vision daily. The foods we eat and the lifestyles we live aren't a good combination for eye health. We also have increased screen time as a culprit for poor vision because most of us work solely from laptops, tablets, and phones.
Hence, the time is now for us to take action for our well-being. You don't have to spend much money later on in life for vision problems that you could manage and even eliminate today with the right tools.
Vision MD offers you the support you want for your eye health. Incorporate that into your diet, keep eating a balanced diet, take your water, and exercise regularly, and your future self will be glad you invested in your vision.
At Wellness Digest, our sourcing guidelines are strict and we only use primary references for our articles including peer-reviewed studies, academic research institutions, and medical associations. You can learn more about how we ensure our content is accurate and current by reading our editorial policy.