What is Advanced Restorative Probiotic?
Advanced Restorative Probiotic is a dietary supplement aimed at boosting the digestive function. It contains 30 strains and 30 billion CFU of probiotics that helps prime the digestive system. This is a high-quality brand which the RDNs on our team strongly recommend.
In precise, it is a natural blend of supplements that are all designed to work together to positively impact the digestive health and help ease digestive discomforts. Furthermore, this probiotic helps restore the body's enzymatic balance.
The rich presence of beneficial bacteria in this formula also helps with food allergy protection, lowered blood pressure, healthy and radiant skin and lowered risk of fatty liver disease. My review of this product and its details left me very impressed with it on the whole.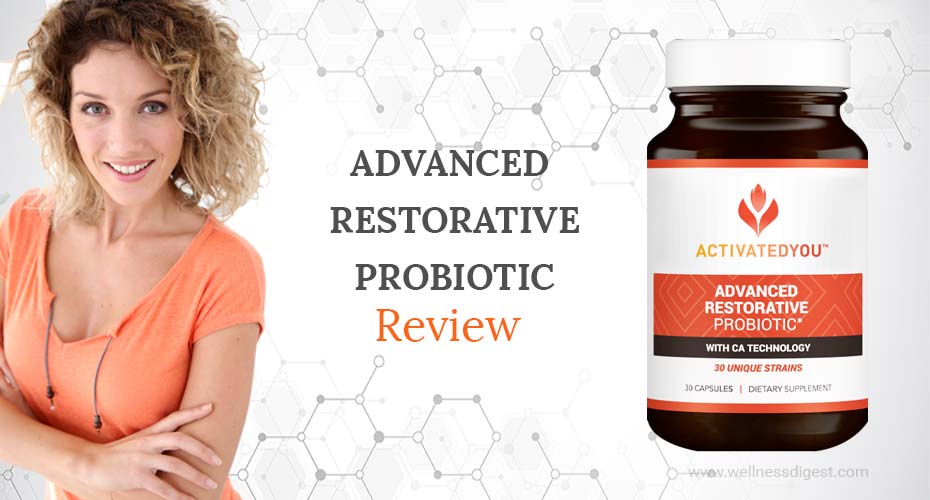 Overview of Advanced Restorative Probiotic
Highlights
The manufacturing takes place in the USA.
The brand uses 100% organically-sourced ingredients.
They use 30 unique probiotic strains.
There are no harmful additives.
Active Ingredients
Lactobacillus Acidophilus
Lactobacillus Bulgaricus
Lactobacillus Reuteri
Bifidobacterium Infantis
Lactobacillus Fermentum
Lactobacillus Rhamnoses
Bifidobacterium Longum
Bifidobacterium Breve
Pros
It helps improve digestion and nutrition absorption.
The product enhances immunity.
It supports mental and heart health.
It helps improve strength and energy levels.
It's free of side effects.
Cons
As a proprietary blend, we don't know the amounts of each strain.
Individual results will vary.
You can only buy this supplement online.
Overall Rating:4.8/ 5
ActivatedYou Advanced Restorative Probiotic – Key Facts
| | |
| --- | --- |
| Benefits | Improve overall digestive health,improved mood energy levels,support immune function/td> |
| Ingredients | Lactobacillus Acidophilus,Lactobacillus Bulgaricus,Lactobacillus Reuteri,and more |
| Price | $69.99/bottle |
| Discounts | Up to 15% Off |
| Company | ActivatedYou |
About the Brand
The creator of Advanced Restorative Probiotic is ActivatedYou, a dietary supplement company located in the U.S.A. They combine modern science and Eastern tradition to formulate their blends.
ActivatedYou became an accredited member of the Better Business Bureau in February 2019, and still is to date. The company currently has an A+ rating. Other bestsellers by this company include:
Adrenal Life
Active Enzyme
Mito Vitality
Bone Rich Plus
---
What are the Ingredients in Advanced Restorative Probiotic?
Lactobacillus Acidophilus
This ingredient is a key pharmabiotic that is usually used to treat digestive disorders. It is considered a pharmabiotic because it is a biological entity extracted from microbiota and has therapeutic benefits.
It's a probiotic which lives in the intestines, killing bad microbes, promoting a healthy microbiome, and improving overall digestive health. It can also help balance the vaginal flora and prevent yeast infections.
According to a study in the Therapeutic Advances in Gastroenterology journal, Lactobacillus acidophilus has antimicrobial, pathogen inhibiting, neurotransmitter producing, and immunomodulating effects. Since this probiotic is free from living organisms, it is safe and effective in the treatment of acute and chronic diarrhea.
Lactobacillus Bulgaricus
This ingredient is categorized under probiotic bacteria. It is commonly found in fermented milk products such as yogurt.
It balances the gut microbiome, killing bad bacteria and promoting healthy bowel movements. It can decrease symptoms like bloating, diarrhea, and gas. The strain may be effective in treating inflammatory bowel disease.
A study by the National Health Interview Survey established that that 1.6% of American adults have used probiotics or prebiotics. In addition to the popularity of probiotics, they are considered effective. Lactobacillus bulgaricus probiotic, for instance, is effective in the management of common cold, diarrhea, eczema, inflammatory bowel disease, and liver disease.
Lactobacillus Reuteri
This ingredient is another species of the genus Lactobacillus, and it's one of the world's most studied probiotic strains. Similar to other species, Lactobacillus reuteri is effective in the treatment of conditions such as periodontal disease.
It's a commonly used probiotic which promotes digestive health and helps ease uncomfortable symptoms like bloating and constipation. Through its antibacterial ability, it can prevent vaginal colonization by bacteria such as Streptococcus agalactiae that causes postpartum infection.
In a research study by the Journal of Clinical Pathology shares that Lactobacillus reuteri was found to be effective in the treatment of vaginal diseases caused by pathogenic bacterial propagation.
Lactobacillus Fermentum
This Lactobacillus probiotic exists in the mouth, gut, and vagina. It's a strong strain which is somewhat more likely to survive than some of the others. It causes fermentation and is abundant in natural whey cultures. It offers numerous health benefits such as boosting immunity and lowering cholesterol levels.
In a series of research by the American Journal of Cancer Research, Lactobacillus fermentum was considered effective in the improvement of digestive health.
This action in turn is effective in reducing the risk of colorectal cancer. Moreover, this probiotic regulates the gut microbial community thus alleviating colon cancer progression. The strain can also help promote a healthy vaginal microbiota and prevent yeast infections and UTIs.
Bifidobacterium Infantis
This probiotic is categorized under the genus Bifidobacterium which are important microbes that colonize the human gastrointestinal tract. However, it is a lactic acid bacteria which is closer to the Lactobacillus strain.
It exists both in the mouth and the gut, and it can promote healthy digestion and bowel movements. You can get it from certain foods, like cheese, salami, olives, and some yogurts.
According to studies in the Frontiers in Microbiology, these microbes have several positive benefits to their human host.
One study in particular elaborated that Bifidobacterium infantis was successful in the treatment of diarrhea in infants due to the probiotic's ability to inhibit the rotavirus responsible for it.
What is the Science of Advanced Restorative Probiotic?
Advanced Restorative Probiotic is a supplement for digestive tract with healthy bacteria that improve digestion and nutrient absorption. Following the actions of these bacterial, users get to experience better digestion after every meal.
Additionally, consuming this supplement reduces gassiness, bloating, and flatulence. With better digestion and nutrition absorption, the body is able to amass lots of other benefits that contribute to general wellbeing.
Frequently Ask Question (FAQs)
Q: Where Can You Buy Advanced Restorative Probiotic? How Much Does it Cost?
A: You can buy this probiotic directly from the brand's official website. They offer a VIP program where you can get great savings if you sign up. The prices for a one-time purchase on the official site are:
1 bottle – $69.99
3 bottles – $188.97
6 bottles – $356.95
Q: How Do You Take Advanced Restorative Probiotic?
A: According to the dosage provided by the manufacturer, a user should take 1 capsule daily with a full glass of water and a meal. The recommended dose should not be exceeded for whatever reason.
Q: What is the Refund Policy for Advanced Restorative Probiotic?
A: ActivatedYou, the company behind this product, provides a 90-day money-back guarantee. A user can return the probiotics either used or unused and will still get their refund as per the manufacturer.
 
Compared to other products I have looked at; this is an incredibly fair policy which allows you plenty of time to try out the product first.
Q: Does Advanced Restorative Probiotic Have Any Side Effects?
A: Since this probiotic is all-natural, it is also free from any serious side effects. If you have a health condition, you should consult your doctor before taking this supplement, nevertheless.
Q: How Does Advanced Restorative Probiotic Compare to Other Similar Products?
A: Similar to most probiotics, Advanced Restorative Probiotic has been formulated with 30 different strains of probiotic some of which are effective colon cleanse supplements. These ingredients have scientific backing that confirms their effectiveness in improving digestion and easing stomach discomforts.
Q: How Long Will It Take to See Results With Advanced Restorative Probiotic?
A: Individuals have different responses to supplements. While some may experience instant results, some users may have to use product for a while in order to realize any benefits.
Q: Is Advanced Restorative Probiotic Worth It?
A: Yes. Going by the 4.4-star rating by 382 customers on some online platforms, the unique blend of ingredients it uses and the principle of working, it is safe to say that this probiotic is worth trying.
Q: Is Advanced Restorative Probiotic Safe?
A: Advanced Restorative Probiotic is formulated with all-natural components thus may cause no side effects. For users with serious health conditions, it is wise to consult your health care provider before using this probiotic.
Q: Does Advanced Restorative Probiotic Work?
A: Yes, this product works as most of the ingredients have scientific support. Most users also agree that it works.
What Do the Reviewers Think of Advanced Restorative Probiotic?
Advanced Restorative Probiotic is a relatively new product on the market. However, it has high consumer rating. Most users were satisfied that the probiotic relieved their bloating and other stomach discomforts.
These reviewers also appreciated the fact that they only had to take 1 pill a day. I've read through hundreds of customer comments for this product, and I wanted to give you a couple of my favorites:
Great Product That Actually Works

Great product so far. I've only been taking it for a week and a half, but I'm already noticing a difference. I'm not as bloated after I eat, and my daily output is more regular. The taste is good, so I don't gag drinking it down. Can't wait to see the results after a month. I'm very hopeful. – Melissa D.

Advanced Restorative

Only a week into taking this and I have already noticed an improvement in my overall mood and energy. It's been over a year of taking it and the rewards it gives you are priceless. –Michael

100% More Active

My boyfriend bought this for me, and I was a little sceptical at first. But I tried it and I took it every single morning at the same time. It took about a month to start feeling the results, but they were absolutely outstanding! I felt like a totally different person, I don't yawn through the day, I'm not tired, and I have a lot of energy. It's great tasting and I now I look forward to my day. I love it!! Thanks. –Shauna T

Advanced Restorative Probiotic is Great

So far, Advanced Restorative Probiotic has been working well for me. I have had no adverse effects and I feel great while taking it so far these past few weeks. Loving it. –Macon J
Conclusion
Overall wellbeing starts from the inside. What you consume on a daily basis determines how you will feel. Any RDN will tell you that the key to living a healthy life is to eat healthy foods and engage in regular exercise.
Probiotic supplements can enhance your general wellbeing as they pack the digestive tract with healthy bacteria which improves digestion and absorption. Advanced Restorative Probiotic is one such product that promises to promote gut health and overall health.
This product is a creation of ActivatedYou, an American based company that formulates supplements to support digestive health, immunity health, skin health, adrenal health, and mood enhancement. ActivatedYou is an accredited member of the BBB with an A+ rating which makes it a legit brand.
Advanced Restorative Probiotic is suitable for any user whose intent is to improve his/her gut health. It also eases stomach discomforts such as bloating and constipation. Since the supplement has been formulated using natural ingredients, most users can use it without worrying about side effects. My overall impression is that this is a high quality product which has a lot of support from customers. I have no trouble recommending it.
At Wellness Digest, our sourcing guidelines are strict and we only use primary references for our articles including peer-reviewed studies, academic research institutions, and medical associations. You can learn more about how we ensure our content is accurate and current by reading our editorial policy.
[1] Catherine Stanton, Daniel M. Linares, Paul Ross. Food Biosciences Department, Teagasc Food Research Center, Moorepark, Femoy, Cork, Ireland. Bioengineered. 2016. "Beneficial microbes: the pharmacy in the gut" PMID: 26709457. https://www.ncbi.nlm.nih.gov/pmc/articles/PMC4878258/
[2] Jose Maria Remes, et al. Therapeutic Advances in Gastroenterology. 2020. "Lactobacillus acidophilus LB: a useful pharmabiotic for the treatment of digestive disorders" PMID: 33281937. https://www.ncbi.nlm.nih.gov/pmc/articles/PMC7692339/
[3] National Center for Complementary and Integrative Health. NIH. "Probiotics: what you need to know https://www.nccih.nih.gov/health/probiotics-what-you-need-to-know
[4] Alessandro Di Cerbo, Beniamino Palmieri, Julio Cesar Morales-Medina, Maria Aponte, and Tommaso Iannitti. J Clin Pathol. 2016. "Mechanisms and therapeutic effectiveness of lactobacilli" PMID: 26578541. https://www.ncbi.nlm.nih.gov/pmc/articles/PMC4789713/
[5] Min-Hsiung Pan, Pin-Yu Ho, Shiuan-Huei Wu, Wei-Jen Chen, and Ya-Chun Chou. Am J Cancer Res. 2020. "Lactobacillus fermentum V3 ameliorates colitis-associated tumorigenesis by modulating the gut microbiome" PMID: 32368393. https://www.ncbi.nlm.nih.gov/pmc/articles/PMC7191089/
[6] Amy O'Callaghan and Douwe van Sinderen. Front Microbiol. 2016. "Bifidobacteria and their role as members of the human gut microbiota" PMID: 27379055. https://www.ncbi.nlm.nih.gov/pmc/articles/PMC4908950/
[7] Yuxuan Wang, et al. Front Microbiol. 2020. "Probiotic supplements: hope or hype?" PMID: 32184760. https://www.ncbi.nlm.nih.gov/pmc/articles/PMC7058552/