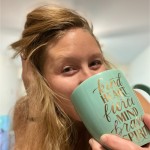 Registered Dietitian
Jaime (Raden) Buffie MS, RDN
Highlights
Jaime Buffie is a Registered Dietitian in Prior Lake, MN. She enjoys the luxury of staying at home with her kids while also empowering others to reach their health goals by making healthy lifestyle changes in different dimensions of wellness using simple strategies.
Master of Science in Nutrition (emphasis on Research Processes and Applications) from Case Western Reserve University in 2014
Practicing Dietitian since 2015 with 5 years in the Veterans Affairs (V.A.) Healthcare System
Currently enjoys staying at home with her kids
Experience & Education
Meet Jaime! Since a young age, Jaime has enjoyed teaching others, from tutoring fourth graders in reading and writing to running youth soccer camps to teaching college students about health and wellness. Jaime has been a practicing Dietitian since 2015 and has received recognition throughout her years as a Dietitian and a preceptor from employers, interns, and internship programs. She loves to exercise, get outdoors with her family when the weather is nice, and she enjoys cooking (and eating too)!
Jaime's hobby of continuously learning and teaching about nutrition, health, and wellness turned into a passionate career. She completed her Bachelor of Science in Dietetics from North Dakota State University in 2012 and dove into an intense combined dietetic internship through the Louis Stokes Cleveland V.A. A few months after Jaime completed her internship, she earned her Master of Science in Nutrition and graduated Summa Cum Laude from Case Western Reserve University in 2014.
Jaime began her career as a Dietitian at the St. Cloud, Minnesota V.A. and later transferred to the Orlando V.A. in Florida. Jaime thrived in several healthcare settings at the Orlando V.A. and even helped to create her last position as the outpatient Oncology Dietitian prior to moving back to Minnesota to be near family and raise her kids at home.
A Tid Bit From Jaime
Educate Yourself
Too often social media only portrays bits and pieces of the truth behind nutrition and health-related topics such as research, diets, supplements, etc. It matters where you get your information from. So before jumping into anything, ask questions, use the internet at your fingertips to access legitimate and trusted sources, and find people who are educated and certified to be providing the type of advice you're looking for. You will only help yourself by digging in!
Live Well & Be Well
We sometimes get "lost" in our daily lives and forget to take care of our "whole" self throughout the week. There are 8 dimensions of wellness! We all prioritize, but neglecting any one of them may negatively affect you and/or others around you without you even noticing until it smacks you right in the face. I dare you to be a new you and strive to create your own balance of wellness!
---
Introduction To Our Review Process
We at Wellness Digest Media are dedicated to offering simple, credible, and evidence-based health and wellness information to everyone. Our articles are fact-checked to ensure the clinical correctness of our content, photos, products, and services in order to be the most trusted source of information. Members of the
Wellness Digest Nutritional Team & Licensed Dietitians
are responsible for providing trustworthy, unbiased, and accurate information.
Learn more about how we work
.
---
Editorial Guidelines for Wellness Digest
It's simple to find health and wellness information. It's all over the place. However, finding reliable, relevant, and useable information, on the other hand, can be complicated and even overwhelming. All of that is about to change, thanks to
Wellness Digest
. We're making health information more accessible and intelligible so you can make the best decisions for yourself and others you care about.
Learn more about our process
.