What is SkinCeuticals?
SkinCeuticals is a brand that creates skincare products designed to help maintain and improve your skin health.
A good skincare regime should have the following fundamental elements; correction, prevention, and protection, which is what this line promises.
According to the dermatologists and skin care experts on our team, this is a top skincare brand with enriching benefits for the complexion.
Also, the line has products like the SkinCeuticals C E Ferulic, SkinCeuticals Retinol, SkinCeuticals Discoloration Defense, SkinCeuticals Resveratrol B E, LHA Cleansing Gel, and others which contain unique ingredients that are all backed by scientific research.
Having used several of the products myself, in my opinion this is a high-quality brand which offers rejuvenating skin care properties.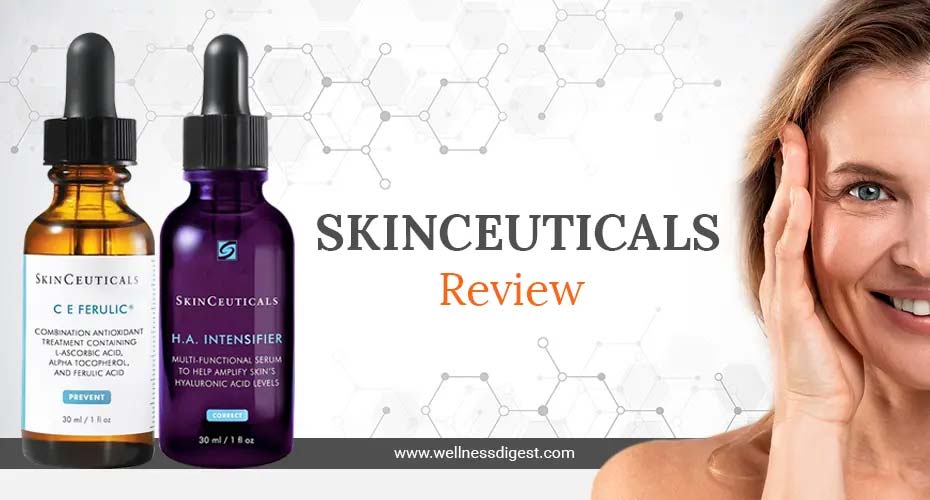 About the Brand
The manufacturer of these skincare products is SkinCeuticals, a company in the United States. The firm specializes in the manufacturing of skincare products that help correct previous skin damage, prevent signs of aging, and improve overall skin health.
Dr. Sheldon Pinnell is the founder, and he works with other professionals to develop products that help improve skin health and appearance. This company formed in 1992.

Highlights
SkinCeuticals has products for all skin types.
The brand has tremendous scientific support.
The ingredients are all naturally-sourced.
SkinCeuticals is one of the top skincare brands on the market.
Active Ingredients
Retinol
Vitamin C
Hyaluronic Acid
Ascorbic Acid
Alpha Tocopherol
Ferulic Acid
B Vitamins
Ceramides
Fatty Acids
Purple Rice Extract
Licorice Root Extract
Proxylane
Natural Cholesterol
Pros
The brand can decrease the appearance of wrinkles and fine lines.
SkinCeuticals products can even out the skin tone.
SkinCeuticals can improve skin hydration.
Consistent application of the products can enhance overall skin health.
They improve skin texture and make the skin feel smooth.
Cons
Since every individual is unique, the results are likely to vary.
The products are popular and may run low stock at times.
Some products have a scent, which not every user will enjoy.
Overall Rating: 4.8/ 5
Best SkinCeuticals Products
Here are some of the top SkinCeuticals products:
The SkinCeuticals Triple Lipid Restore is an anti-aging facial cream. It is proven to replenish cellular lipids, correct the signs of aging and nourish dry skin.
The product contains ingredients that are easily absorbed by the skin. They help improve the appearance of the pore, even out the skin tone, and make the skin look fuller.
How to use
Put a small amount of the cream on the fingertips, and in circular motions warm, and melt it. Apply on the face, chest, and neck one or two times a day. In the morning, you can use it after applying SkinCeuticals vitamin c serum and before applying your sunscreen. At night, apply Triple Lipid Restore after the retinol serum.
Price: $130.00
Ingredients: 2% Pure Ceramides 1 & 3, 4% Natural Cholesterol, 2% Fatty Acids, Essential oil blend
---
2. C E Ferulic with 15% L-Ascorbic Acid
The SkinCeuticals C E Ferulic is a vitamin c face serum that enhances the appearance of wrinkles and fine lines, brightens skin's complexion, and improves skin firmness.
The product has anti-aging benefits, and it neutralizes radicals on the skin to prevent damages from the ozone layer. The ingredients in the product work together to delay atmospheric aging.
How to use
After cleansing and toning your face in the morning, apply 4-5 drops of the serum on the face, neck, and chest. Do this before using any other anti-aging product. Finish your regime with SkinCeuticals sunscreen to protect your skin from atmospheric aging.
Price: $166.00
Ingredients: 15% L-ascorbic acid, 1% alpha tocopherol, 0.5% ferulic acid.
---
3. Hyaluronic Acid Intensifier (H.A)
The SkinCeuticals Hyaluronic Acid Intensifier is a corrective facial serum that helps improve the hyaluronic acid levels of the skin.
The product contains active ingredients which help boost skin hydration, improve the appearance of fine lines, enhance plumpness, firmness, and smoothness. Extra hydration on your skin also improves its texture.
How to use
Apply 4-6 drops of the serum onto your palm and dab it on your face and neck. Ensure the serum blends well into the skin. Whenever you use the product in the morning, apply it after the SkinCeuticals vitamin c serum and before SkinCeuticals sunscreen. If you are using it at night, apply after your retinol serum.
Price: $102.00
Ingredients: 10% Proxylane, 2.0% Licorice Root Extract (dipotassium glycyrrhizate) + 0.2% Purple Rice Extract, 1.3% Hyaluronic Acid
---
4. Hydrating B5 Gel
The SkinCeuticals Hydrating B5 Gel is an oil-free facial serum that replenishes skin moisture and improves skin radiance to achieve a smoother complexion.
The product leaves the skin feeling fuller and smooth.
You can use the serum as your daily moisturizer to help keep your skin hydrated without clogging your pores.
How to use
Apply 2-3 drops of the serum to your face, neck, and chest using your fingertips. Avoid contact with the eyes. In the morning, apply the product after SkinCeuticals vitamin c serum and before the sunscreen. At night, use the serum after applying your retinol.
Price: $83.00
Ingredients: Hyaluronic acid, Vitamin B5
---
How Does SkinCeuticals Work?
The SkinCeuticals brand has many skincare products, each with its purpose. For instance, the SkinCeuticals Age Interrupter is designed to improve aging skin. For this, many of the products contain active ingredients that help improve the health of your skin.
Some of the products help to improve skin complexion, reduce the appearance of fine lines and wrinkles, boost skin hydration, fight signs of aging, replenish cellular lips, and improve skin firmness.
What are the Active Ingredients in SkinCeuticals Products?
Hyaluronic Acid
Hyaluronic acid is a substance that exists naturally in the body, in the joints, skin, and eyes in particular. It has incredible hydrating properties for the skin, drawing about 1000 times its weight in water.
This ingredient can moisturize, eliminate dry skin, and give the skin more volume and plumpness to smooth wrinkles and lines. Some research indicates that it could boost collagen synthesis to tighten the skin and improve elasticity, as we noted in our Beverly Hills MD Anti-Aging Lip Enhancer Review article on another skin care product containing this ingredient.
According to the Journal of Clinical and Aesthetic Dermatology, hyaluronic acid improves skin hydration, enhances elasticity and firmness, and treats wrinkles. The journal also claims that after using products that have hyaluronic acid for a while, skin texture also improves.
Retinol
Retinol is a retinoid found in vitamin A that helps improve the production of collagen and elastin in the skin as discussed in our Kollagen Intensiv Reviews article. Retinol can smooth wrinkles and fine lines and makes the skin look plump. In addition, it has some exfoliating benefits and can eliminate dead cells and oils from the skin.
This is one of the most popular and potent anti-aging ingredients in skin care. It can increase cell turnover, for skin rejuvenation. According to Advances in Dermatology and Allergology, derivatives of vitamin A can help to slow the process of aging and improve the appearance of the skin.
Glycolic Acid
Glycolic acid is a water-soluble acid obtained from sugarcane. It is an acne-fighting acid and helps fight breakouts and other skin problems. The acid makes the skin complexion more even and smooth.
It has anti-bacterial properties, and can kill harmful microbes on the skin. It's also a potent antioxidant which can repair damage to the skin barrier and protect from UV rays and other environmental threats.
In addition, it helps the skin to retain moisture by forming a barrier, preventing dryness and keeping the skin hydrated for longer. According to Clinical, Cosmetic, and Investigational Dermatology, glycolic acid is used in peels to help get rid of dead skin cells.
Ferulic Acid
Ferulic acid is an antioxidant used to make anti-aging skin serums and other skin products. It can boost skin immunity, protect the complexion from UV rays and pollutants, and repair damage to the skin barrier. In addition, it has the ability to boost the activity of other antioxidants for higher potency as we mentioned in our Skinception Organic Cold Pressed Cosmetic Argan Oil Review article.
Ferulic acid and Vitamin C are often together in skin care products as they make a potent anti-aging combination. According to the National Library of Medicine, ferulic acid hastens wound healing, delays aging and brightens skin complexion.
Is SkinCeuticals Legit?
Yes, SkinCeuticals skincare products are legit. The company that manufactures the products is reputable, and the ingredients that make them are all backed by scientific research.
SkinCeuticals FAQ
Q: Where Can You Buy SkinCeuticals Products?
A: You can buy the products from the company's official website, from authorized medical spas, dermatologists, and plastic surgeons, and other online retailers.
On the official site, you have the choice of making a one-time purchase or signing up for auto-replenish. You may receive a gift with some purchases.
Q: How Much Do They Cost?
A: The following are the prices of some of the products.

C E Ferulic with 15% L-Ascorbic Acid – $166.00
Triple Lipid Restore – $130.00
Hyaluronic Acid Intensifier – $102.00
Hydrating B5 Gel – $83.00
SkinCeuticals A.G.E. Eye Complex – $100
Retinol – $67.00
Q: Is SkinCeuticals Cruelty-Free?
A: Yes, SkinCeuticals respects animals and as such, they claim not to test their products on neither wild nor domestic animals.
Q: Is SkinCeuticals Worth It?
A: Yes, SkinCeuticals products are good. Research studies on the ingredients show that they are effective and beneficial to the skin. In my opinion, the prices are also reasonable for the market, and users speak very highly of the brand on the whole.
Q: What is SkinCeuticals Products Return Policy?
A: SkinCeuticals offers a 30-day money-back guarantee on all their products.
Q: How Should you Use SkinCeuticals Products?
A: All the products of SkinCeuticals are skincare products. However, how to apply each product may vary. Therefore, it is important to apply the skin products according to the instructions on the product labels.
What Do SkinCeuticals Reviews Say?
I enjoyed reading through the many SkinCeuticals reviews, as they were generally positive. A number of users testified that their skin improved after continuous use of the products. Some reviewers say that the products are effective and gentle on the skin. I selected some of my favorite reviews, to show you the great benefits of this brand.
Retinol 0.3 Works Well ~ This is the best retinol that I've ever tried. There was a bit of peeling in the beginning, but it really transforms the skin with consistent use.

– Cheryl

For Me, This Is Perfect ~ For me, this is the perfect Gentle Cleanser. It is super gentle on the skin and hydrating , which is crucial for me as I have very dry skin. It also is really good at removing makeup, which typically isn't the norm for gentle cleansers. I have a feeling that I'll be sticking with this one for a while!

– Mary Beth

Don't Fall For Imitations ~ I'm an esthetician and have tried countless Vitamin C serums throughout my career. This one is a keeper. It's the only one where you can actually feel a real difference in your skin. Don't fall for the imitations.

– Renee R.
Final Verdict
SkinCeuticals is a brand of skincare products that help boost skin hydration, improve elasticity and firmness, fight signs of aging, replenish cellular lipids, manage acne, and enhance overall skin health. It's one of the top skin care brands recommended by dermatologists.
Moreover, it is essential to consider Skinceuticals Body Tightening Concentrate review, a product from the same brand but belonging to a different category, to gain valuable insights into its effectiveness.
In most cases, you know what the product does from its name, for instance the SkinCeuticals Blemish Age Defense simply helps diminish the skin scars that come by age. That is, the ingredients work hand in hand to ensure that you have healthy and radiant-looking skin. Nevertheless, you need to find out the combination of products that will work best for your skin.
Additionally, the results may vary from one user to the other. That is, you find that the SkinCeuticals HA Intensifier works for you better than the SkinCeuticals C E Ferulic.
If you react to any of the products, you may want to recheck and discuss with the company to know the available option that would work best for you. Personally I put a lot of stock in this brand, and use it regularly as part of my skin care routine. I have no trouble recommending SkinCeuticals.
At Wellness Digest, our sourcing guidelines are strict and we only use primary references for our articles including peer-reviewed studies, academic research institutions, and medical associations. You can learn more about how we ensure our content is accurate and current by reading our editorial policy.
[1] Pérez-Sánchez A, Barrajón-Catalán E, Herranz-López M, Micol V. Nutraceuticals for Skin Care: A Comprehensive Review of Human Clinical Studies. Nutrients. 2018 Mar 24;10(4):403. doi: 10.3390/nu10040403. PMID: 29587342; PMCID: PMC5946188.
[2] Jegasothy SM, Zabolotniaia V, Bielfeldt S. Efficacy of a New Topical Nano-hyaluronic Acid in Humans. J Clin Aesthet Dermatol. 2014 Mar;7(3):27-9. PMID: 24688623; PMCID: PMC3970829.
[3] Zasada M, Budzisz E. Retinoids: active molecules influencing skin structure formation in cosmetic and dermatological treatments. Postepy Dermatol Alergol. 2019 Aug;36(4):392-397. doi: 10.5114/ada.2019.87443. Epub 2019 Aug 30. PMID: 31616211; PMCID: PMC6791161.
[4] Sharad J. Glycolic acid peel therapy - a current review. Clin Cosmet Investig Dermatol. 2013 Nov 11;6:281-8. doi: 10.2147/CCID.S34029. PMID: 24399880; PMCID: PMC3875240.
[5] Zduńska K, Dana A, Kolodziejczak A, Rotsztejn H. Antioxidant Properties of Ferulic Acid and Its Possible Application. Skin Pharmacol Physiol. 2018;31(6):332-336. doi: 10.1159/000491755. Epub 2018 Sep 20. PMID: 30235459.
[6] Kraft J, Freiman A. Management of acne. CMAJ. 2011 Apr 19;183(7):E430-5. doi: 10.1503/cmaj.090374. Epub 2011 Feb 28. PMID: 21398228; PMCID: PMC3080563.