What is SolaWave?
SolaWave offers red and blue light therapy wands for skincare, and the set also includes an enriching anti-aging serum which elevates the benefits of the light therapy. The brand can make the skin tighter and more elastic, smooth wrinkles, lines and blemishes, eliminate acne, and rejuvenate the complexion.
It comes highly recommended by the dermatologists on our team, and I use it personally and swear by it for keeping my skin young and firm.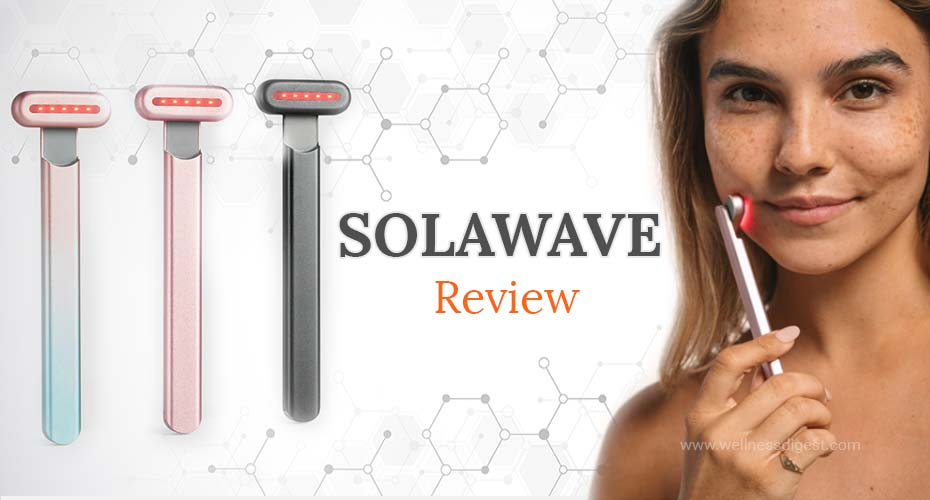 The products in the line include:
SolaWave Wand: Red Light
A compact, portable red light therapy wand which can boost collagen levels, firming the skin and smoothing wrinkles and lines. It can also reduce inflammation.
SolaWave Wand: Blue Light
A blue light therapy device which delves deep into your skin, repairing damage and killing bacteria. It has numerous health benefits for the skin.
SolaWave Serum
A rich, hydrating serum high in antioxidants and anti inflammatory agents, which provides amazing rejuvenating and anti-aging benefits
Highlights
SolaWave promises significant benefits in 2 weeks.
Many dermatologists support the benefits of SolaWave.
Research finds red and blue light therapy to be safe and effective for treating the skin.
The SolaWave serum contains only pure organic
Pros
The SolaWave wand products can tighten the skin and improve elasticity.
The products can diminish wrinkles, lines, and blemishes.
SolaWave can heal acne.
These products can repair damage to the skin barrier.
They can protect the skin from UV rays and pollutants.
Cons
The free shipping offer is only for U.S residents.
They have a small product line of 3 items.
Results will vary for different users.
Overall Rating:4.8/ 5
About the Brand
The manufacturer of the brand SolaWave is a company by the name of UVVU Inc, which has its headquarters in Los Angeles, California. Founded in 2020, it's a fairly new organization which produces light therapy and related products.
How Does SolaWave Work?
Red and blue light run at different wavelengths, and as such provide different benefits. Red light stays closer to the surface, stimulating the production of collagen and reducing inflammation. The boost in collagen can make the complexion firmer and boost elasticity, fading wrinkles and fine lines.
A study in the Journal of the American Academy of Dermatology found that red and infrared light therapy boost collagen, elastin, and hyaluronic acid in the skin [1].
The blue light travels much deeper down into the skin, repairing damage and killing harmful bacteria. This helps to treat acne and other skin conditions. Light therapy can also stimulate hydration, keeping the skin moisturized and free of dryness. An article in Light discussed the use of blue light therapy in dermatology [2].
The SolaWave serum contains all-natural ingredients which boost the effects of the light therapy. It stimulates collagen release, reduces inflammation, and increases hydration. In addition, it contains antioxidants which can destroy free radicals and decrease oxidative stress. This promotes skin healing and protects it from damaging agents like UV rays.
h5
What are the Ingredients in SolaWave Serum?
These are some of the primary active ingredients in SolaWave Serum:
Hyaluronic Acid
This gel-like substance exists in various places in the body, including in the skin. It depletes with age, which can make the skin dryer. Hyaluronic acid draws massive amounts of water, which moisturizes the skin and gets rid of dry patches.
It may also boost collagen production, which helps make the skin firmer and more elastic and smooth wrinkles and lines. An article in Dermato-Endocrinology discussed the anti-aging benefits of hyaluronic acid [3].
Aloe Vera
This oil comes from the leaves of a plant, and it is deeply hydrating for the skin. Aloe vera has powerful anti-inflammatory benefits, which reduce redness and swelling and can help heal skin conditions and wounds.
It's also rich in antioxidants, which help repair damage to the skin barrier and protect it from environmental threats like UV rays. An article in the Indian Journal of Dermatology reviewed the benefits and features of aloe vera [4].
Sunflower Seed Oil
It's high in Vitamins A, C, D, and E, fatty acids, and powerful antioxidants which can repair and protect the skin. It has potent anti-aging benefits and can smooth lines and wrinkles.
In addition, it's a very hydrating oil which can moisturize the skin and eliminate dryness. Sunflower seed oil also has the ability to fight off acne. According to an article in the International Journal of Molecular Sciences, sunflower seed oil may have protective effects for skin cancer [5].
Allantoin
This is a chemical compound which does exist naturally in the human body. It's particularity effective in treating acne or inflamed, irritated skin. It's a very hydrating moisturizer and can get rid of dry patches. There's some evidence that allantion can diminish areas of hyperpigmentation on the skin.
In addition, it has exfoliating benefits and can cleanse dead skin cells and dirt from the pores. An article in Pediatria i Medycyna Rodzinna examined the healing and anti-inflammatory properties of allantoin [6].
How Does SolaWave Rate?
| Feature | Rating | Comments |
| --- | --- | --- |
| Red and Blue Light Therapy | 10 | The amazing benefits of blue and red light therapy for the skin are well-known and documented. |
| SolaWave Serum | 9 | High quality organic products which includes ingredients backed by science and research |
| Side Effects/Risks | 9.5 | There should be no side effects associated with these products. However, do check the serum to make sure all ingredients suit you. |
SolaWave FAQ's
Q: Who Should Use SolaWave?
A: This is an excellent brand for anyone looking to rejuvenate their skin. It's good for younger skin as it helps prevent future damage, slows aging, and prevents or eliminates acne. For more mature skin, it smooths wrinkles, lines, and blemishes and replenishes the complexion.
Q: Is SolaWave Legitimate?
A: SolaWave is definitely a legitimate brand. The company is fairly new, but they have a genuine headquarters in Los Angeles, California. The brand is very popular, and it's for sale from many retailers including Nordstrom. There are also numerous SolaWave reviews which attest to the legitimacy and efficacy of the brand.
Q: What is the SolaWave Return Policy?
A: The company has a 1 year warranty on the wands, and there is also a 30-day return policy. If you're not happy with the product, email the company at [email protected] for return instructions. Send the items back within 30 days of the purchase and you should get a full refund.
Q: Is SolaWave Any Good?
A: I spent a good amount of time researching this brand, including trying it out myself for a more thorough review. What stands out most is that the product really works, and it works quickly.
I can't tell you how many compliments I am getting on my skin. The majority of the SolaWave Wand reviews also had glowing comments about the benefits of the brand.
Q: Where Can You Buy SolaWave?
A: You can buy SolaWave on the manufacturer's official website, as well as from several other online and offline retailers. On the official site, U.S citizens get free shipping.
There's no promo code right now, but they have offers fairly often so keep your eyes out for them. The prices on the official site are as follows:
SolaWave Serum – $43
SolaWave Blue Light Wand – $157
SolaWave Red Light Wand – $197
SolaWave Skincare Wand and Serum – $223
Q: Is SolaWave Safe?
A: Research has demonstrated that red and blue light therapy are safe for use on the skin. At this size and power, there's little danger of high EMF levels. The serum contains 100% naturally-sourced ingredients and should not led to a skin reaction unless you have a particular allergy to an ingredient.
Q: What Sets SolaWave Apart From the Competition?
A: What makes this brand different is the inclusion of the serum as part of the red and blue light therapy wand set. There are other similar wands on the market, but the addition of this very high quality skin care product to boost the benefits is a nice touch.
What Do The SolaWave Reviews Say?
The SolaWave review postings had some variety, and I personally read through quite a few of them. The majority had only glowing comments about these products, claiming great anti-aging and other skin benefits in record time. Here are some of my favorite reviews for your interest and enjoyment:
Love It!

I've been interested in red light therapy for a long time, but I had no idea how it would transform my skin! All that little lines and wrinkles, including my crow's feet, are much less prominent than they were. I look younger and more revitalized. Thanks SolaWave! – Latoya B.

Best Product

I adore my SolaWave Wand. At first I was a little reluctant to spend, like I always am, but this device is more than worth the cost. I swear it's taken 10 years off my face in a few weeks. Highly recommended! –Jamey P.

Just Great

I am so happy I bought this little blue light wand. My skin is looking amazing and my acne has diminished to almost nothing. I'm a big fan of your brand and I want to say thank you for my brand new skin! Rachel V
Conclusion
SolaWave is a skin care brand which includes red and blue light therapy wands. These devices offer amazing anti-aging and other benefits like smoothing wrinkles and lines, eliminating acne and blemishes, and treating skin conditions. The line also includes a quality anti-aging serum. SolaWave is a quality brand which is recommended by dermatologists and popular among users.
As I said, I personally read through many SolaWave Wand reviews for this brand and found them to mostly very upbeat and positive. Most of the customers loved the SolaWave
before and after, citing benefits like glowing skin, reduced wrinkles and age spots, and deep hydration.
The SolaWave brand is very safe. The safety of red and blue light therapy for the skin is well-documented, and the SolaWave serum is a purely organic formula with no harmful additives. You should not experience any SolaWave side effects. As a customer and a reviewer, I highly recommend this brand to anyone who wants quality skin rejuvenation.
Up NEXT – Novaalab and Platinum LED BioMax