What is the Total Curve Supplement?
The Total Curve supplement aims to balance out your levels of estrogen and other hormones to increase the size and fullness of the breasts. It has other benefits like increasing sexual libido, encouraging vaginal lubrication, and treating menopause and PMS symptoms.
This is an extremely healthy supplement full of nutrients and antioxidants which support a strong immune system.
The RDNs on our team confirmed that this is a healthy product which does have nutritional benefits.
Overview of Total Curve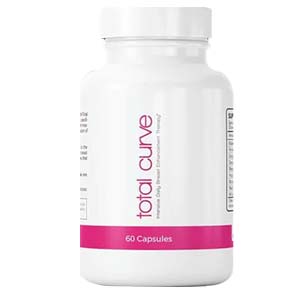 Brand Highlights
The website outlines scientific proof for the brand benefits.
The ingredients are 100% naturally sourced.
There should be noticeable results in less than a month.
There are no side effects.
Key Ingredients
Supplement
Fennel Seed
Dong Quai Root
Buckwheat Leaves/Flowers
Hops
Blessed Thistle
Damiana Root
Black Cohosh Root
Wild Yam Root
Watercress Leaves/Shoots
Gel
Bearberry
Aloe Vera
Algae
Caffeine
Vitamin C
Mango Butter
Benefits
This brand supports overall breast health.
It can firm and lift the breasts.
Total Curve can reduce menopause symptoms.
It can elevate your sex drive.
The products can decrease vaginal dryness.
Cons
The results will vary for different women.
You can't buy the products separately.
High demand sometimes leads to low stock.
Overall Rating:4.8/ 5
About the Brand
The manufacturer of Total Curve is a Leading Edge Health, which has their offices in Johnson City, Tennessee. This is a large and highly reputable health and wellness company which is a brand of Leading Edge Marketing, located in Victoria BC and founded in 1997.
What is the Total Curve Firming Gel?
This is a gel you spread on your breasts on a daily basis in order to lift and firm them. It contains an ingredient called volufiline, and clinical studies show it can significantly increase breast size.
It's also very healing and nourishing for the skin, and rich in antioxidants which can repair and protect. It can also even out skin tone, hydrate, and provide anti-aging benefits.
What are the Manufacturer's Claims?
It can tone and reshape the breasts.
Total Curve can make the breasts firmer.
It can increase the size of the breasts.
Total Curve Breast Enhancement Pills have no risks or side effects.
How Do the Total Curve Products Work?
Supplement
Total Curve supplement contains a number of ingredients with phytoestrogens, which are plant-based estrogens. They can mimic the hormone in the body, making estrogen levels increase. One of the effects of additional estrogen is to firm and lift the breast tissue. An article in Frontiers in Neuroendocrinology considered the pros and cons of phytoestrogens.
Additional benefits include decreasing menopause and PMS symptoms and enhancing sexual libido. This supplement is full of antioxidants which can repair skin damage and provide protection.
Total Curve Cream
It contains an ingredient called Volufiline which is a portion of a plant saponin, and according to he manufacturer clinical studies have shown that it can increase the volume of the breasts significantly.
It contains caffeine, which can improve circulation in the breasts for better health and appearance. A review article in the International Journal of Vascular Medicine examined caffeine's vascular mechanism of action.
It's deeply hydrating and can moisturize and also even out skin tone. This gel can initiate collagen production, making the skin tighter and more elastic. This can smooth wrinkles and lines.
It's high in antioxidants which repair skin damage and protect it from harm. It also has anti-inflammatory benefits which reduce skin swelling and redness.
What are the Ingredients for Total Curve?
Here are some of the primary active Total Curve ingredients:
Total Curve Supplement
Black Cohosh Root – This is a plant from North America, and it's in the same family as the buttercup. It contains phytoestrogens which balance levels of estrogen in the body. This can lift the breasts and make them fuller. It's also used to treat menopause symptoms like hot flashes and night sweats. It has painkilling properties and can decrease the muscle pains and aches related to menopause.
There's also some evidence it can boost mood and reduce fatigue.A review in Trends in Endocrinology and Metabolism considered the phytoestrogen properties of black cohosh.
Wild Yam – This is a vine which grows in North America, and there's evidence that it can increase levels of estrogen in the body as well as other sex hormones. It contains a plant steroid called diosgenin which can produce these hormones. One result is that it can lift and firm the breasts.
Yam is a common remedy for decreasing menopause symptoms, due to its ability to balance hormone levels. A study in the Journal of the American College of Nutrition found that yam intake over a 30-day period increased estrogen levels in healthy post-menopausal women.
Total Curve Gel
Aloe Vera – This is an oil which comes from the Aloe Vera plant, and it's full of enriching hydration. This moisturizes the skin, gets rid of dryness, and plumps it to smooth wrinkles and lines.
It initiates collagen production, which can help lift and firm the breasts. It also contains a wealth of antioxidants, which can protect the skin from UV rays and repair damage. It can even help to smooth fine lines. Aloe Vera is also effective at treating a sunburn.
A study in the Iranian Journal of Medical Sciences showed the wound-healing and prevention properties of aloe vera.
Vitamin C – This is a powerful antioxidant which repairs damage to the skin and protects it from harm. It also initiates the production of collagen, which firms and lifts, and hyaluronic acid, which deeply moisturizes the skin.
Vitamin C has wound-healing properties. In addition, it can block melanin production, eliminate age spots and areas of pigmentation on the skin, and help balance skin tone. An article by the Linus Pauling Institute examined Vitamin C and skin health.
What Do Clinical Trials for Total Curve Say?
According to the manufacturer, clinical and human studies indicate that the ingredient Volufiline in the cream can increase the amount of fat tissue in the breasts by up to 8.4%. This is outlined in the official website.
Frequently Asked Questions (FAQs)
Q: How Much is Total Curve?
A: You can purchase this supplement on the manufacturer's website, the product website, Amazon, Walmart, and eBay. There may be other retailers who sell this product as well.
 
On the official site, you buy the set of 2 products together. Use the promo code 26881 for website prices. For a limited time, they have free global shipping on select packages.
 
The prices are as follows:
1 Month – $69.95
3 Months – $179.95
6 Months – $299.95
Q: What is the Guarantee or Return Policy?
A: The manufacturer has a 67-day money-back guarantee. If you're not happy with the product for any reason, return the unused portion to the company within 67 days of the day you received your order. You'll get a full refund, minus shipping fees.
Q: Who Should Use Total Curve?
A: Total Curve is for women who want to enhance the shape and size of their breasts. This may be after pregnancy or breastfeeding, but it could be any time you want to lift and enhance that part of your body.
Q: How Do You Use Total Curve?
A: I actually spoke to the manufacturer personally about this issue, and they assured me that the  program should glean full results within 60-90 days if you continue to use it on a consistent basis every day.
 
Supplement – The recommended dosage is 2 capsules a day. Take one with breakfast and the second with dinner. Do not take more than this amount for any reason.
 
Gel – Apply the gel twice a day, in the morning and before you go to sleep. Take some of the lotion onto your fingers and massage it into each breast, using a circular motion. Don't forget the underside of the breasts.
Q: Why Should You Buy Total Curve?
A:
This set lifts and tones the breasts.
They make the breasts bigger.
The supplements can improve sexual libido.
 Total Curve supplements can enhance vaginal lubrication.
They support a healthy immune system.

Q: Is Total Curve a Trustworthy Brand?
A: Yes, it is. The manufacturer of Total Curve is a well-known and regarded company called Leading Edge Health Inc, located in Victoria, British Columbia. They formulated these products using the most current breast enhancement research, some of which they explain in some detail on their website.
 
I have spoken to them personally about the product, and found them to be professional, helpful and knowledgeable.
Q: Does Total Curve Really Work?
A: Both products really work. Really, it's impossible to say which is the best product since they go together as a set for a reason. The Total Curve Cream compliments the Total Curve Daily Supplement perfectly.
 
The supplement helps to balance the hormones and the cream contains ingredients which help develop breast size. They have added benefits, like elevating libido and enhancing skin health. If you're going to purchase one, you're better off buying both.
What Do Customers Think of Total Curve?
Most of the Total Curve reviews were from happy customers who got a lot of benefit out of these products. Dozens of women loved the Total Curve before and after, saying that their breasts were much bigger and fuller, and the skin was also healthier. I read through numerous different customer comments, and I didn't find very many poor reviews or complaints about this product. Some of the best Total Curve reviews I found were as follows:
Total Curve Is Amazing

Total curve is amazing! It really made me so much fuller and more enhanced. It's really noticeable to me and others. I'm so grateful for these products – Ursula D.

It Really Works!

I was more than skeptical about this product; I simply did not think it would work. However, I was ready to try anything to have a fuller chest in my wedding dress. It's actually working! My bras are getting really tight, and my fiancée has absolutely noticed a difference. Great stuff! –Kay R.

Surprised That It Actually DOES Work!

I was unsure but hopeful when I bought this – I had lost some fullness in my bust when I lost weight and I was hoping to regain it without surgery. Ok, this stuff actually works. I am surprised, but really happy! I've gained firmness and weight – I will most definitely be using this more! Emmanuel

Recommended!

I decided to give it a try and have been amazed at the results!! Recommend this product 100%!! – Sabella D
Conclusion
Total Curve is a brand consisting of two products: a breast enhancement supplement and a cream. The aim of the set is to add volume to the breasts, and to lift and firm them so they appear younger and larger. This is a safe regimen with no side effects associated with it, and it's made by a highly reputable manufacturer.
For the most part, the Total Curve reviews had very good things to say about this product line. Women loved the Total Curve before and after pictures showing the big difference in the size, shape, and fullness of their breasts. The general image from the reviews was positive, with few complaints.
This is a safe, all-natural set of products with heathy Total Curve ingredients and no harmful side effects. RDNs say that it's a safe brand with nutritional benefits. Based on my research and my knowledge of the product, I feel comfortable recommending it highly to any woman who is looking for fuller, healthier breasts.
At Wellness Digest, our sourcing guidelines are strict and we only use primary references for our articles including peer-reviewed studies, academic research institutions, and medical associations. You can learn more about how we ensure our content is accurate and current by reading our editorial policy.
[1] Patisaul HB, Jefferson W. The pros and cons of phytoestrogens. Front Neuroendocrinol. 2010 Oct;31(4):400-19. doi: 10.1016/j.yfrne.2010.03.003. Epub 2010 Mar 27. PMID: 20347861; PMCID: PMC3074428.
[2] R. Viani, "The composition of coffee," in Caffeine, Coffee and Health, S. Garatini, Ed., pp. 17–41, Raven Press, New York, NY, USA, 1993.
[3] Viereck V, Emons G, Wuttke W. Black cohosh: just another phytoestrogen? Trends Endocrinol Metab. 2005 Jul;16(5):214-21. doi: 10.1016/j.tem.2005.05.002. PMID: 15927480.
[4] Wu WH, Liu LY, Chung CJ, Jou HJ, Wang TA. Estrogenic effect of yam ingestion in healthy postmenopausal women. J Am Coll Nutr. 2005 Aug;24(4):235-43. doi: 10.1080/07315724.2005.10719470. PMID: 16093400.
[5] Hekmatpou D, Mehrabi F, Rahzani K, Aminiyan A. The Effect of Aloe Vera Clinical Trials on Prevention and Healing of Skin Wound: A Systematic Review. Iran J Med Sci. 2019 Jan;44(1):1-9. PMID: 30666070; PMCID: PMC6330525.
[6] Rhie G, Shin MH, Seo JY, et al. Aging- and photoaging-dependent changes of enzymic and nonenzymic antioxidants in the epidermis and dermis of human skin in vivo. J Invest Dermatol 2001;117:1212-1217. (PubMed)