What is 1MD D3?
1MD D3 is a dietary supplement which provides a potent dosage of Vitamin D3. This 'sunshine' nutrient is necessary for cell functioning, cognitive and heart health, muscle function, respiratory wellness, and immune support. In addition, it assists in the absorption of calcium which strengthens bone health. Many people don't have enough of this vitamin, so it's a good idea to supplement.
How Does 1MD D3 Work?
Vitamin D3 helps your body to absorb calcium and phosphorus, which supports healthy bones and teeth. It also plays a role in bone growth and can decrease the risk of developing osteoporosis. An article in the Journal of Pharmacology and Pharmacotherapeutics discussed the benefits of Vitamin D.
It has various other roles in the body, like reducing inflammation and modulating cell growth and glucose metabolism. It supports many organs and bodily process, like heart health, muscle functioning, respiration, and the immune system. An article in Nutrition Journal examined Vitamin D in health and disease.
1MD D3 is also high in antioxidants, which can destroy the free radicals in your system and lower oxidative stress. This helps to strengthen the immune system and can help with healing in the body.

What are the Benefits and Disadvantages of 1MD D3?
Pros of 1MD D3
This product supports proper muscle functioning.
1MD D3 can improve bone health.
It can make the immune system stronger.
The product is very reasonably priced.
1MD D3 can enhance cognitive health and functioning.
Cons of 1MD D3
High demand sometimes leads to low stock.
There's only 2 main ingredients.
Results will vary from individual to individual.
1MD Vitamin D3 – Key Facts
? Benefits
Aids Proper Immune, Bone, Brain Health,Help Maintain a Healthy Mood,Muscle Function
? Ingredients
Vitamin D3,Organic Avocado Oil
? Pricing
$19.99/bottle
? Company
1MD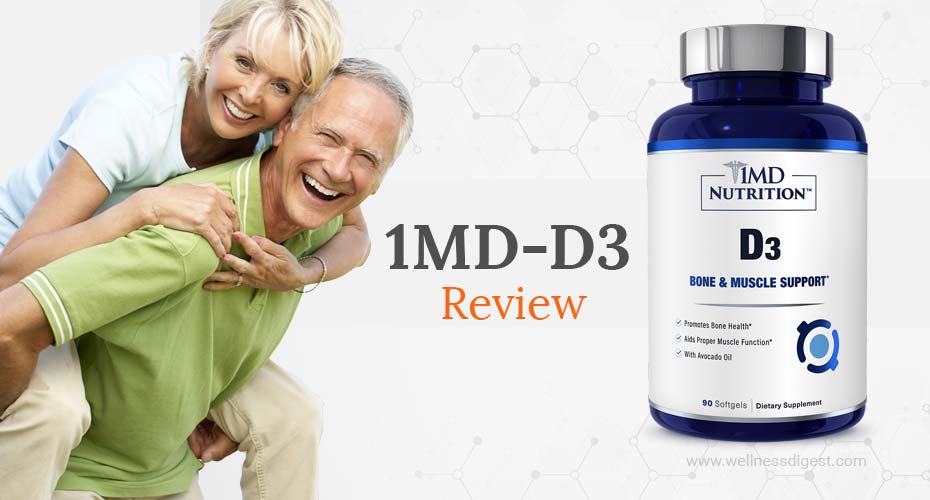 What Are the Ingredients in 1MD D3?
Here are the primary active ingredients in 1MD D3:
Vitamin D3 – This is an essential vitamin which is synthesized when UV rays hit the skin. Besides sunshine, you can also get it from food. It's key in numerous bodily processes like muscle function and heart health.
Many people are deficient in this key vitamin. A review in Clinical Hypertension looked at the evidence for Vitamin D deficiency and the risk of developing cardiovascular disease.
Organic Avocado Oil – Avocado is a nutrient-rich powerhouse, and it can both support heart health and lower cholesterol levels. In addition, it elevates the absorption of key nutrients in your body.
A study in Nutrition Journal found that avocado consumption is associated with better diet quality and nutrient intake.
Frequently Asked Questions (FAQs)
Q: How Should I Take 1MD D3?
A: The dosage the manufacturer suggests is one capsule per day with food. Do not consume more than the recommended amount for any reason.
Q: Where Can I Buy 1MD D3 and How Much Is It?
A: You can purchase 1MD D3 on the manufacturer's official website, and you can also get it on eBay. The prices on the official site are as follows:
1 Bottle – $19.99
3 Bottles – $17.99/each
6 Bottles – $15.99/each
Q: What is the Return Policy or Guarantee?
A: The manufacturer is offering a 90-day return policy. If you are not happy with the item, contact the company and let them know or write a note on the return parcel. Send it back within 90 days of the purchase date to get your refund.
You must send back all bottles, empty or full. You'll get your money back, but you are responsible for shipping fees.
Q: Is 1MD D3 a Safe Product?
A: Vitamin D3 is very safe to take and has few if any side effects as long as you stick to the recommended dosage. There are no chemical or artificial ingredients included in this supplement, and it's very healthy for the body.
In addition, this is a reputable manufacturer which takes all necessary safety precautions in the development of their products.
Q: Does 1MD D3 Work?
A: This product delivers a healthy dosage of 5000IU of Vitamin D3, which is a potent amount. The supplement also includes organic avocado oil which has healthy, immunity-boosting antioxidants. It should work very well, and the 1MD D3 reviews mostly agree that it's a highly effective supplement.
Q: Does 1MD D3 Have Any Side Effects?
A: This is a safe product and there are no harmful side effects associated with taking it. However, you should still check with your physician to get medical approval first.
Q: Who Makes 1MD D3?
A: The manufacturer is a highly reputable company called 1MD, which has its headquarters in Sherman Oaks, California. The company started in 2015 as an organization that produces health supplements for various medical and wellness issues. A team of reputed doctors from 1MD design the products according to current research and science.
Q: What Do the 1MD D3 Reviews Say?
A: The vast majority of the 1MD D3 reviews were very positive. Users loved the feeling of good health and wellness this product gave them and were also happy to see their Vitamin D3 levels increase. There were few customers that wrote poor reviews of this product or who had complaints.
Q: Who Should Take 1MD D3?
A: Vitamin D deficiency is very common, and it can lead to health issues including infections, high blood pressure, and diabetes (1). If you aren't getting enough from food and sunshine, it's very important to supplement. This vitamin is key to many bodily processes and important to overall health.
Conclusion
1MD D3 is a dietary supplement which delivers 5000IU of Vitamin D3, plus powerful antioxidants that boost the immune system. Vitamin D has benefits to the heart, muscles, and respiratory system, and it also helps in the absorption of calcium. It's very important to the health of the bones and teeth. This is an affordable product made by a respected manufacturer.
The 1MD D3 reviews had mostly very good things to say about this product. Users said their D levels went up and they felt generally much healthier, and some experienced weight loss. Many customers noticed the difference in their muscles. There were few complains about 1MD D3.
This is a very healthy product which has no artificial or chemical ingredients and should not lead to any side effects. However, if you do have any symptoms stop using the product right away. Before you start using any new supplement, go to your doctor and make sure it's medically suitable for you.