What is 1MD Immunity MD?
1MD Immunity MD is an all-natural supplement which supports a strong immune system, and it has numerous other health benefits. It contains both probiotics which line the intestines with good bacteria and prebiotics that feed it.
This leads to better nutrient absorption and improved digestion. In addition, this product can decrease feelings of stress and anxiety, and it has benefits for the health of the skin. In my evaluation of different immunity supplements on the market, I found this to be the top supplement available. What's more, the RDMs on our team agreed with this assessment.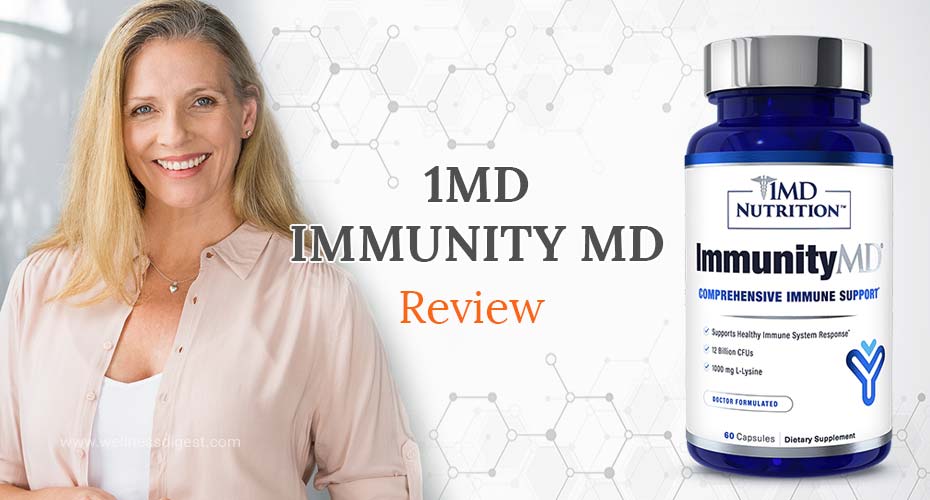 Highlights
1MD Immunity MD is free of wheat, dairy, peanuts, and shellfish.
They follow GMP manufacturing practices.
The product is 100% organic and non-GMO.
1MD Immunity MD is doctor-formulated.
Active Ingredients
Zinc
L-Lysine
Fructo-Oligosaccharides
Lactobacillus Acidophilus
Lactobacillus Rhamnoses
Pros
1MD Immunity MD supports a strong immune system.
It can decrease feelings of stress and anxiety.
1MD Immunity MD can enhance proper digestion.
This supplement can improve skin health.
It improves the functioning of immune cells.
Cons
They could add additional ingredients.
Different users will respond differently to the supplement.
High demand sometimes leads to low stock.
Overall Rating:4.9 / 5
About the Brand
The manufacturer of this product is a company called 1MD Nutrition, and they have their headquarters in Sherman Oaks, California. Founded in 2105, this company produces 100% organic health and wellness supplements to support digestion, heart health, vision, joint comfort, stronger bones, and better immunity.
All of their products are doctor formulated and based on science and research. 1MD Nutrition is a well-known, highly reputable company in the health and wellness industry.
1MD Immunity MD – Key Facts
| | |
| --- | --- |
| Benefits | supports a strong immune system,better nutrient absorption and improves digestion |
| Ingredients | Lactobacillus Acidophilus,L-Lysine,Zinc Sulfate and more |
| Price | $32.99/bottle |
| Discounts | Up to 25% Off |
| Company | 1MD |
What are the Ingredients in 1MD Immunity MD?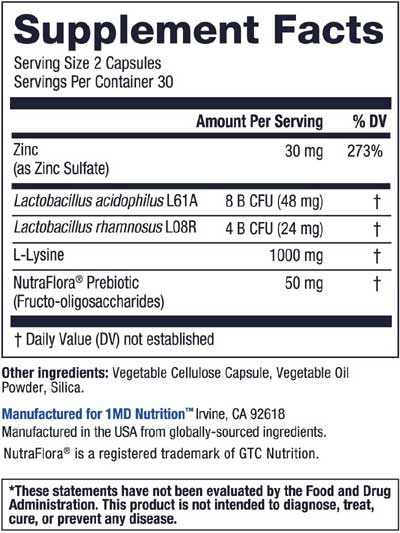 Here are some of the primary active ingredients in 1MD Immunity MD:
Lactobacillus Acidophilus
This is one of the most common probiotics, which has the ability the cover the intestinal lining with good, healthy bacteria and fight off the bad bacteria. You can find it in some dairy products, such as yogurt, or get it from a supplement. It can help reduce diarrhea, cramps, and bloating, promote a healthy digestive system, and help with the absorption of nutrients.
This probiotic strain has strong antioxidant properties which helps heal the gut lining and straighten immunity. It can promote a healthy vaginal microbiome and decrease vaginal inflammation. According to the Mayo Clinic, it can also help treat lung infections and eczema.
L-Lysine
This is an essential amino acid which is not naturally in our bodies; you have to get it from food or supplements. Besides helping to build protein, it's the precursor to the brain neurotransmitter glutamate which deals with anxiety.
It can lower levels of stress and anxiety and lead to a calmer mood. A study on rats in the Journal of Nutrition found that a deficiency in lysine encourages an anxiety and stress response.
L-Lysine also has benefits for the skin, as it promotes collagen production and can firm, smoothing wrinkles and lines. It may also be effective in healing wounds. In addition, it could reduce blood pressure and balance blood sugar.
Zinc Sulfate
This is a compound which may treat a deficiency in zinc. It encourages the growth and development of healthy tissue in the body. In addition, it's a powerful antioxidant which can repair the body and make the immune system stronger. It has benefits for visual health and can prevent night blindness. There's some evidence it may help prevent cancer (source). An article in the Journal of Research in Medical Sciences talked about zinc and its importance for human health.
What is the Science of 1MD Immunity MD?
1MD Immunity MD is very high in antioxidants which destroy harmful free radicals in the body and lower oxidative stress. This helps with healing all over the system and makes the immune system stronger.
The product has probiotics, which line the intestines with good, healthy bacteria that support proper digestion. There are also prebiotics which feed these good bacteria so they proliferate in the gut. They balance gut bacteria and can ease symptoms like bloating, gas, and diarrhea.
An article published in Nutrition and Dietary Supplements examined the role of probiotics in digestive health. Other research I looked at supported the benefits of probiotics in rejuvenating digestive health and decreasing symptoms like gas and bloating.
1MD Immunity MD contains an ingredient called lysine which is the precursor to glutamate. This neurotransmitter can decrease levels of stress and anxiety. A study conducted by the Proceedings of the National Academy of Sciences of the United States of America concluded that lysine reduced anxiety in communities in Northwest Syria.
Frequently Asked Questions (FAQs)
Q: How Do You Take 1MD Immunity MD?
A: The manufacturer recommends that you take 2 capsules daily with food. If your anxiety is very high, you can take 2 capsules twice a day with a meal. However, do not take more than the suggested dosage for any reason.
Q: How Much is 1MD Immunity MD and Where Can I Buy It?
A: Immunity MD by 1MD is for sale on the manufacturer's official website, Amazon, Walmart, and from a few other retailers. If you enter the code SHIP1MD at checkout, you get free shipping. Subscribers also get free shipping on all U.S orders. The prices on the official site are as follows:
One Time Purchase
1 Bottle – $38.99
3 Bottles – $36.33 each
6 Bottles – $32.50 each
Subscription
1 Bottle – $32.99
3 Bottles – $29.99 each
6 Bottles – $26.99 each
Q: What is the Refund Policy or Guarantee?
A: The manufacturer is offering a lengthy 90-day guarantee. This indicates that they really have faith in the quality of their product. If you're not happy with this item, contact the company and let them know and then send the product back within 90 days of the day you bought it.

You must return all bottles, empty or full. You'll get a full refund, with the exception of the shipping and handling costs. I reached out to the manufacturer to find out if there are any limits on the number of refunds you can request per year, and they confirmed that there was none.
Q: Does 1MD Immunity MD Work?
A: The ingredients in this product are very potent and should be highly effective. It includes probiotics and prebiotics which support the digestive system, antioxidants which raise immunity and help healing in the body, zinc which supports tissue growth and development, and lysine which can decrease anxiety. It should be highly effective, and most of the reviewers agree.
Q: Can You Buy 1MD Immunity MD in Stores?
A: 1MD Immunity MD is mostly sold online, but it is available at Walmart. We're not certain whether you can get it at any other offline retail stores.
Q: Who Should Take 1MD Immunity MD?
A: This is an excellent supplement for anyone who wants to boost their general health and strengthen their immune system. In addition, it supports overall digestive health and would be suitable for someone suffering from mild digestive systems.
It's also a good product for people who have excess stress and anxiety. There are a number of RDNs who have highly recommended this supplement for its rich health benefits and nutritional value.
Q: Is 1MD Immunity MD a Safe Supplement?
A: Yes, in fact 1MD Immunity MD is a very safe, high-quality product. It contains 100% all-natural, organic ingredients and there are no chemical or artificial substances included.

This product should not lead to any side effects. I personally read through hundreds of reviews and did not find any reports of customers saying they had side effects.

A very reputable manufacturer called 1MD makes this product, and many other high-level health supplements. They produce 1MD Immunity MD under strict safety guidelines in a secure facility.
Q: What Do the Reviews About 1MD Immunity MD Say?
The reviews for 1MD Immunity MD were extremely positive. About 90% of customers who reviewed the product said it was highly effective, improving digestion greatly and giving them and overall feeling of health and wellness. Many users said it decreased feelings of stress. Here are some of the top real reviews for 1MD Immunity MD:
Amazing Benefits
I am so happy with the results I have gotten from using this product. My lips and skin are healthier, and I feel the difference. –

Kellie

I Feel Energized and Healthy
I have been taking this supplement for over 6 months now and couldn't be happier. I used to suffer from tiredness and an overall weak immune system, and this really changed my life. I feel much healthier and it's part of my daily routine. I usually take 1 a day, and when I'm stressed, tired, or traveling, I take 2. I highly recommend this to anyone who is looking to boost their immune system. –

Ogo

High Quality Supplement
This is the first acidophilus supplement I've found that is completely assimilated by my body. I take one every morning. I can't tolerate yogurt as a "natural" source due to intolerance. This is the only supplement of its kind that really has worked for me. The capsule is easy to swallow and there is no aftertaste. I take it after breakfast. –

Linda

Quality Brand
This product helps me with my immune system and it's not hard on my system. –

Kathy
Conclusion
1MD Immunity MD is a dietary supplement which aims to elevate the immune system. It's rich in organic ingredients with many health benefits, such as lowering stress and anxiety. In addition, it has probiotics and prebiotics which support digestive health. This is a quality product made by a reputable manufacturer, and it's reasonably-priced.
The vast majority of the reviews about Immunity MD by 1MD had great things to say about the product. Users said it gave them a feeling of optimal health and well-being, lowered anxiety, and it greatly improved their digestive wellness. There really were a minimum of poor reviews and complaints about this supplement.
1MD Immunity MD is a high-quality brand which is very safe and should not lead to any side effects. However, if you do notice symptoms, stop using the product immediately. Prior to taking any new supplement, you must make an appointment with a doctor and make sure it's medically suitable for you.
At Wellness Digest, our sourcing guidelines are strict and we only use primary references for our articles including peer-reviewed studies, academic research institutions, and medical associations. You can learn more about how we ensure our content is accurate and current by reading our editorial policy.
---
Smriga M, Ghosh S, Mouneimne Y, Pellett PL, Scrimshaw NS. Lysine fortification reduces anxiety and lessens stress in family members in economically weak communities in Northwest Syria. Proc Natl Acad Sci U S A. 2004 Jun 1;101(22):8285-8. doi: 10.1073/pnas.0402550101. Epub 2004 May 24. PMID: 15159538; PMCID: PMC420386.
Hill C, Guarner F, Reid G, etal. Expert consensus document: The Inter-national Scientific Association for Probiotics and Prebiotics consensus statement on the scope and appropriate use of the term probiotic. Nat Rev Gastroenterol Hepatol. 2014;11(8):506–514.
Lankelma JM, Nieuwdorp M, de Vos WM, Wiersinga WJ. The gut microbiota in internal medicine: implications for health and disease. Neth J Med. 2015;73(2):61–68.
Ouwehand AC, Forssten S, Nexmann Larsen C, Philipp S. Probiotics and its effect on slow colonic transit. J Food Nutr Disord. 2014;S1:1.17.Miller LE, Ouwehand AC. Probiotic supplementation decreases intestinal transit time: meta-analysis of randomized controlled trials. World J Gastroenterol. 2013;19(29):4718–4725.
Roohani N, Hurrell R, Kelishadi R, Schulin R. Zinc and its importance for human health: An integrative review. J Res Med Sci. 2013 Feb;18(2):144-57. PMID: 23914218; PMCID: PMC3724376.
Miro Smriga, Makiko Kameishi, Hisayuki Uneyama, Kunio Torii, Dietary L-Lysine Deficiency Increases Stress-Induced Anxiety and Fecal Excretion in Rats, The Journal of Nutrition, Volume 132, Issue 12, December 2002, Pages 3744–3746, https://doi.org/10.1093/jn/132.12.3744
---