What is Hair La Vie Lash24?
As many people would say, hair is life. Hair La Vie Lash24 is a formula that has undergone clinical trials to work during the day and overnight for healthier, fuller, longer, and youthful eyelashes.
The growth-enhancing eyelash serum works during the night to enhance the thickness of the lashes, while during the day, it can serve as a primer before wearing your mascara.
The formula contains keratin, biotin, and silk amino acid, powerful ingredients, enhancing the growth of strong and healthy lashes. The serum works immediately to make the lashes look youthful and thicker. Therefore, you can use the serum alone or use it as a primer under your makeup.
The serum also moisturizes, thickens, protects the lashes against damage while maintaining sheen and luster. Constant application of the serum over the lashes allows you to see dramatic results over time. You can take pictures to keep track of your progress with the serum.
About the Company Behind Lash24
Hair La Vie is the company that creates this lash serum. It is a wellness and health products manufacturing company that began its work in 2014. Carla Rivas, a cancer survivor, is the founder of Hair La Vie. Carla, together with her team, create the products to help women grow confidence in their hair.
Over the years, Hair La Vie has developed a wide range of solutions that help you achieve fuller-looking, thicker, and healthier hair. The company offers a comprehensive approach to different hair journeys. People with cancer, women experiencing postpartum hair loss, or anyone with challenging medical conditions can grow their hair back within four to six weeks.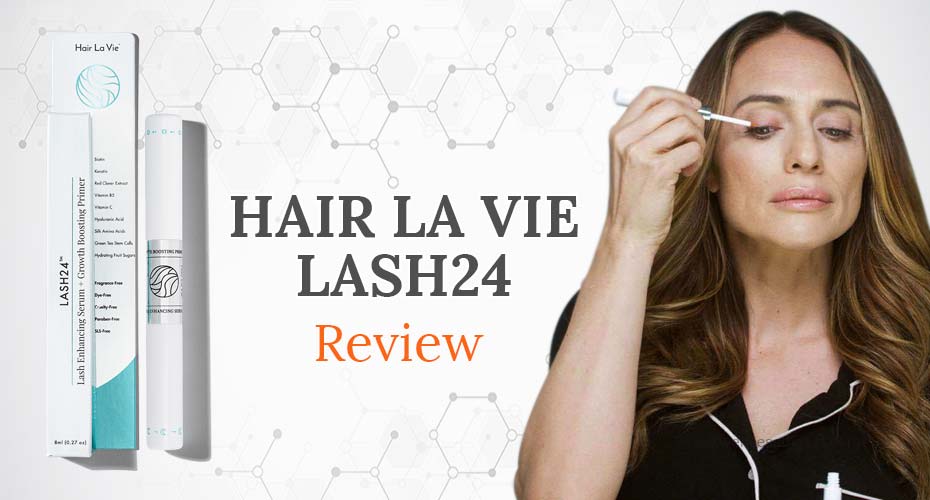 What are the Benefits of Hair La Vie Lash24?
Pros
It offers day and night nourishment for fuller-looking and healthier lashes
It is not greasy or sticky on skin
Allows you to add makeup
Promotes denser lashes
It uses natural and high-performance ingredients
Hair La Vie Lash24 Review – Key Facts
? Benefits
Day and night nourishment for fuller-looking and healthier lashes,add makeup,Promotes denser lashes,uses natural and high-performance ingredients
? Ingredients
Red Clover Extract,Keratin,Biotin,Silk Amino Acids and more
? Pricing
$54.99/bottle
? Company
Hair La Vie
The Details of Hair La Vie Lash24 Ingredients
Red Clover Extract – This is a medicinal herb that produces oil that offers many benefits. Red clover extract increases collagen production in the body to improve the appearance of fine lines and wrinkles. Red clover also supports hair growth, smoothens the scalp, strengthens hair follicles, and adds volume to hair.
A research report in the Obstetrics and Gynecology International journal, red clover extract improves the skin, hair, scalp, mood, and sleep. Women reported good results after using products with red clover extracts for their skin and hair.
Keratin – Keratin is a protein that the body makes to support hair and nail growth. The proteins smoothen hair strands and make the hair look shiny.
Keratin also strengthens the hair, enhances growth, and prevents breakage. A study report in the Biotechnology Reports Journal reveals that keratin is a protein essential in strengthening hair follicles to promote faster growth and to smoothen the hair.
Biotin – Biotin is a B7 vitamin that stimulates the production of keratin in the hair to promote the growth of hair follicles.
An increase in biotin intake makes the hair stronger and prevents it from falling out. According to a study published in the Skin Appendage Disorders Report, people using biotin to counter hair loss have shown great improvements.
Silk Amino Acids: This amino acid helps bind keratin to the hair to protect the hair, lock in moisture, and treat damaged hair.
Moisture in the hair helps to support growth, increases the length, volume, and thickness of the hair. Amino acids help to improve follicle strength, support hair growth, and maintain color in dyed hairs, a claim that one research appearing in the National Library of Medicine supports.
How Does it Work?
Each product contains active ingredients that work day and night to allow you to achieve fuller, longer, and denser eyelashes. During the night, the PM formula deeply conditions your lashes and makes them look longer and thicker over time.
The daytime serum supports the growth of your lashes throughout the day. It can also serve as a primer under your makeup during the day. You can choose to wear the serum alone or under mascara and still achieve a natural look.
People Also Ask
Q: Where Can You Buy Hair La Vie Lash24? How Much Does it Cost?
A: The company's website has the subscribe and save, and the one-time purchase option that you can choose from. You can buy the serum from the official website or other authorized online retailers depending on your preference.
The subscribe and save option allows you to get up to 36% off the products. One tube of Lash24 costs $54.99, two tubes at $49.99 each, and four tubes at $44.99 each.
You can save up to 14% off this serum when you make a one-time purchase. One tube goes for $69.99, two tubes go for $64.99 each, and four tubes go for $59.99 each.
Q: How Do You Use Hair La Vie Lash24?
A: Day Serum: Apply the lash serum every morning on clean eyelashes. You can decide to wear it as a primer under your makeup or alone to achieve longer and denser lashes during the day.
Night Serum: After cleansing, your eyelashes apply a thin layer on the roots before bedtime. Constant use of the formula gives dramatic results.
Q: What is the Refund Policy for Hair La Vie Lash24?
A: Hair La Vie, the company that manufactures Lash24 offers a 90-day 100% money-back guarantee on its products. Contact the customer support team before making any return.
Q: What Do the Reviewers Think of Hair La Vie Lash24?
A: The reviewers of Lash24 are happy that the serum allows to achieving longer, fuller, thicker, youthful, and healthier lashes over time.
Q: Does Hair La Vie Lash24 Have Any Side Effects?
A: No, this serum does not have any side effects since the company uses natural, plant-based, and toxin-free ingredients to manufacture its products.
Q: How Does Hair La Vie Lash24 Compare to Other Similar Products?
A: The serum uses natural ingredients to enhance the growth of your lashes. It is the first serum to provide 24-hour nourishment for the lashes. Pricewise, Lash24 compares to other products such as GrandeLash MD – Lash Enhancing Serum $34.00 and Lunar Lash by Tru Alchemy $41.00
READ ALSO – Lunar Lash Review
Q: How Long Will It Take to See Results With Hair La Vie Lash24?
A: The company suggests that you should use the serum for four to six weeks to achieve visible results. However, individual results will vary.
Q: Is Hair La Vie Lash24 Worth It?
A: Yes, the formula is worth trying. The company uses natural and clinically researched ingredients to strengthen, thicken and nourish the hair throughout the day and night. Reviewers also claim that they achieved fuller, denser, and longer eyebrows.
Q: Is Hair La Vie Lash24 Safe?
A: Yes, Lash24 is a safe product to use because of its natural ingredients. If the serum gets into your eye, simply rinse with plain water.
Q: Does Hair La Vie Lash24 Work?
A: Yes, Lash24 works. After applying the serum for over a month, you will notice dramatic changes on the lashes as they will appear longer, fuller, denser, thicker, and youthful-looking.
Final Thought
Feeling good about yourself and your hair is a reason you would want to use Hair La Vie products. Hair La Vie has a variety of natural and high-performance formulae that enhance the growth of your hair.
Hair La Vie Lash24 is a powerful serum that helps you achieve denser, fuller-looking, youthful, and healthier lashes over time. Lash24 provides 24-hour lash nourishment.
The serum contains active ingredients including; keratin, biotin, red clove extracts, and silk amino acids to strengthen the lashes and prevent breakage.