What is Insta Tox?
Serious Skincare Insta Tox is a wrinkle-smoothing serum that makes you look ten years younger, almost immediately after use.
One of the reasons is it able to work fast is that it contains sodium hyaluronate, Retinyl palmitate, among other powerful ingredients that help smoothen deep wrinkles and fine lines, eliminate crow's feet, hydrate and nourish skin, and minimize large pores.
Unlike injections, Insta Tox delivers needle-free results. According to the Insta Tox reviews, the product has been tested by dermatologists and is gentle on sensitive skin types.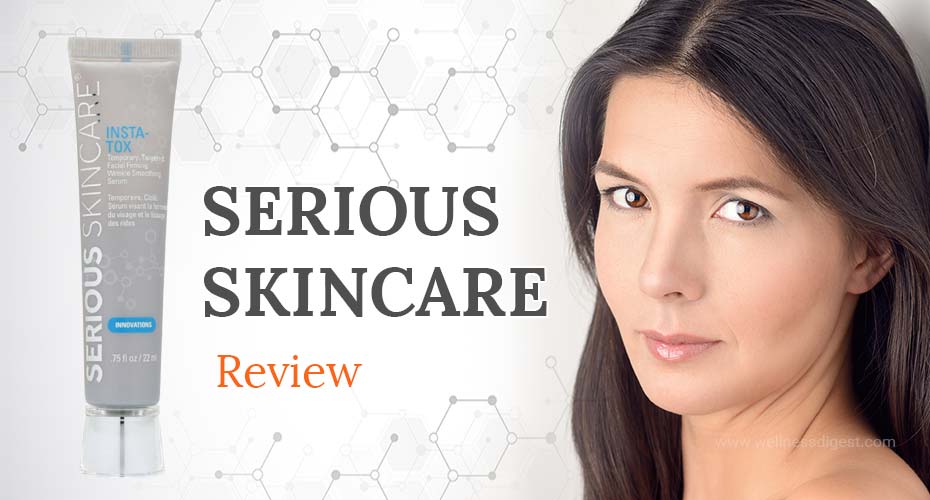 About the Brand
Serious Skincare is the brand that manufactures Insta Tox facial serum. The brand was founded more than 20 years ago with a mission to provide science-based and sensible skincare products to address various skin concerns.
The brand started as a line for acne products but later developed into a beauty industry manufacturing products for various skin challenges. The company has made available all the product details and their location online, through their official website.
Instatox eye cream
Instatox cream
How Does It Rate?
Brand Highlights
Insta Tox has been tested by dermatologists
The product is gentle on sensitive skin
Insta Tox contains science-based ingredients
Can be mixed with moisturizer, neck cream, or eye cream
Product is cruelty-free
30-day money-back guarantee
Active Ingredients
Sodium Hyaluronate
Retinyl Palmitate
Camellia Olifera leaf extract
Sodium silicate
Magnesium silicate
Caprylyl glycol
Copper gluconate
Pros
Instantly smoothens wrinkles and fine lines
Eliminates under-eye puffiness and crow's feet
Reduces enlarged pores and smoothens them over time
Produces needle-free results
Hydrates and nourishes the skin
Cons
Individual results may vary due to the uniqueness
Some customers want the size increased
Overall Rating: 4.7/ 5
Key-Facts
| | |
| --- | --- |
| Benefits | Smoothens deep wrinkles, easy to apply |
| Other Ingredients | Magnesium Aspartate, Zinc Gluconate, Butylene Glycol, Iron Oxide |
| Discounts | Subscribe and save up to 10% |
| Company | Serious Skincare |
| Age Group | All age |
| Form | Facial serum |
| Gender | Female |
How Does Serious Skincare Insta Tox Work?
Insta Tox works through its high–performance and clinically proven ingredients.
It contains Retinyl palmitate, a vitamin A derivative that helps prevent collagen degradation, stimulate collagen production, and improve cell proliferation.
Sodium hyaluronate boosts skin hydration without clogging pores. The other ingredients also help smoothen deep wrinkles, eliminate eye puffiness, and minimize pore size.
Insta-Tox Ingredients
Ingredients play a very crucial role in any product's effectiveness. It is very important to scrutinize each and every ingredient before buying any supplement.
Here is an overview of some of the active Insta Tox ingredients:
Camellia Oleifera Leaf Extract
Camellia Oleifera Leaf Extract is obtained from a variety of green tea plants. It has antioxidant and anti-inflammatory properties. (source) It can help in reducing puffiness, wrinkles, and fine lines and can increase the elasticity of the skin.
It contains polyphenols that can help in fighting against free radicals.
Retinyl Palmitate
Retinyl palmitate is a mild form of retinol that still offers numerous benefits to the skin. Many skincare products incorporate this gentle ingredient although it delivers results at a slower rate.
It helps minimize the appearance of wrinkles and fine lines, boost collagen production, and improve skin texture. Retinyl also promotes new skin cell regeneration, repair damaged skin cells, and improve skin firmness and elasticity.
According to the BioMed Research International journal, topical application of Retinyl palmitate helps in the treatment of skin aging.
Sodium Hyaluronate
Sodium hyaluronate is extracted from hyaluronic acid and it helps the skin look supple and youthful.
In precise, Sodium hyaluronate has smaller molecules making it easier to penetrate the skin. It helps reduce skin dryness by moisturizing skin, reduces the appearance of wrinkles, promotes wound healing, and improves skin elasticity.
Additionally, it soothes inflammations from certain skin conditions. According to the Molecules journal, hyaluronic acid is a recommended skincare ingredient because of its moisturizing, skin regeneration, anti-inflammatory, and anti-aging properties.
Caprylyl Glycol
Caprylyl glycol is a humectant found in cosmetic products including masks, cleansers, foundations, and moisturizers as it helps hydrate and moisturizes the skin.
Caprylyl helps improve the texture of your products and makes them last longer. Caprylyl glycol helps attract water to your skin and hold it to improve hydration.
A publication in the National Library of Medicine discusses the efficiency of Caprylyl glycol in the preservation of cosmetic products. It further reveals that glycol has antimicrobial properties.
Sodium Silicate
Sodium silicate is an ingredient that has been used over the years in cosmetics as it helps bind product ingredients together and improve their texture. It penetrates the skin and reduces the appearance of wrinkles and fine lines.
The Nutrients Journal discusses the effects of bioactive compounds on skin hydration, elasticity, firmness, wrinkles, skin dryness, and skin aging.
Full Ingredients List: Water, Sodium Silicate, Magnesium Aluminum Silicate, Magnesium Aspertate, Zinc, Gluconate, Copper Gluconate, Butylene Glycol, Sodium Hyaluronate, Retinyl Palmitate, Capryl Glycol, Phenoxyethanol, Hexylene Glycol, Iron Oxide.
Frequently Asked Questions (FAQs)
Q: Is Serious Skincare Insta Tox Suitable for Everyone?
A: Yes, Serious Skin care Insta Tox is suitable for women of all skin types and is gentle on sensitive skin.
Q: Do I Need a Prescription to Purchase InstaTox?
A: No, you do not require a prescription to buy this skincare product. However, consult your dermatologist before adding the product to your daily routine.
Q: Are There Any Insta Tox Side Effects?
A: Insta tox is formulated with safe ingredients. They are proven to have positive effects. There are many customer reviews that suggest it does not have any side effects. It is fragrance-free.
Q: Is Serious Skincare Insta Tox Cruelty-free?
A: Yes, Insta Tox Cream is completely cruelty-free. It is not tested on animals.
Q: Are Serious Skincare Insta-Tox Supplements Safe?
A: Yes, Insta Tox is safe for the skin as it has been tested by dermatologists and it contains clinically proven ingredients.
Q: How To Use Insta Tox?
A: The manufacturer claims that the Insta Tox application may take a few tries to master. A small dab of the serum offers powerful firming results. You may also add a small amount of the serum to your moisturizer, eye cream, neck cream, or face cream for instant firming results. Mix them gently and apply them to a motionless face until it is absorbed.
Q: Is Insta-Tox Wrinkle Smoothing Serum FDA-Approved?
A: The official website does not provide any information on whether Insta Tox is FDA-approved. However, the company uses clinically proven ingredients for this product.
Q: What Is The Serious Skincare Insta Tox Refund Policy?
A: If for any reason you are not happy with the products, you can simply return the unused portion within 30 days. The manufacturer provide no question asked easy return policy.
Q: Does Insta Tox Leave a White Residue?
A: No, it does not leave any white residue. It can happen only when too much Insta Tox has been applied. If it happens simply smooth out the area with a damp fingertip and allow it to dry.
Q: What Is The Price Of Serious Skincare Insta Tox?
A: The price list of Insta Tox is as follows:
| | With Subscription | Without Subscription |
| --- | --- | --- |
| 1 Tube | $35.10/unit | $39.00/unit |
| 2 Tubes | $31.59/unit | $35.10/unit |
| 3 Tubes | $28.08/unit | $31.20/unit |
---
Q: Does Insta-Tox Really Work?
A: Insta Tox provides both instant and long-term anti-wrinkle effects. It may sound too good to be true, but there are quite a few Insta-tox wrinkle smoothing serum reviews from customers swearing that this product really does work.
---
Q: How Long Does Insta Tox Last?
A: According to Insta Tox reviews, it works in 3 minutes without moving where applied. It lasts about 2 hrs. then has to be applied fresh. Apply it, less is more, and just wait a few minutes to see results. You will feel it tighten and wrinkles disappear; keep your face still until dry. Use less but you can always add a bit more if all the wrinkles don't disappear.
One Amazon review says, "Insta-Tox gives a temporary lift. It will feel cool in a couple of minutes as it shrinks bags under the eyes. I put it on 5+ minutes before my foundation. It lasts me several hours. I have been using it for years for my undereye area only. I suggest shaking the closed tube to mix before each use as it may separate."
---
Q: Is Instatox Legit?
A: Serious Skincare Insta Tox is a good option if you need to disguise lines and wrinkles for the day, but keep in mind the effects are temporary.
According to one Amazon customer (Verified Purchase) review says, "I have been using Instatox for about 7 years. I do not want ever to be without it, so I always have at least two stashed away. Instatox is a miracle product that takes away puffs and dark circles under eyes. It takes at least 10 years off my face. When you use it, less is more. Do not put it over makeup and do not put makeup over it–you won't need to. Only works under eyes."
Insta Tox Reviews – What Do Real Users Say?
Insta Tox got 4.5 stars out of the 11,000 reviews on their official website. This rating is quite good, meaning that most consumers were happy with their purchase, they looked convincing, and the reviews were positive. On Amazon: 3.7/5 stars over 3,550 reviews.
While not every comment was positive, but a number of users who shared positive Insta Tox customer reviews claimed that they experienced a reduction in the fine line wrinkles, and puffiness under the eyes totally shrink and also helped with frown lines.
I have tried many anti-wrinkle products but they were not working for me. Serious Skincare Insta-tox wrinkle-smoothing serum instantly smoothened the wrinkles on the forehead. I highly recommend it

– Becky

I am 65 years old and indeed using Insta Tox skin care has made me look younger. My eye bags and puffiness disappeared. My skin texture has greatly improved. I will continue using the serum.

– Sarah

This is by far the best product I have used. For 10 years now, I have been using Insta tox serious skin care and you can only imagine how beautiful my skin looks. Although it is pricy, it works.

– Veronica

Finally I have found Insta-tox wrinkle smoothing serum that delivers upon its promises. I was scared at first, but it has been a magical serum.

– Nyla
Where Can I Buy Insta-Tox?
Login to the official website to place your order. The company processes the order within 24 hours and it may take up to 5 business days to receive your order. You can also buy Insta tox from retailers such as Amazon.
Serious Skincare Insta Tox Alternatives
Glycolic Gommage

Pros

Purifies pores
Improves skin texture
Boosts radiant complexion
Minimizes pore size

Cons

Some customers think it is expensive

Continuously clear Clearz-It

Pros

Acne treatment solution
Contains benzoyl peroxide as an active ingredient
Non-comedogenic product

Cons

Benzoyl peroxide may irritate the eyes

A Defiance A Night Cream

Pros

Overnight treatment formula
Slowly releases Retinyl palmitate to repair damaged skin cells
Rejuvenates the skin during the night
Best used together with other A Defiance products

Cons

Retinol use may irritate some people
Conclusion
Serious Skincare Insta-Tox is a wrinkle-smoothing facial serum that contains high-performance ingredients.
According to the Insta-Tox reviews, the formula helps hydrate skin, boost collagen production, minimize pores, eliminate crow's feet, and get rid of under-eye puffiness.
You can use the serum alone or mix it in your body creams. Either way, it delivers visible results. Consistent use of Instatox serum allows you to achieve long-term results.
At Wellness Digest, our sourcing guidelines are strict and we only use primary references for our articles including peer-reviewed studies, academic research institutions, and medical associations. You can learn more about how we ensure our content is accurate and current by reading our editorial policy.