Introduction to 1MD GutMD
1MD GutMD is a gut health supplement containing 4 potent organic ingredients, including a prebiotic. It promotes digestive wellness by soothing the intestinal lining, protecting the gut from environmental threats, and feeding the good bacteria in the gut so it proliferates.
This can eliminate symptoms like diarrhea and bloating, and support gut health. A number of RDNs and nutritional experts support this supplement for optimal gut health. GutMD by 1MD also provides antioxidants which strengthen the immune system.
Highlights
The manufacturer is highly regarded.
It includes 100% organic clinically-studied ingredients.
The company follows GMP standards in manufacturing.
1MD GutMD is a doctor-formulated product.
Active Ingredients
L-Glutamine
Licorice Root Extract
Tahl Gum
Human Milk Oligosaccharides
Pros
1MD GutMD can support gut lining integrity.
This supplement can strengthen the immune system.
It protects the microbiome from environmental threats.
1MD GutMD soothes the stomach and intestinal lining.
It contains a prebiotic which feeds healthy gut bacteria.
Cons
The free shipping offer is only for US citizens.
Different users will have somewhat different reactions.
It contains milk, which some users can't consume
Overall Rating:4.8/ 5
About the Brand
The manufacturer of this supplement is a company called 1MD Nutrition. Founded by Ben Flohr and Ziv Haklili in 2015, the organization is in Sherman Oaks, California.
They make supplements for health and wellness designed by a team of doctors, and they are safe and effective. 1MD is known for its strong safety practices and its quality products. Longtime customers vouch for the fact that this is an effective brand.
1MD GutMD Review – Key Facts
? Benefits
Support gut lining integrity,strengthen the immune system,soothes the stomach and intestinal lining.
? Ingredients
Tahl Gum,L-Glutamine,Licorice, and more
? Pricing
$49.99/bottle
✅ Discounts
Up to 65% Off
? Company
1MD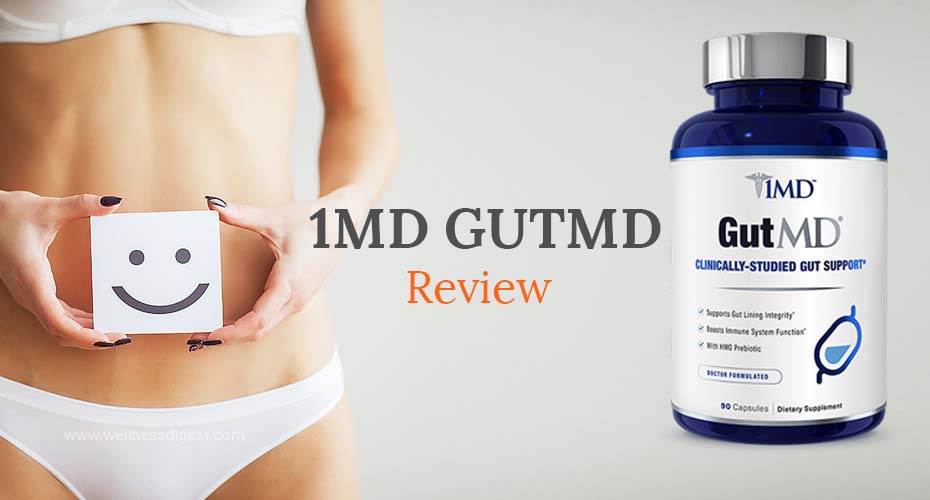 How Does 1MD GutMD Work?
1MD GutMD contains prebiotics, which nourish the good, healthy bacteria in the gut microbiome. This causes it to proliferate, balancing the bacteria in the digestive tract and promoting healthy digestion and gut integrity. It can reduce symptoms like diarrhea and bloating and encourage regular bowel movements. An article in Nutrients discussed the mechanisms and health benefits of probiotics (1).
There are also ingredients like licorice which are natural laxatives, helping to move the waste along the digestive tract and decrease constipation and other symptoms. The formula is also high in antioxidants, which helps to heal damage to the digestive tract by killing free radicals and lowering oxidative stress.
It also protects the intestines from environmental threats. In addition, antioxidants support the immune system as a whole. Some ingredients have anti-inflammatory properties, which can reduce swelling it the gut and soothe the lining. An article in Pharmaceutical Biology looked at the anti-inflammatory benefits of licorice (2).
What Are the Ingredients in 1MD GutMD?
Here are some of the primary active 1MD GutMD ingredients:
Tahl Gum – This is a secretion found on the trunk of the acacia seyal tree. This substance includes a high amount of dietary fiber.
It's a prebiotic which nourishes the healthy bacteria in the gut microbiome, promoting balance and easing digestive symptoms like diarrhea and constipation [3]. It may also be helpful in treating inflammatory bowel disease.
Tahl gum fills up the gut and promotes satiety, which can lead to weight loss. In addition, it may lower cholesterol levels. An article in Science Direct explored the characteristics and properties of tahl gum [4].
L-Glutamine – This is an amino acid which plays a role in protein biosynthesis. It's also a key nutrient involved in digestive wellness, supports intestinal barrier function, decreases inflammation, and can successfully treat 'leaky gut' syndrome. [5].
This amino acid also supports heart and brain health, muscle growth, immune functioning, and it could enhance exercise performance. A study in the International Journal of Molecular Science looked at the role of glutamine in the intestines and its implications in intestinal diseases.
Licorice – Licorice is a natural laxative which can help move the waste along the digestive tract, easing unpleasant symptoms. It's also a potent antioxidant which protects the digestive lining from environmental stressors, helps treat ulcers, and boosts the immune system as a whole.
It's also high in anti-inflammatory agents which can reduce swelling, and anti-microbials which help destroy harmful bacteria. There's some evidence that licorice may help with weight loss and lowering BMI, and it's also sometimes used in the treatment of menopause symptoms. A study on sheep published in MDPI found that antioxidants increased immunity and antioxidant status [6].
Is 1MD GutMD Safe?
1MD GutMD is a very safe supplement composed of pure organic ingredients, with no potentially harmful chemical or artificial substanced. There are no harmful side effects that go along with using it. The manufacturer does warn that people on blood thinners or anti-coagulants should see a doctor before using the product.
Read Also – Probiotic America Perfect Biotics Review an Gundry MD Total Restore Reviews
Customer Questions and Answers
Q: Is 1MD GutMD Effective?
A: GutMD by 1MD is a highly effective product. It has 4 natural ingredients known for their ability to support and protect the digestive system. This includes prebiotics which feed the good bacteria to build a stronger microbiome, and licorice to prevent environmental harm.

The reviews for 1MD GutMD were largely very positive, with many customers saying this supplement transformed their gut health and got rid of unpleasant symptoms. As a user myself, I can testify to the fact that this supplement eliminated my leaky gut issues and gave me tremendous relief.
Q: Where Can I Buy 1MD GutMD and How Much Does It Cost?
A: You can purchase 1MD GutMD on the 1MD website, and from a number of other online and offline retailers including Amazon and Walmart. If you want free shipping, use the code SHIP1MD at checkout. In addition, be sure to check the Sale section of their website for current deals. Here are the prices from the official site:
One-Time
1 Bottle – $49.99
3 Bottles – $45.99
6 Bottles – $41.99
Subscription
1 Bottle – $41.99
3 Bottles – $37.99
6 Bottles – $33.99
Q: How Do You Take 1MD GutMD?
A: The recommended dosage is 3 capsules, once a day on an empty stomach. Wait at least an hour before eating. Do not consume more than the maximum dosage for any reason.
Q: Is There a Guarantee or Return Policy for 1MD GutMD?
A: The manufacturer has a 90-day return policy. If you're not happy with the product, contact customer service and send it back within 90 days of the purchase date. Return all of the bottles you want a refund for, open or closed. You'll get all of your money back, minus shipping fees.
Q: Does 1MD GutMD Have Any Side Effects?
A: This product contains 4 very powerful organic ingredients selected by a team of physicians. They are effective and safe, and there are no harmful side effects associate with taking 1MD GutMD. In several months of taking this product, I personally have not experienced any side effects.
Q: Is 1MD GutMD a Healthy Product?
A: 1MD GutMD is incredibly healthy for the digestive tract and protects it from environmental stressors. In addition, it can strengthen the microbiome and soothe the intestinal lining.

Because GutMD by 1MD is high in antioxidants, it also promotes overall health, heals the body, and strengthens the immune system by eliminating harmful free radicals. Our team of RDNs strongly recommends this supplement for intestinal wellness.
Who is the Best Customer for 1MD GutMD?
GutMD by 1MD is ideal for users who experience gut health symptoms and want to strengthen their microbiome and improve digestive health.
It should effectively eliminate these symptoms and promote overall gut wellness. It also provides overall immune support, which is another good reason to take it. There are some wonderful GutMD by 1MD reviews online, which I read through personally. I selected some of the top customer comments for your interest:
The Best Supplement

Love it!!!! I bought the pills for gut repair, and they worked!!! I plan to have every pill bottle they offer on their website, in my house!!! –Imani

Amazing Product!

This product is amazing!! It has helped me with acid reflux a lot, and I'm back to enjoying food I hadn't had for long time without suffering from pain in my stomach and throat. I couldn't be happier!! I highly recommend this product Lilian O.

Thank You

I am self-diagnosed as suffering from leaky gut. I'm almost done with my first bottle, and I already see a difference in how I feel and my daily constitution. Beth

It Works!

I have an autoimmune disorder which can cause skin flare ups. I suspect I have leaky gut from all the research I've done. I've taken these for just a week and already see improvement in my skin and digestion Amanda T.
The End of the Line
1MD GutMD is an organic supplement which supports a healthy digestive tract. It contains ingredients like prebiotics, which feed good bacteria and promote a healthy microbiome. This product can soothe the intestinal tract and promote regular bowel movements. It can also eliminate symptoms like gas and diarrhea. 1MD GutMD supports gut and overall immunity.
This product is reasonably priced, and very popular in the market. The vast majority of the 1MD GutMD reviews raved about how effectively it soothed their digestive tract and got rid of uncomfortable symptoms, as well as promoting healthy bowel movements. Few users had complaints or negative remarks about this supplement.
1MD GutMD is healthy for both the digestive system and the body as a whole. Rich in 4 healthy organic ingredients, it's effective, includes no harmful substances, and does not lead to any damaging side effects. A highly reputable and trustworthy manufacturer develops this doctor-made product, and I would certainly recommend it highly based on my own experience.
At Wellness Digest, our sourcing guidelines are strict and we only use primary references for our articles including peer-reviewed studies, academic research institutions, and medical associations. You can learn more about how we ensure our content is accurate and current by reading our editorial policy.