What is Antarctic Krill?
This supplement is high in krill oil and other antioxidant and anti-inflammatory rich ingredients which support a strong immune system and boost general health. It offers benefits like improved brain, heart, joint, and eye health.
Antarctic Krill is an 100% organic supplement which comes highly recommended by the RDNs on our team. Having reviewed a number of similar brands, I find this to be one of the top health supplements on the market today.
About the Brand
The manufacturer of this supplement is a company called Pacific Health Supplements, LLC, and Nucific is one of their trademarks. Founded in 2014, they have their headquarters in Beverly Hills, California.
They offer a range of different health supplements for immunity, brain and heart health, joint comfort, and numerous other issues. A board certified physician and nutrition expert, Dr. Amy Lee, approves all products.
How We Rated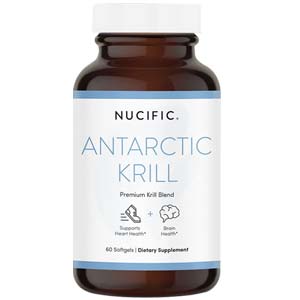 Brand Highlights
All products approved by a board certified physician who is a nutrition and obesity expert.
The ingredients are 100% pure and organic.
All products undergo third-party testing for purity and quality.
There are no chemical or artificial additives included in any of the products.
Key Ingredients
Premium Krill Oil
Phospholipids
Omega 3 Fatty Acids (EPA and DHA)
Astaxanthin
Benefits
This product supports heart health.
It can promote improved cognitive functioning.
The supplement can improve general wellbeing.
It promotes joint health and improved comfort.
Antarctic Krill can improve your eyesight.
Cons
It contains crustacean shellfish and fish, which some users can't consume.
The results may vary depending on the individual.
The supplement is not for sale in stores.
Overall Rating:4.8/ 5
Product Review – Key Facts
😊 Overall Benefits
Boosts Brain Function, Supports Heart Health, Strengthens Immunity, Improves Mood and Wellbeing, Eases Joint Discomfort, Enriches Eye Health
💊 Ingredients
Premium Krill Oil, Phospholipids, Omega 3 Fatty Acids (EPA and DHA), Astaxanthin
$ Pricing

1 Bottle – $39
3 Bottles – $102.96
6 Bottles – $191.88

✅ Discounts
Join the VIP program for great deals
🏢 Company
Pacific Health Supplements LLC.
How Does It Work?
This formula is full of omega-3 fatty acids, which have potent health benefits such as providing energy and promoting the health of organs like the heart, lungs, blood vessels, and endocrine system. Omega 3 fatty acids have high anti-inflammatory properties which decrease swelling.
An article in Advances in Nutrition discussed the health benefits throughout life of the omega 3 fatty acids DHA and EPA [1].
They also support the health of the cell membranes, as do the phospholipids in the formula. Phospholipids also enhance the absorption and transportation of the fatty acids in the body.
Omega 3 fatty acids are also very high in antioxidants, which eliminate free radicals in your system and lower oxidative stress. This promotes repair and healing, prevents cell damage, and strengthens the immune system.
This formula also increases levels of key brain neurotransmitters, like serotonin, which helps improve mood and may offer other brain health benefits like better memory and focus.
An article in Annual Review of Medicine discussed the biology of the brain chemical serotonin [2].
What Are the Ingredients?
These are the primary active ingredients:
Krill Oil
Made from small crustaceans, krill oil is full of the omega 3 fatty acids EPA and DHA and has a wealth of health benefits. It may lower both cholesterol and triglyceride levels.
It also supports heart health and could decrease your risk of developing cardiovascular disease. Krill oil may promote improved cognitive function, and it strengthens the immune system.
A study in PLOS ONE concluded that krill oil was effective at healing mild joint pain in adults [3].
Astaxanthin
This is a carotenoid, a natural pigment which is often a component of algae, and it has a similar structure to Vitamin A. High in anti-inflammatory and antioxidant properties, it can support heart, joint, and immune health.
It elevates levels of serotonin in the brain, which can boost mood and offer other brain health benefits. An article in Oxidative Medicine and Cellular Longevity discussed the powerful antioxidant benefits of astaxanthin and its role in aging and disease [4].
Omega 3 Fatty Acids
These are nutrients which are key to bodily development and functioning in numerous ways. They contain potent anti-inflammatory agents which can help decrease swelling, making them ideal for joint or muscle pain.
EPA and DNA come mainly from fish and other sea creatures. They support heart health, lower triglyceride levels, improve brain health, and strengthen immunity. An article in Agro Food Industry Hi Tech examined the health benefits and delivery forms of omega 3 fatty acids [5].
Phospholipids
These lipids are the primary component of the cell membrane, and they play a key role in protecting the cells from damage. They support brain health and may enhance memory, mental focus, and cognitive functioning.
They also enhance the health of the liver and may enrich digestive health by strengthening the lining of the gut. An article in Frontiers in Physiology discussed the key role of phospholipids in aging and longevity [6].
Frequently Asked Questions
Q: Who Should Take It?
A: This supplement is ideal for any adult looking to improve their general health and immunity. It's specifically useful for people with joint pain discomfort, or who want to enhance their heart, brain, or eye health.
Q: Is It Legitimate?
A: I know that this is a legitimate brand, as I have reached out to the manufacturer with questions. The company is well-known and regarded and have almost 10 years' experience in the health and wellness industry. They have a real street address in Beverly Hills, California.
Q: What is the Return Policy?
A: The manufacturer is offering a 90-day money back warranty on products bought on their official site.
Contact their customer service team at 888-679-5520 for return instructions, and the send the items back within 90 days of the day the company shipped the order to you. You should get a full refund.
Q: Where Can You Buy It?
A: You can purchase this supplement exclusively on the offical website, making sure that you get the real, genuine product every time. If you become a VIP member, you get great discounts, and you also save by purchasing in bulk. Here is the price list:
1 Bottle – $39
3 Bottles – $102.96
6 Bottles – $191.88
Q: Is It Safe?
A: Yes, Antarctic Krill by Nucific is a very safe supplement, excepting for users who can't consume fish or shellfish. The ingredients are 100% naturally sourced, and there are no harmful additives or fillers.
 
You should not experience any harmful side effects. The manufacturing takes place in a safe facility in the USA.
Q: What Sets It Apart From the Competition?
A: This formula is rich and the product is safe and high quality, for a price that is below average for the market and very reasonable.
What Do The Reviews Say?
I read through many customer reviews for Antarctic Krill, and they were mostly very positive. Users got a lot of health benefits from this supplement, including decreased joint discomfort and better energy levels. Customers loved the fact that it doesn't have a fishy aftertaste.
I've selected some of the top customer comments, so you get a good idea of what people are saying about this supplement.
Why Your Krill Oil Is Far Better Than The Others
I am feeling better. I also took a picture of the krill oil I had been taking. Yours was the best by far, with far more MGs than the other one. –

Nancy R.

Arctic Krill
So far so good. No aftertaste. All of the products that I take from Nucific have been good for me. –

Joyce J.

Best Kril Oil EVER
This is the only fish oil that goes down without any after-effects. It's easy to take and my body seems to assimilate it very well.

I notice my head is clear, and my mind alert. I am an elderly woman, and my memory is sharper. I'm losing fewer words than before I started taking it. I may take this for life. Sandra M.

Krill Oil Amazing
For years I suffered with an upset stomach when taking fish oil supplements, No MORE! Antarctic Krill by Nucific has no icky after taste, my joints feel better, and when I don't take it, I sure notice the difference. I would 100% recommend this product. –

Jess.
Conclusion
This Antarctic Krill supplement is rich in key nutrients, anti-inflammatory agents, and antioxidants which support health and immunity, and offer rich health benefits for the joints, eyes, heart, and brain. Many RDNs worldwide recommend this brand for its health and immune system properties.
The reviews for this supplement were on the whole, extremely positive. Users preferred this to other brands which had a fishy aftertaste, and said they got great health perks like sharper mental focus and decreased joint swelling.
This is an extremely healthy product which includes only 100% pure, organic ingredients with no additives or fillers. You should not experience side effects. In my research of a number of similar brands, I rate this krill supplement at the very top of the list.
At Wellness Digest, our sourcing guidelines are strict and we only use primary references for our articles including peer-reviewed studies, academic research institutions, and medical associations. You can learn more about how we ensure our content is accurate and current by reading our editorial policy.