What is Juve Flex?
Juve Flex is a chewable canine supplement that helps promotes healthy joint function, reduce pain, and improve your dog's mobility.
The formula is formulated by professional vets and is packed with joint soothing ingredients that help make your pet live a more comfortable life. It also supports a longer happier life.
Each of these ingredients is carefully hand-picked to guarantee purity and potency. They are said to work together to support your dog's overall joint health.
About the Brand
Juve Flex is a health supplement formulated by Ultimate Pet Nutrition. The US-based company specializes in the formulation of canine supplements.
The firm has been helping pet owners to manage the health of their cats and dogs through their advanced dietary food and supplements such as Nutra Bites, Canine Restore, Nutra Complete, Nutra Thrive, and Ultimate Pet Nutrition Canine Detox.
How Does It Rate?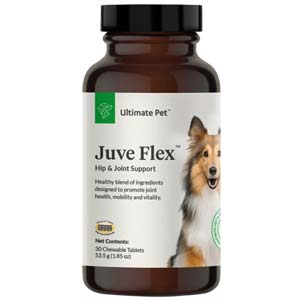 Highlights
Formulated by a professional vet
Backed by a 100% money-back guarantee
Grain-free
Features premium researched ingredients
Tested in a 3rd party lab.
Active Ingredients
Boswellia serrata
Hydrocurc Curcumin
Chondoiritin Sulfate
Glucisamine sulfate
Bioaplex eggshell membrane
Pros
Helps ease stiff joints
Supports healthy cartilage
Improves mobility and vitality
Keeps the dog active and generally healthy
Cons
The high demand causes the stock to go low often
Results may vary
Overall Rating:4.8/ 5
Key Facts
| | |
| --- | --- |
| Benefits | Healthy cartilage support, Eases stiff joints, Improves mobility and vitality |
| Ingredients | Silica, Maltodextrin, Deffated beef liver, Poridone |
| Discounts | Up to 25% off |
| Company | Ultimate Pet Nutrition |
| Age Group | All ages |
| Form | Chewable tablet |
| Gender | Both male and female |
What are the Ingredients in Juve Flex?
Glucosamine Sulfate
Glucosamine sulfate is collagen enhancing ingredient. It is known to boost the production of collagen in the dog's body. Collagen supports cartilage formation which in turn leads to joint flexibility and easy movement in aging dogs.
According to the Journal of Orthopedic Surgery and Research, supplementation of glucosamine sulfate can effectively help to manage osteoarthritis. It has a relieving effect on joint pain and stiffness.
Chondroitin sulfate
Chondroitin sulfate is a 9 ingredient known to support healthy cartilage. Healthy cartilage enables the dog to remain generally active where it is able to engage in play, running, and jumping without experiencing discomfort in the joints.
A study was conducted in Glycoconj Journal and results show that chondroitin sulfate has clinical benefits when it comes to the treatment of osteoarthritis of the knee, fingers, hip, low back, and facial joints. It can, therefore, help maintain structural integrity and also reduce pain in sore muscles.
Boswellia serrata
Boswellia serrata is an ingredient with a soothing effect. Studies have shown that extract from this prime medicinal herb can help to soothe the joints of your dog enabling him to experience flexible and pain-free joints.
According to BMC Complementary Medicine and Therapies, Boswellia serrata extract is packed with powerful anti-arthritis and anti-inflammatory properties. It can help improve physical function and pain.
Hydrocurc curcumin
Hydrocurc curcumin is another soothing ingredient used to formulate canine joint health supplements. The substance has a soothing effect on the dog's joints and studies show that it can effectively ease joint discomfort, hence helping your dog to remain healthy and active.
According to Complementary Medicine Research, Hudrocurc curcumin is an effective option as far as reducing joint pain is concerned. It has shown the ability to reduce joint pain in arthritis patients.
Bioaplex eggshell membrane
Bioaplex eggshell membrane with soothing effect probably the reason why it is a key ingredient in canine joint health supplements. It is highly efficient when it comes to easing joint pain.
According to the Clinical Interventions in Aging, consumption of dietary supplements with Bioaplex eggshell membrane can help reduce joint pain and stiffness.
How Does Juve Flex Work?
Juve Flex is a dietary supplement developed to help you improve your dog's general health. The supplement is packed with prime joint soothing and cartilage support ingredients.
Once you give the supplement to your pup, it will get absorbed into the body system and start working. According to the manufacturer, the ingredients will work together to relieve your dog from any discomfort caused by joint pain and stiffness.
Because of its anti-inflammatory effect, it will also be beneficial when it comes to easing muscle soreness.
FAQ
Q: Is Juve Flex Suitable for Everyone?
A: Juve Flex is designed for all types of dogs. It is, therefore, suitable for use by any dog regardless of breed, size, or age.
Q: Do I Need a Prescription to Purchase Juve Flex?
A: No, you don't need a prescription in order to purchase this supplement.
Q: Are Juve Flex Supplements Safe?
A: Yes, Juve Flex is formulated by a qualified vet who uses hand-picked ingredients to guarantee safety and potency. The supplement also claims to be tested in a 3rd party lab.
Q: How Should My Dog Take Juve Flex?
A: Juve Flex is a chewable beef + butter flavored tablet. The intake direction is as follows:
1-25 lbs – one chewable tablet
26-50 lbs – two chewable tablets
51-75 lbs – three chewable tablets
---
What Do Reviewers Think of Juve Flex?
Improves Pet Mobility
Juve Flex is a good joint support supplement. My little pup had a problem walking and all she could do is sleep. But this changed since I started giving her this supplement. Her mobility has totally improved. She is quite playful of late. I highly recommend it.

Rick

My Dog Is Playful Now

Great stuff from Ultimate Pet Nutrition. I feel more at ease seeing my 7 years old German Shepherd strong and active. He is quite playful nowadays and can walk, jump, and run without any problem.

Victoria

Good For My Dog

I am beginning to see some changes in my 10 years old Australian Shepherd. He has been less active of late, I guess due to age. But since I started giving him Juve Flex, his health has improved. He looks energetic and active.

Harry

A Bit Pricey but Worth

It is working for my little chihuahua. She can jump a little now and that is a great improvement compared to the way she was weeks ago. The supplement may appear a bit expensive but it is worth keeping your pup on it.

Angela
How to Order Juve Flex
To place an order, you first have to create an account by filling in your personal details provided on the official website. You can then place your order using your account.
The current prices for Juve Flex:
1 Bottle – $54.95
3 Bottles – $146.85
6 Bottles – $275.70
Juve Flex Alternatives
Nutramax Cosequin Maximum Strength

Pros

Supports joint health
Scientifically researched
Tested for quality
Suitable for dogs of all sizes

Cons

GlycoFlex Ultimate Strength

Pros

Support hip and joint health
Veterinarian formulated
Made in the United States
Clinically tested

Cons

YUMOVE Joint Health Supplement

Pros

Supports joint health and mobility
Backed by 15 years of research
Features high-quality ingredients
100% money-back guarantee

Cons
Conclusion
Caring for pets ensures that they enjoy a happy and fulfilling life. There are quite a number of canine supplements formulated to help you take good care of your pet.
Juve Flex from Ultimate Pet Nutrition has proven to be effective. The positive customer comments is a proof that these supplements work to give the claimed results.
According to customers, this supplement works effectively to relieve the dog from joint pain and stiffness.
It also makes the dog appear energetic and active. It is a product you can trust if you are looking for a supplement that will help you effectively manage your dog's joint health.
Up NEXT – Canine Fresh Review and Ultimate Pet Nutrition Nutra Thrive For Cats Reviews
At Wellness Digest, our sourcing guidelines are strict and we only use primary references for our articles including peer-reviewed studies, academic research institutions, and medical associations. You can learn more about how we ensure our content is accurate and current by reading our editorial policy.
Chondroitin Sulfate: A Focus on Osteoarthritis https://pubmed.ncbi.nlm.nih.gov/27194526/

Zhu X, Sang L, Wu D, Rong J, Jiang L. Effectiveness and safety of glucosamine and chondroitin for the treatment of osteoarthritis: a meta-analysis of randomized controlled trials. J Orthop Surg Res. 2018 Jul 6;13(1):170. doi: 10.1186/s13018-018-0871-5. PMID: 29980200; PMCID: PMC6035477.
Yu G, Xiang W, Zhang T, Zeng L, Yang K, Li J. Effectiveness of Boswellia and Boswellia extract for osteoarthritis patients: a systematic review and meta-analysis. BMC Complement Med Ther. 2020 Jul 17;20(1):225. doi: 10.1186/s12906-020-02985-6. PMID: 32680575; PMCID: PMC7368679.
Briskey D, Roche G, Rao A. The Effect of a Dispersible Curcumin (HydroCurc®) Compared to a Placebo for Reducing Joint Pain in an Adult Population - A Randomised, Double-Blind Study. Complement Med Res. 2022;29(6):429-436. English. doi: 10.1159/000524689. Epub 2022 Apr 27. PMID: 35477159.
Ruff KJ, Morrison D, Duncan SA, Back M, Aydogan C, Theodosakis J. Beneficial effects of natural eggshell membrane versus placebo in exercise-induced joint pain, stiffness, and cartilage turnover in healthy, postmenopausal women. Clin Interv Aging. 2018 Feb 19;13:285-295. doi: 10.2147/CIA.S153782. PMID: 29497287; PMCID: PMC5822842.
Bishnoi M, Jain A, Hurkat P, Jain SK. Chondroitin sulphate: a focus on osteoarthritis. Glycoconj J. 2016 Oct;33(5):693-705. doi: 10.1007/s10719-016-9665-3. Epub 2016 May 19. PMID: 27194526.